Cambridge SoundWorks Newton Series HT55 Mini Cube Speakers & Sub Review
By Peter Suciu
Edited by Chris Boylan
Small Package, Big Sound
In recent years the move to speaker bars and 1.1 simulated surround sound systems have basically all but killed off the affordable but still high-performance satellite speaker market. And while a speaker bar can provide reasonably good surround sound, it is worth noting that the effect is simulated, and no amount of fancy electronics, delays or audio bouncing off the walls is going to replace the magic of sitting in the sweet spot of a true multi-speaker system.
Fortunately, there are still a few manufacturers out there who have opted to continue to produce quality, yet (and we stress this part) affordable systems. One of these is Cambridge SoundWorks, which nearly a decade ago dropped the cleverly named Newton Series of speakers into the market. Now the company's latest offering is the Newton Series II line, which includes the Newton Series HT55 5.1-channel home theater speaker system.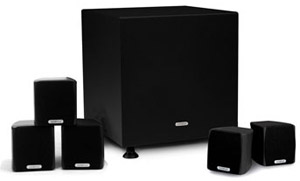 The HT55 system comprises a powered subwoofer (more on that later) and five of the versatile MC55 mini cube 1-way satellite speakers. These can be used as main, center or surround sound speakers and the five together do a very robust job of delivering clear and crisp audio from all directions.
The MC55 satellite speakers are about the size of traditional desktop multimedia cube speakers (a little over 4" in height and width), but these babies have some serious mass and weight. The black satin speakers aren't run of the mill plastic, but instead are made of a higher grade composite material, which helps deliver the sounds better than  lower end speakers. Furthermore, these asymmetrically curved satellites were designed to eliminate distortion-causing reflections. The speakers are also magnetically shielded in case you need to put them next to an old CRT television and each features a 3 ½-inch driver, with a frequency range of 150Hz to 16kHz.
When you hook these little guys up with the Newton Series II Basscube 105 powered subwoofer, that's where the fun begins. This diminutive little sub  offers a downward firing 10-inch driver, and built-in 75-watt amplifier capable of reproducing bass frequencies from around 35Hz to 160 Hz so it's a perfect match for the MC55s. Taken as a whole, this little 5.1 system makes a nice affordable multimedia surround sound system, or can be used for a bedroom/den speaker system where a full-on 7.1 tower system with huge 15-inch subwoofers would be total overkill.
With speakers and subwoofer all connected to a moderately powered home tharter receiver, the resulting system provides satisfying sound for movies, games and even music.  They can't "go deep" (at all) but with the help of the powered subwoofer, they don't need to.  They can handle the mid-bass through high-end frequency range very well. They handle the full soundscapes of movies and games very well, and in a test drive with the DTS TrueHD 5.1 surround track from Ronin on Blu-ray, it was like being ride in the drivers seat.
While small speakers don't always handle classical music all that well, these were able to deliver robust room-filling sound with multiple versions of Pachelbel's "Canon in D" from the CD Pachelbel's Greatest Hit: Canon in D; while the rave-esque soundtrack from the Blu-ray of Go offered the sensation of hearing the music through much larger speakers.
Although the very lowest octaves of bass are a bit light, the subwoofer packs plenty of punch, and features an electronic crossover frequency selector so you can dial it in for your specific satellites. The sub also includes phase reversal switches, which can help blend the audio during playback so you get the right mix of frequencies from the speakers and subwoofer, ideal for your specific listening room and speaker placement. When put to the test with the Blu-ray of Valkryie the sub took flight and then some, delivering everything from the hum of the aircraft to the explosion that should have saved millions of lives.
Room to Upgrade
In addition to being available in the HT55 package, the MC55 satellites are available ala carte for about $30 each, and the subwoofer is also available separately.  So expanding the system to 7.1, 9.1 or even 10.2 channels is a fairly painless process. The satellite speakers have both a threaded socket for stands and brackets, as well as a keyhole slot for uber-simple wall mounting.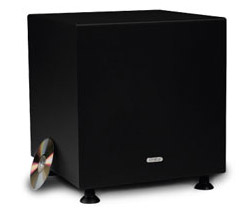 The subwoofer includes both a speaker-level input for the connection to the amp or receiver (which will remove the bass frequencies from the signal going to your main left-right speakers), as well as a direct line input for stereo signals or line-level LFE input from your receiver. There is no digital input, or system level volume control, however so this can't be used as a standalone discrete surround sound system - it does require a receiver or preamp/amp combination for its operation.
Note: Since we reviewed this system, it has gone up in price slightly (from $299.99 to $349.99), but the value is still exceptionally good.
Turn-Ons
High quality sound and worksmanship for a low price
Cube sized speakers are small enough to blend into the surroundings
Subwoofer delivers a bit of punch
Expandable from 5.1 to 7.1 or other configurations
Turn-Offs
Requires a receiver (no digital inputs or system volumne control)
Satellites have mounting brackets on the back but nothing on the bottom, or any sort of "feet" to raise them up from mounting surface
Final Thoughts
With plenty of affordable home theater receivers on the market, the Newton Series HT55 offers a good way to get true discrete multi-channel surround sound that is a bit more customizable and upgradeable than an all-in-one box has to offer. And when you're ready to move on from 5.1 this system makes it very easy to do so. It not only raises the bar, but out performs those speaker bars as well!
Order Now Directly from Creative Labs/Cambridge SoundWorks
System Specs:
Satellite Speakers: MC55 1-way

Dimensions: 4 1/2" H x 4 1/14" W x 5 1/2" D
Frequency Response: 150Hz - 16kHz
Sensitivity: 85 dB
Driver Configuration: 1-way

Subwoofer: BassCube 105

Dimensions: 15 1/2"H X 14"W X 15 1/8"D
Frequency 35-160HZ
Variable Crossover: 35-160HZ
Amplifier Power: 75 Watts

System Price: $599.99 (normally discounted to $349.99 on web site)
Manufacturer's Contact Information:
Cambridge SoundWorks, Inc.
120 Water St
North Andover, MA 01845
Ph: 1-800-367-4434
On the Web: Creative Soundlabs Web site