CES 2006 Part IV - Sharp, LG, Pioneer Blu-Ray Disc
By Chris Boylan
Contrast is King
Like several other vendors in the BDA (Blu-Ray Disc Association), Sharp had a BD player on display, the DV-BP1U, scheduled for Spring availability, but with no pricing announced. The Sharp BD player will include dual trays and pick-ups so it can support BD as well as standard DVD and CD playback. Like many of the BD players, it will upconvert standard DVDs to 1080p output. Where Sharp will hit the delivery mark or not remains to be seen.
Another cool technological concept that Sharp had on display in prototype form was their dual-view LCD screens. These offer one image when viewing from the left side and a different image when viewing from the right. Practical applications include advertising displays in airports (image a "before/after" video for Weight Watchers where the happy customer sheds weight before your eyes as you walk by) and automobile installations (the driver sees a navigation screen, while the passenger watches a movie). Very cool technology.
See this video
to view the screen in action.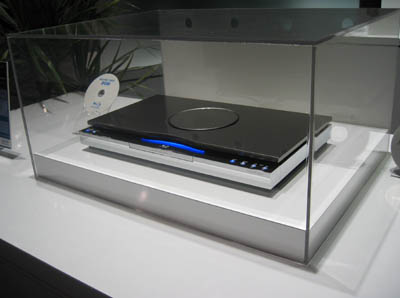 As for real-world products currently in production, Sharp was showing off several examples of that, including their beautiful 65-inch LCD HDTV, the LC-65D90U ($20,999). This model features 1920X1080 (1080p) native resolution, 800:1 contrast ratio, integrated TV Guide OnScreen program guide and Cable Card compatibility. Next to it was its brand new little brother the LC-57D90U ($15,999, "available soon"), a 57-inch diagonal model with even more impressive contrast specs (1,500:1) but otherwise similar features.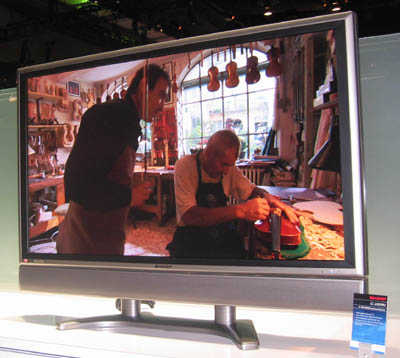 But if impressive contrast specs are what you're after, then you're typically not going to be drawn toward LCD or plasma TVs. Nothing beats the contrast of a good old-fashioned direct view tube set. Well, at least until now. Sharp had on display a prototype "Mega Contrast LCD" display that they say measures in with a contrast ratio of 1,000,000:1, yes that's ONE MILLLLLION TO ONE! Although I cannot confirm the veracity of this claim, the set did look very impressive in a darkened room, with difficult content like city nightscapes, and candlelit rooms. This technology is expected to make its way into the professional display market first, but should eventually trickle down into Sharp's consumer LCD display line (and there was much rejoicing...).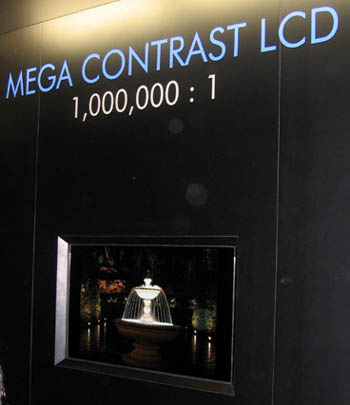 And flat panel TVs aren't the only displays that benefit from better contrast.
InFOCUS
was on-hand showing the latest model in their affordable HD-enabled DLP front projection line, the IN76 projector ($2999, available March, 2006). A single chip model, based on Texas Instrument's DarkChip2 DLP DMD, the IN76 offers 1,000 ANSI Lumens brightness, 1280X720 native resolution, and an impressive rated contrast of 3,000:1 when properly calibrated.
Meanwhile,
LG
has flipped front projection on its head, or technically, on its side, in their new wall-mounted projector, the AN110 ($3499, available Spring, 2006), which will be available in white (AN110W) or black (AN110B). The projector throws out up to 1,000 ANSI Lumens, has a rated contrast ratio of over 2,500:1, and a native panel resolution of 1280X768. A "silent mode" drops fan noise down to less than 24 dB, ensuring that this projector is seen but not heard.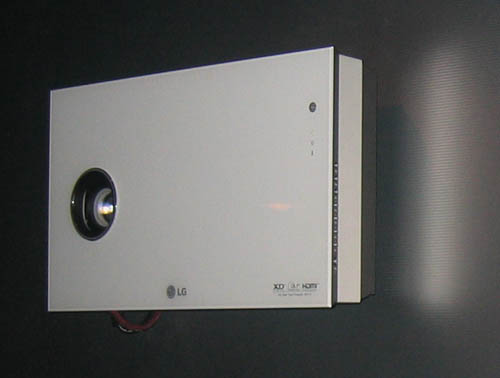 And to give you something pretty to watch on this projector, LG also showed off their prototype BD-199 BluRay Disc player, scheduled to ship in the second quarter of 2006 for an as yet undetermined price. In addition to playback of standard BDs, the BD-199 will support interactive Java-based BD-ROM discs.

One of the rare manufacturers to go out on a limb and actually announce firm player pricing and shipping dates is
Pioneer
whose Elite model BDP-HD1 BD player is expected to ship by June, 2006 at a suggested list price of $1,800. Pioneer's high-end Elite models typically carry a pricing premium, so I would expect a similar, though less beefy non-Elite model to sell for closer to the $1,000 price point. The Elite BDP-HD1 supports standard CDs, DVDs and Blu-Ray discs plus BD-ROM discs. It also supports home networking so you can view HD content stored on your PC directly on the player, although precise details on how this will be accomplished were a little sketchy at press time. Output resolution can go all the way up to 11 -- that is a full 1080p, and the unit can upconvert standard content to that resolution as well.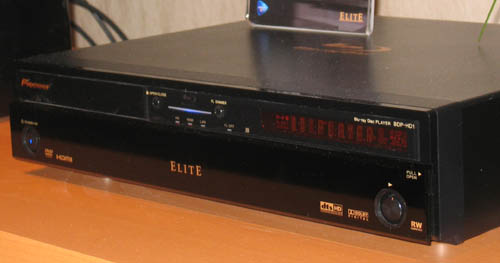 All Res'ed up and no place to go?
And if you've got 1080p source components, it sure would be nice to have 1080p-compatible displays, wouldn't it? This is where Pioneer's Pro-FHD1 50 inch plasma monitor ($10,000, available June, 2006) comes in. The PRO-FHD1 supports full resolution HDTV (1920X1080p) via DVI-D, HDMI and component video inputs.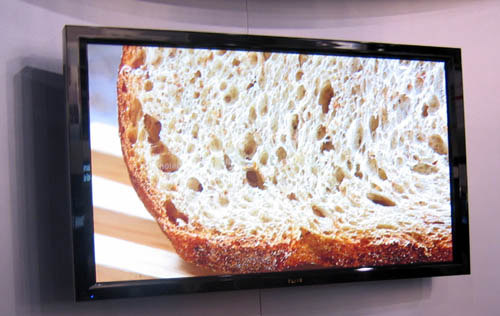 In the lower res standard definition department (good ole' 480p), Pioneer also announced what may be the ideal DVD recorder, from a format compatibility standpoint. Pioneer's DVR-640H-S HDD/DVD recorder ($399, shipping in June, 2006) can not only record and playback every current DVD format known to man (DVD-R, DVD-RW, DVD+R, DVD+RW, DVD-RAM), it also supports direct playback of computer video files such as AVI files encoded with DIVX or XVID encoding. So if you have a collection of DIVX videos on your PC, you can simply copy them over to blank CD or DVD discs, and play them back directly on the Pioneer without having to remaster the videos into DVD-Video format.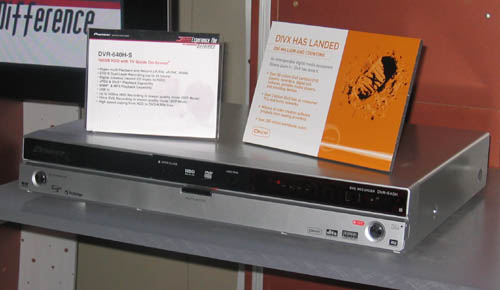 The recorder also functions as a music jukebox -- you can rip CDs and copy MP3 and WMA files directly onto the integrated 160 GB hard-drive and listen to tunes right in your home entertainment system without hooking up a computer. Of course the built-in hard drive can also be used to record video content directly from your cable box, over-the-air, or from a satellite receiver. And the integrated Gemstar TVGuide OnScreen program guide captures show title information automatically making it easier than ever to schedule and sort through your recorded TV show and decide which shows merit permanent archive to DVD. If this DVD recorder does everything it should, then it may be my new favorite
And speaking of favorites, my favorite announcement from Samsung in Part II of this report was their Helix XM tuner/MP3 player, coming in March. Well it turns out that Pioneer has one of these "XMP3" players coming as well. Pioneer's is called the Inno ($399, including home docking kit, available March, 2006) and its specs and features are similar to those of the Samsung Helix though its form factor is slightly different. The Inno supports up to 50 hours of XM and/or MP3 and/or WMA content on its built-in 1 GB flash memory drive. But, like Pioneer's excellent (but larger)
Airware XM2go
, the Inno also functions as a true standalone XM tuner, with an integrated antenna for picking up the satellite signal or the terrestrial repeater signals from virtually anywhere in the U.S. and some parts of Canada.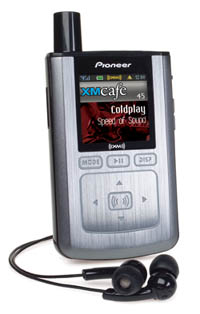 And after a long hard day of checking out the newest fancy gadgets, it was time to brave the throngs at the monorail station and head over to the Mirage Hotel where the Blu-Ray Disc Association had bought us all drinks in order to share an important announcement: the Blu-Ray specifications had been finalized! (and there was much rejoicing... again). Industry bigwigs like Dell's Michael Dell and movie producer Barry Sonnenfeld gave short speeches saying how excited they were to be a part of this momentous occasion.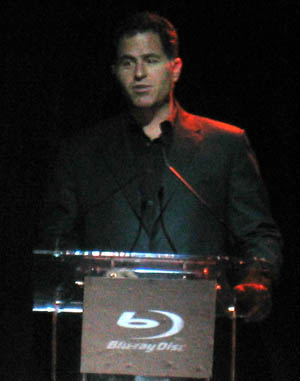 This finalization of specs paves the way for "official" licensing of Blu-Ray software and hardware, and for the HD-DVD vs. Blu-Ray Disc competition to begin in earnest. Well as much as it pains me to say it, "Let the Games Begin!"
And on that note, it's time we wrap up this segment of the report. But you can read on in our coverage of
LVCC's South Hall displays, including Denon, Marantz, Energy, Athena, Mirage, Induction Dynamics Solid Drive speakers, and more
.
Just joining us? Why not
start at the beginning of our CES 2006 home theater coverage
?