A Bridge Too Far on Blu-ray Disc Review
By Chris Boylan
I guess I'm not much of a film buff. I had no idea that there was one film that featured the likes of Sean Connery, Michael Caine, Robert Redford, James Caan, Dirk Bogarde, Laurence Olivier, Maximillian Schell, James Gould, Anthony Hopkins (with hair!), Ryan O'Neal and Gene Hackman. Maybe it's because I was ten years old when A Bridge Too Far hit theaters and war movies were not my cup of tea (except for that one famous "war" movie, Star Wars, which came out the same year).
Although Gene Hackman's Polish accent is horrific, the performances from most of the principals are strong. Redford is intense as a U.S. major leading a particularly daring attack. Connery, Caine and Hopkins turn in respectable performances as well. But though the history upon which the film is based is compelling -- an Allied attack on occupied Holland in the later days of World War II intended to strike a decisive blow in ending the war -- the film itself leaves a bit to be desired from a pacing standpoint. Disconnected scenes show the various allied battalions throughout Holland as they attempt to capture, hold and/or rebuild three bridges behind enemy lines. These are interspersed with scenes that show command decisions made by leaders on both sides during the operation. Mistakes are made -- by both the allies and the German leaders -- but it's the allies who take the brunt of the beating here.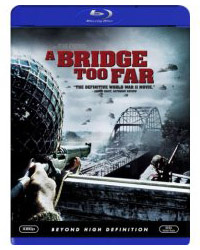 The film certainly has its memorable moments, some of which come from the comic relief added to otherwise bleak situations. When a young German soldier crosses one of the bridges, white flag in hand, offering the option of surrender to a ragtag band of British troops, vastly outnumbered and outgunned by fresh German reinforcements, the British commander says "I'm sorry, but we just don't have the facilities here to accept your surrender… was there anything else?"
Also, many of the battle scenes are impressive -- the parachute drop alone with dozens of planes and hundreds of paratroopers convincingly presents the illusion of a real WWII battle. But the film would probably have worked better edited a bit more tightly. A few fewer gratuitous shots of wounded men perhaps? At three hours, the film feels a little bit plodding, and lacking in suspense. Still a remarkable cinematic achievement, but with the high production values and star power, I expected more.
The Picture
The 1080p widescreen transfer (letterboxed to 2.35:1) uses the inefficient MPEG2 codec, but it dedicates nearly the entire two layer disc to the film, which generates respectable results. It seems like they may have applied a bit of noise reduction to the print as it's quite clean, perhaps overly so, with no dirt or visible flaws, but also none of the film grain that would lend it a more cinematic feel. It's definitely high definition and is good enough not to stand in the way of the film, but it's not the best we've seen, even on films of its era (late 70s).
The Sound
The film's soundtrack has been re-mastered for Blu-ray Disc in DTS-HD Master Audio 5.1 Surround. But just because you have a high quality lossless format doesn't automatically guarantee a high quality audio mix. Dialog is clear and intelligible but levels are a bit dodgy with great discrepancies between spoken word, music and mortar fire. You could say this is a sign of extended dynamic range but it seems more uneven than that. Music is also a tad bit shrill, and lacking the warmth and power that it could have, properly mixed. And the bass, while solid, never extends into the depths as on titles such as Master and Commander. Overall, audio is OK, but certainly not reference quality.
The Extras
The extras are about as thin as it gets - a theatrical trailer for the film plus trailers for a few other war films from Fox (Platoon, Windtalkers, Flyboys). That's it.
Final Thoughts
As a film, A Bridge Too Far has its problems, but overall, it's enjoyable and certainly includes some impressive acting, sets and cinematography. As a Blu-ray Disc, the film is somewhat less impressive with a decent video transfer but unexciting audio and virtually no extras. This title came out on Blu-ray along with a handful of other classic WWII films, just in time for Father's Day. And if your father served in a war or is a military buff or lover of military films, he might appreciate this as a gift, but for the rest of us, a rental is probably a better option.
Where to Buy:
Product Details:
Actors: Dirk Bogarde, Sean Connery, Michael Caine, Robert Redford, Laurence Olivier, Maximillian Schell, James Gould, Anthony Hopkins, Ryan O'Neill, Gene Hackman, Liv Ullman
Director: Richard Attenborough
Audio/Languages: DTS-HD Master Audio 5.1 Lossless Surround (English), Dolby Digital 4.0 (English), Dolby Digital 5.1 (French), Mono (Spanish)
Subtitles: English, Spanish, Cantonese, Korean
Region: A
Aspect Ratio: 2.35:1
Number of discs: 1 Dual Layer 50GB Blu-ray Disc
Rating: PG-13
Studio: Fox Blu-ray (an MGM film)
Blu-ray Disc Release Date: June 3, 2008
Run Time: 176 minutes
List Price: $39.98
Extras:

Theatrical trailers

A Bridge Too Far
Flyboys
Platoon
Windtalkers