Who Makes the Biggest Baddest Flat Panel HDTVs in the land?
By Chris Boylan
In New York this week at their Global Road Show,
Samsung
showed off the world's largest flat panel HDTVs in each of the leading technologies. These included a 102" plasma, an 82" TFT-LCD, each with 1080p resolution and a 40 inch OLED panel (Organic Light-Emitting Diode) measuring in at 1200X800 resolution.
"The 102 inch PDP TV and the 82 inch TFT-LCD TV are a perfect combination of screen size and picture resolution," said Shin Sang-Heung, vice president of the Visual Display Division at Samsung Electronics. "Both televisions are the epitome of design and performance - a must-have for any serious home theater buff."

I've seen the 102 inch plasma in the flesh at CES 2005, and it's a most impressive feat of engineering. Of course, the only problem is that these bad boys are prototypes - no production plans or schedule is being given for general availability of these particular models. So getting one may be a little tricky. However, if you've got a hankering for a slightly smaller (but still remarkably huge) flat panel HDTV, then Samsung's 80 inch plasma the HP-R8082 first displayed at CES is expected to be available in limited quantities by the end of this year. Samsung is still slightly vague on MSRP but the behemoth is expected to sell somewhere in the ballpark of $50,000.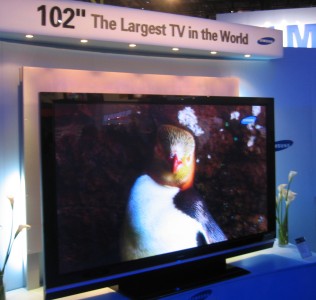 Samsung's 102 inch plasma currently holds the title as the largest plasma in the land.
Here are the specs on the current world record holder prototypes (from the Samsung press release):

102" PDP TV
Basic World's Largest PDP TV
Resolution 1920x1080p Progressive Scan
Technology DNIe TM (Digital Natural Image engine)
Sound SRS TruSurround XT
Interface Complete Digital Interface HDMI Input
Design Oriental Style With Premium Glossy Black Color 68.7 billion displayable colors
* Specifications are subject to change without notice.
82" TFT-LCD TV
Resolution 1920x1080 pixels (approx. 6.22 million pixels)
Screen Ratio 16:9
Color Gamut 92 %
Contrast Ratio 8,000:1 (dynamic contrast)
Brightness 500 nits (cd/m²)
Response Time 8 ms
HDTV resolution Max. 1080/60 progressive scan
(1080 horizontal scan lines of 60 frames per second)
Connectivity HDMI (2), PC (1)
* Specifications are subject to change without notice.
40" OLED Prototype Panel
Resolution 1280x800 pixels (HD-class)
Screen Size 40" (Diagonal)
Screen Ratio 16:10
Number of Pixels 3.07 million (# of RGB sub-pixels)
Max. Screen Brightness 600 nits
Shade Ratio 5,000:1
Color Reproducibility Min. 80% vs. NTSC
Response Speed Min. 1,000x faster than that of LCDs
* Specifications are subject to change without notice
.