Fight Club Review
By Joe Lozito
The "Fight" Stuff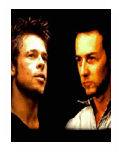 With the exception of "Seven" - still his reigning masterpiece - David Fincher has developed a habit of directing films that start with a good premise and then spin wildly in the wrong direction. "Alien 3" degenerated into a standard rats-trapped-in-a-maze thriller; "The Game" became a logistical, more than a psychological, nightmare; and now we have "Fight Club", the first half hour of which is an amusing exploration of an unfulfilled corporate drone (Edward Norton) before it takes a "Sixth Sense-ian" twist into violent absurdity.
The violence itself is one of the major characters in the film, but for all the furiously flailing fists and trickling syrupy blood, very little permanent damage is inflicted. These men beat each other into submission, literally, but then show up at work the next day with a couple of well-placed band-aids. Aside from Mr. Norton, the main bludgeoning recipient is Brad Pitt as the egomaniacal Tyler Durden. The two start a weekly group in which men lacking in self-fulfillment get the chance to confront their problems by beating the tar out of each other. It seems, however, that Tyler has other ideas for Fight Club and soon Mr. Norton is unable to control Mr. Pitt as the club branches out in a frightening vigilante direction, the details of which are better left unsaid.
I don't mind a film with a surprise ending but, rather than enhancing the film, the climactic revelation in "Fight Club" cancels out everything previously seen. In fact, the bitter end of the film is a hypocritical cop-out. The script, by Jim Uhls from the Chuck Palahniuk novel, wants to have it both ways. It wants to make fun of the sculpted models in Calvin Klein ads only moments before showing Brad Pitt's chiseled physique; it wants to have the characters be so ludicrously self-destructive that they would purposely crash a car, but then have them saved by the very seatbelts and airbags that they so vehemently deride; but most of all it wants to show shirtless, sweaty men writhing on the floor in an orgiastic fury without even acknowledging the latent homosexual overtones.
Shining through Mr. Fincher's now trademark visceral camerawork is a cast that universally hits the mark. Mr. Norton and Mr. Pitt play well off each other and add much variation and depth to their relationship. Even Meat Loaf has a juicy supporting role as one of Tyler's lackeys. Adding the only estrogen to a film which greatly needs it is Helena Bonham Carter in a surprisingly tough, edgy turn which may, and should, mark a turning-point in her career.
"Fight Club" has an intriguing idea: have people - particularly men - become such consumers that they are now defined by their possessions and have lost their inherent killer instinct - the only relief for which is to lash out in testosterone-fueled bouts of senseless pugilism? The film scratches the surface of this question with the subtlety of a punch in the eye, but spends most of its time setting the audience up for the final manipulation. Unfortunately, when a plot twists this much, it eventually has to lose its point.