Vivitek H5080 DLP Home Theater Projector Review
By Greg Robinson
Edited by Chris Boylan
Vivitek may be a name unfamiliar to many home theater shoppers, but that's something the projector maker is hoping to change. Historically a business- and education- focused projector company, and comprised largely of former employees of BenQ and Optoma, Vivitek has been ramping up their efforts to be more competitive in the home theater marketplace. Exhibit A is Vivitek's H5080, a 1080p DLP-based home theater projector.

Positioned between Vivitek's entry-level H1080FD and their flagship H9080FD (the "world' first LED 1080p home theater projector"), the H5080 is a bright, well-equipped, and capable performer packing a zoom lens and both horizontal and vertical lens shift adjustments to ensure installation flexibility.
The Hook-Up

Unlike some projector makers, Vivitek is kind enough to ship the H5080 with both component video and HDMI cables inside the box. You may go a different route with aftermarket cables, but it's always refreshing when you don't have to run to the store before you can enjoy your new purchase.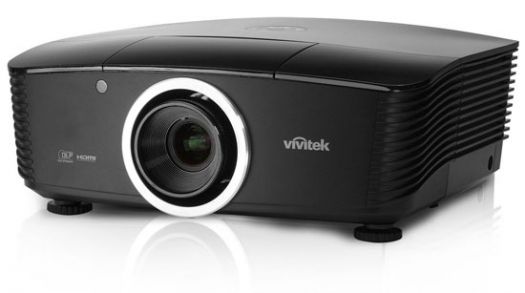 Connection options on the H5080 are surprisingly robust. That HDMI cable Vivitek gives you can be plugged into any one of the three HDMI inputs you'll find out back. There you'll also find one component video input, one VGA DB15 input, one S-video input, and one composite video input. You'll also find a USB port out back, but this is reserved for service and firmware use only. Last but not least, an RS-232C serial data port and dual 12V triggers round out the offerings on the rear jack pack.

As previously mentioned, the H5080 features both vertical and horizontal lens shift adjustments: something we don't see often enough on projectors, particularly on lower cost DLP projectors. This provides much greater installation freedom, as you don't need to be as careful when you're positioning your projector in relation to your screen. With projectors featuring dual axis adjustments such as those on the H5080, "close enough" is usually good enough. Once you've picked your spot, simply adjust the two lens shift knobs until your projected image is properly centered on your screen.
Alas, Ergo

On the subject of those lens shift adjustment knobs, this is one area where the H5080 loses points in the ergonomics department. Whereas many projector manufacturers leave their lens shift adjustment wheels exposed, Vivitek chose to conceal theirs beneath a sliding door on the unit's top surface (facing down if you ceiling-mount the unit). Although this out-of-sight approach sounds good in theory, the access door is somewhat finicky to open. The net effect is that you sometimes apply so much pressure trying to open it, that you inadvertently push the projector off center and have to re-align it. Granted, you shouldn't have to make lens shift adjustments too often, but the physical logistics of these adjustments could definitely be improved.

Like most projectors, the H5080 features a hard Power switch on the rear of the unit. This is left on most of the time as the projector remains in a low-power standby state waiting for its next assignment. One minor nitpick: the soft Power button - responsible for waking up or powering down the unit - is inexplicably given the same inconvenient rear panel location. This hard-to-reach, impossible-to-see button is less than ideal if your projector is ceiling-mounted, and even worse if you plan to use a shelf mount on your theater's rear wall. Here's hoping future models see this button moved to the top, where Vivitek does have other function and source toggle controls. On the plus side, Vivitek does give us both front and rear infrared (IR) receptors to give remote control commands the best chance of registering.

Remote, Control



As for the remote control itself, Vivitek's remote is an all-white affair with a brilliant blue backlight. Mine was temperamental in that sometimes the first button press would fail to illuminate the keypad, but more often than not it worked as advertised. Thankfully we get direct source selection buttons so you can quickly switch between HDMI, component video, etc.
The H5080 displays a small box on-screen to let you know what source you're viewing and the detected resolution. I did encounter one quirk here: my reference Blu-ray Disc player, Oppo's BDP-93, was set to output 1080p/24Hz for 24fps playback of film-based Blu-ray content. However, despite forcing a 24p output on the Oppo, the H5080 continued to represent the source as 1080p/60Hz in the info box. After checking with Vivitek, I was assured that all of their 1080p projectors do in fact support 24Hz, a claim supported by the fact that the Blu-ray Discs I viewed when the Oppo was in forced-24p mode looked just fine. Moral of the story: don't believe everything you read (well... except this review, of course).
Pressing "MENU" on the remote control brings up Vivitek's on-screen menu system. The most common video adjustments (Color, Tint, Contrast, etc.) are quick and easy to find, and most of the projector's settings are intuitively grouped. That's not to say some of the items aren't a bit cryptic. And "ViviSettings" is what exactly? Since you asked, "ViviSettings" brings up a small sub-menu of video features I don't recommend engaging. The one to watch out for is ViviMotion, Vivitek's attempt at frame interpolation. When engaged, it'll make film look like a soap opera. If that sounds appealing to you, go nuts. I left it off for the duration of my review period.
[editor's note: apparently some people like the motion smoothing effect of frame interpolation but I, like Greg, am not one of those people.]

Processing... Processing...
Calibrating the H5080 took less time than a projector calibration usually takes me, but that's not necessarily a good thing. Basic picture controls were easy enough to adjust and only required minor correction from Vivitek's canned "Movie" user mode. However, I was disappointed to find that Vivitek chose to eliminate grayscale adjustments (RGB gains and offsets) from the consumer user interface. After speaking with Vivitek, I confirmed that these adjustments are only possible when you enter the hidden service menu using an unpublished set of remote control keystrokes.
Making those grayscale adjustments went a long way towards improving the H5080's out-of-the-box performance, but it's unfortunate that tweak-happy consumers will have to rely on a professional calibration (or some creative Googling) to uncover these advanced adjustments. As with any display's service menu, if you DO manage to get in there, be careful. This is not a place to experiment with different settings. And before you change anything, write down the current settings so you have a fall back.

After getting the video settings roughly where I wanted them, I first ran the H5080 through the HQV Benchmark 2.0 DVD running at 480i. The Vivitek scored passing marks on two out of the three "jaggies" tests, but the third one (three oscillating bars) looked fairly ugly. The waving flag test revealed some minor stair-stepping and the 3:2 film cadence test took about one full second before the noisy grandstands quieted down, banishing the moire pattern that comes when the 3:2 film cadence is not detected. The other HQV tests were fairly uneventful, though the video-on-film test did reveal some tearing in the first few words of the text crawl as they started appearing beneath the film-based guitar footage. This shredding stopped before the text reached the left edge of the screen and did not re-appear until the track restarted.
Picture This

Popping in a few of my processor-taxing film tests, such as the coliseum flyover sequence from Ridley Scott's Gladiator on DVD, the H5080 acquitted itself with fair marks, but there were certainly a few problems here and there. Although the overhead shot of Rome's coliseum looked sharp and steady, the smaller buildings' rooftops that precede the coliseum reveal did exhibit a fair amount of shimmer and movement during the overhead camera pan.

Despite a good-but-not-great showing during the video processing gauntlet, the H5080 did fine work serving up real world high definition content from both a variety of Blu-ray Discs and my DISH Network HD DVR. During the IMAX-enhanced opening of The Dark Knight, Christopher Nolan's view of Gotham's rooftops showed splendid detail on the H5080 and the subsequent clown masks benefited from DLP's reliable penchant for punchy colors and deep blacks.

These inky blacks were also evident when I watched Sony's recent Blu-ray release of Priest. This film has many dark moments, and when Paul Bettany is hunting vampires in the dark interiors of a thought-to-be-abandoned hive, the H5080 did a solid job of preserving shadow detail as Priest (dressed in black of course) moves amongst his shadowy surroundings.

On the subject of black levels, it is here that I must point out what is perhaps the H5080's most irritating quirk. Whenever you switch between user modes, or modify the Vivitek's IRIS setting, prepare to hear a brief but loud mechanical sound, not unlike the noise a digital camera makes when its lens retracts and closes up. I confirmed with Vivitek that this noise is normal iris operation noise on the H5080, but that they are working to quiet it down in future models. If you don't make iris adjustments often, this is not a major concern. But if you like to play with your video settings on a regular basis, this buzzing sound could easily become annoying.

Turn Ons:
No 3D (yeah, I said it)
Plenty bright

Vibrant, punchy colors

Deep blacks, good shadow detail
Available fixed short throw and long throw lenses

Turn Offs:
No 3D (for those who actually like that sort of thing)
Loud, mechanical noise during iris adjustments

Mediocre video processing
Grayscale adjustments in Service Menu only
Less-than-ideal lens shift control location

Final Thoughts

Vivitek's H5080 is an intriguing machine. On the one hand, Vivitek is clearly trying to strengthen its position in the home theater marketplace, and the H5080's heft and attractive looks certainly give it a dose of high-end panache. On the other hand, the H5080's video processing capabilities could definitely stand some improvement and it does suffer from at least a few ergonomic quirks.

With the home theater projector marketplace as crowded and competitive as it is right now, Vivitek's H5080 makes for a capable performer but at a suggest list price of $2999.99, it does seem a bit overpriced when factoring in its processing deficiencies, ergonomic quirks, and a lack of 3D support. That said, the H5080's impressive brightness, deep blacks, and punchy colors could easily make a strong case for itself if you can find it at a discount.
Manufacturer's Specifications:
Manufacturer's Contact Information:

Vivitek USA
4425 Cushing Parkway
Fremont, CA 94538

Phone: (877) 603-3582

Website: www.vivitekusa.com