The Site for Home Theater and Movie Reviews
ViewSonic VPD400 HD MovieBook Review
By Rachel Cericola
ViewSonic VPD400 HD MovieBook Review
Entertainment on the Cheap

It must be hard to make any traction in the portable player market. With the iPod and even the Zune in existence, it's easy to forget something like the ViewSonic VPD400.

The VPD400 also goes by MovieBook, which is a much cooler name -- and better matches its functionality. Of course, it's not a top-of-the-line unit. The design screams for touchability, although no touchscreen is present. It's also big enough to view Hulu, do email, and even find your to the nearest 7-11 via Google Maps, but doesn't offer any web browsing functionality. So what does it have that its more technologically advanced competitors don't? Well, for one thing, a bargain basement list price of $129.99 (we found it for even less at Amazon).

Packed in Plastic
If you're looking for a lot of bells and whistles from the VPD400's design, you could be disappointed. It's really all about the screen, which dominates much of the unit's 4.4 x 3-inch real estate (the screen itself measures 4.3 inches diagonally). The unit's plastic shell comes in black, white or pink. Holding the unit, it seems a bit cheap, not surprising, given its pricetag. As long as you don't plan on drop kicking it anytime soon, you should be fine. Also, that plastic construction makes the VPD400 surprisingly light, given its size.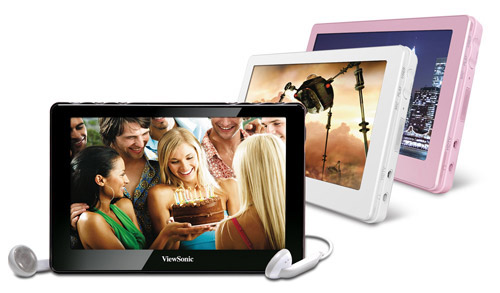 On one side, the unit has DC and USB jacks, and a micro SD card slot. The other side has a jack for HDTV hookup (but no HDMI), a headphone jack, a microphone and volume control. The top has buttons that allow rewind and fast-forward functions, as well as up and down arrows. The bottom just has an easy on/off button.
While the buttons are easy to comprehend, they don't add a lot to the ease of navigation. In fact, you'll find yourself fumbling a lot until you get past the learning curve. We're guessing by the time you memorize what is where, you'll be on to the next portable. It's here where the unit could use the touchscreen or at least a touchwheel. All of the clicking and flipping around on the buttons becomes very confusing. Expect to have to actually
look
at what you're doing. Who wants to look at buttons when a 4.3-inch screen is available? Another option is the unit's remote, if you want a little something extra for your pocket. We're guessing you won't; read on for more about that.
Up & Out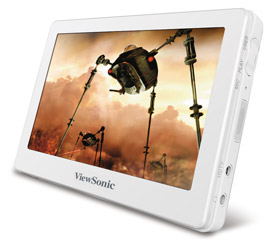 While there are a few things to hate about the VPD400, there's a lot to love as well. First of all, ViewSonic has made the setup of this unit as easy as humanly possible. Our parents could get this thing up and running. OK, maybe not
them
, but someone's parents should be able to master it. Inside the box, you'll find the ViewSonic VPD400 HD MovieBook, a power adapter, a remote, a USB cable, an AV cable, a component cable, the Quick Start Guide, and earphones. Like we said before, there is no HDMI -- and no jack to accommodate one either.
That HDMI would make hooking it to a big screen much easier. However, the fact that the VPD400 has no CDs or software sort of makes up for the clutter of two cables. Many manufacturers put the full manual on a CD, but not ViewSonic. Instead of adding another disc to your desk, the package directs you to the web if you really want it.
You won't need it, though. Just charge the unit, hook it to your PC, and open up the device's folder on your desktop. You will find a series of pre-installed files: Book, Movie, Music, Photo and Record. From there, you can drag and drop up a storm, until you fill the VPD400's 8GB of internal memory or your optional micro SD card which can get you up to another 32 GB.
Plays (Fairly) Well with Others
If you're into taking all of your audio and video on the go, the VPD400 could be your best buddy. The beautiful thing about this unit is that it plays well with almost every kind of format (see below for a complete list).

We were pretty successful with everything we threw onto the unit. Some sadness, though; the VPD400 won't be compatible with anything you've copied or purchased in iTunes. We were able to load it up with plenty of movie trailers from the site. However, our purchased music and even the free Lost episode we downloaded would not transfer over.

When playing audio, headphones are a must. We can't imagine listening to the teeny speaker for 12 minutes, let alone 12 hours -- which is what the manufacturer promises in battery life. It may be OK for sharing something on the fly, but just doesn't have the juice to make it an enjoyable experience. With headphones, however, we found the sound to be very good. Depending on your headphones (we favored our noise-canceling Bose unit), you should be pleased. The only thing missing from the musical experience is album art, which would have been a nice touch, considering the big, beautiful screen.

For video, the actual unit displays a respectable 800 x 480 resolution for up to six hours. The content, however, will only look as good as your original copy. We were kind of surprised that some home video looked really bad, even when it was tiny. The trailers from iTunes, however, looked sharp as a tack. Colors were bright and spot-on.


Like the video, photos displayed very nicely. If your photos have a high resolution and good colors, they will look splendid on the VPD400. Even some of our smaller pics looked nice, but small. This would definitely be a nice way to show off pics of the kids or a vacation, thanks to the screen size.
Party with the Big Boys
If your eyes are starting to dilate from the small screen, the VPD400 comes with component and AV cables, both of which you'll need to output HD video to your HDTV.

One annoying thing: Don't just expect to hook the cables and watch the magic. You will need to set up external viewing in the Settings menu -- every time you want to watch something on the big screen. Need a nap? You'll need to reset the settings. Stop for a snack? You'll need to reset the settings. It's really annoying.

Even more annoying is the remote control. Unless you plan to stand fairly close to the VPD400, the remote won't help much. Apparently, it's not made for long distances. It's also slow, which makes the navigation even more difficult than if you just stand there and press the buttons.

For all of that effort, you will get the saving grace of a nice picture. Like with video playback on the tiny screen, the video will only look as good as its original. Also, bigger is not always better. We loaded a bunch of non-HD movie trailers and HD (720p) movie trailers to the unit. On the big screen, there was an obvious difference. The HD looked awesome, with good detail and without distortion. The unit was less kind to the non-HD, however. It took on the look of a Polaroid picture blown up to poster size with visible pixels and muted colors.

Best of the Rest
The VPD400 does its best to be your everything portable, adding in eBook features as well as a voice recorder. We're not expecting this thing to give the Kindle a run for anyone's money, but it was a nice added feature, displaying text as well as its standard LCD screen could.

We played around with the voice recorder for a while and were pleasantly surprised at the results. Sounds were always bold and clear, without much background noise, which of course would vary. If you're in a bar, you probably aren't going to be able to isolate a karaoke performance. However, we had fans, a fireplace and cars passing outside, which didn't come up in any of our test recordings.

Turn Ons
Super-cheap price tag
Bright 4.3-inch screen
Outputs 720p HD to big screen
Holds an awful lot of entertainment
Turn Offs
Confusing navigation
No HDMI option
Remote is slow
No touchscreen or Wi-Fi
Final Thoughts
If ViewSonic is expecting the VPD400 to be all things to all people, they are going to disappoint a few of those patrons. A lack of good navigation and online features/upgrades makes it hard for this device to keep up with the iPods, Zunes and even the Kindles out there. Still, the one thing we can't hate about this device is the cost, which makes it a nice starter unit for the kids, particularly for those long road trips -- or an extra player for you if you need something with a bigger screen and a smaller price tag.

Where to Buy:
Manufacturer's Specifications:
4.3" TFT Active Matrix LCD
800 x 480 resolution
Contrast ratio: 400:1
Brightness: 300 cd/m2
Compatible with Windows 98/2000/SE/ME/XP/Vista/Windows 7
Micro SD card reader
Compatible Video Formats: AVI, RM/RMVB, FLV, MP4, MOV, PMP, MPG, VOB, VOD, DAT, H.264, H.263
Compatible Audio Formats: MP3, WMA, WAV, FLAC, APE, OGG
Compatible Photo Formats: JPEG, BMP, GIF, PNG
Supports eBook TXT file and Record memo
8GB Internal Flash Memory
HDTV Port
Built-in microphone and earphone jack
Speakers: 0.2W (x2)
Battery life: 12 for audio, 6 hours for video, 3 for HD movies
Dimensions: 4.4" x 3.0" x 0.5"
Weight: 0.3 pounds
Remote control included
Available in black, white and pink
MSRP: $129.99
Manufacturer's Contact Information:
ViewSonic Corporation
381 Brea Canyon Road
Walnut, CA 91789

Phone: 800-688-6688
On the Web: www.ViewSonic.com
What did you think?
The Scores for ViewSonic VPD400 HD MovieBook
| | |
| --- | --- |
| Overall | |
| Value | |
| Performance | |
| Features/Ergonomics | |
Explore Big Picture Big Sound