Unmonday Brings Wireless Multi-Channel Sound to Your Life Via Airplay
By Peter Suciu
Design does not overtake function with the Unmonday 4.3L speaker; both features are at the forefront with this Helsinki, Finland-based company using Kickstarter to bring its product to market. The Unmonday 4.3L is an independent Airplay speaker capable of playing audio in mono, stereo or Dolby Surround Sound - if you spring for five speakers.  But what makes it unique is that its channel deisgnation (e.g., front left, front right, rear surround, etc.) can be changed just by rolling the speaker over.
Striking Design
The 4.3L speaker is enclosed in a hexagonal porcelain enclosure. The white porcelain body and white grill provide a simple, elegant look that blends well with the Apple style of glossy white components and accessories. Alone or paired with four more 4.3Ls, the speakers blend well into most settings.
The porcelain housing is custom made, and is meant to be durable. While the 4.3L is bigger than a breadbox, it is portable enough to move throughout the house, or even to be taken to other locations like a picnic or other outing. Unmonday provides a custom-made leather case for the speaker to make those road trips that much easier. In the house or on location, the Unmonday 4.3L supports about 10 hours of battery life. The unit has a place to plug a power cord into the back to recharge or provide permanent power.
Power and Performance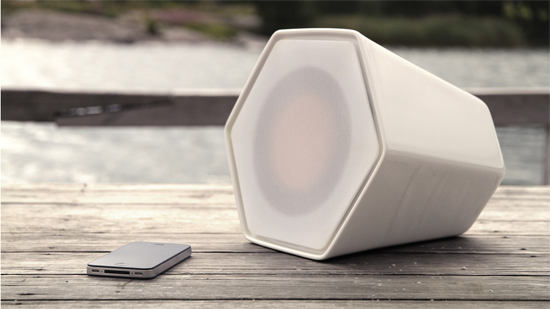 It's name, 4.3L, denotes that the Unmonday 4.3L is a 4.3 liter speaker, which describes the volume of the internal capacity of the speaker. Each speaker is built with an Alpair 10 full-range driver capable of playing on its own, or pairing with up to four speakers from Unmonday for a total of five channels. Audiophiles will like that the Unmonday 4.3L can play music in mono, stereo or Dolby Surround sound. That means really old vinyl, or even MP3s made from that old vinyl, can be played in its original mono format. The reissue of the Beatles in mono can also get an authentic venue to play those old tunes.
A few unique features make the Unmonday 4.3L stand out. Each speaker can operate on its own connecting to devices and home theater equipment wirelessly via Airplay. Up to five 4.3L speakers can be combined to work together playing in rooms throughout the house, or in one room to comprise a five-channel Dolby Surround sound system.
To achieve Dolby Surround sound, position the speakers, then flip the hexagonal speakers to determine which channel the speaker will receive. Each of the six sides is assigned a channel: mono, right, rear right, center, rear left and left. The channels are discretely marked on the back of the unit. This feature makes for easy set-up. It also neatly supports a multi-purpose room where you might want to listen to stereo music from an easy chair during the afternoon, but you want these stereo speakers to transform into your left and right surround speakers when watching movies from your bed at the opposite side of the room. in the evening  Just roll the speaker over and it changes its channel.
Speakers can also be positioned throughout the house so you can play from one location and have multi-room sound. And while one speaker will support stereo playback, two speakers can be paired together for fuller sound.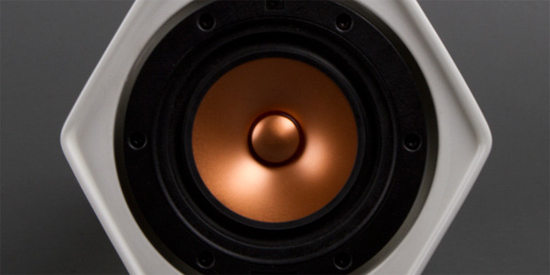 Kickstarter Funding
Unmonday has already raised almost $50,000 from 59 backers, with about 20 days left to raise funds toward its $200,000 goal. A single 4.3L speaker from Unmonday costs a pledge of $499. Two speakers go for $1,099, and a set of five speakers for Dolby Surround takes a pledge of $2,499.
For More Information