U2 3D Review
By Joe Lozito
All That You Can't See Behind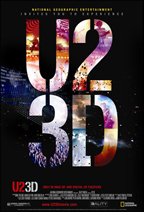 To some extent, 3D technology requires larger-than-life subject matter. Hence the reason you tend to find IMAX 3D movies about climbing Everest or diving to the ocean depths. There's little point, for example, in a 3D version of "Office Space". While other recent mainstream 3D efforts ("The Polar Express", "
Beowulf
"), have featured animated subjects, "U2 3D" is a full-length concert movie documenting the Irish band's "Vertigo" tour. This is a case of subject and technology happily coexisting. For once, the technology adds to the material, instead of the material being an excuse to use the technology. U2 is already a dynamic (at times over-the-top) presence, and the 3D technique - which is a new variant being used here for the first time in feature-length - only enhances that. Thanks to this impressive - and vastly-improved - technology (yes, you still need the glasses), "U2 3D" is about as close as you'll get to being on stage with U2.
Catherine Owens and Mark Pellington direct the proceedings with as little gimmickry as possible (save for an opening sequence of nausea-courting overlays). There are no cheap jolts or jabs at the screen here. You won't find Bono flying out into the camera (though I'm sure the idea was tossed around at some point). Instead the camera swoops down and around the audience, and up onto the stage with the band. And though it's the visuals that are on display here, kudos should go to the sound mixing as well, which is outstanding.
As it turns out being on stage with U2 is everything it's cracked up to be. The stalwart rockers (Bono, The Edge, Adam Clayton, Larry Mullen Jr.), who have been playing together for three decades, are so tight and in sync that there's nearly a crackle in the air between them. Meanwhile, in the audience the arms of the crowd are so real that I nearly yelled "down in front". There's also an overhead shot of the undulating mass that has to be seen - in or out of 3D - to be believed.
This is not your grandfather's concert movie. Or even 1988's "U2: Rattle and Hum". There are no interviews, voice-overs or talking heads in "U2 3D". There's just the band and their music. And "3D" finds what some have called "the greatest rock back of the last quarter century" in fine fighting form. The film features footage from seven different concerts in Latin and South America during the band's 2005-06 tour. Since the tour was in support of "How to Dismantle an Atomic Bomb", the songs from that album are featured a bit more prominently than I'd like.
But such is the plight of U2 - so many songs so little time. While we get many of the hits ("Sunday, Bloody Sunday", "Pride (In the Name of Love)", "With or Without You"), a more career-spanning set ("Achtung Baby" was poorly represented) might have made the film a real triumph. However certain songs, like "Sometimes You Can't Make It On Your Own", get a welcome boost from the film. Bono dedicates this one to his father, and he's backed by an enormous looped animation of a walking business man. It doesn't take 3D technology to become engrossed in that moment. That's just a great performance.