The Revenant Review
By Tom Fugalli
Revenge Served Cold
"Inspired by real events" (a.k.a. fiction), "The Revenant" builds upon the story of 19th-century explorer and fur trapper Hugh Glass (Leonardo DiCaprio), who was mauled by a grizzly bear and left for dead by his group, including nay-saying ringleader John Fitzgerald (Tom Hardy).
The graphic bear attack turns out to be one of many horrific possibilities Nature has up its green sleeves. During Glass' odyssey through the wilderness, he is tested and punished on a grand scale. He's not alone, encountering soldiers, as well as Native Americans, who thankfully are neither demonized nor romanticized. "I ain't afraid to die anymore," Glass says. "I've done it already." [Merriam-Webster's definition of Revenant: "One who returns from a long absence or death."]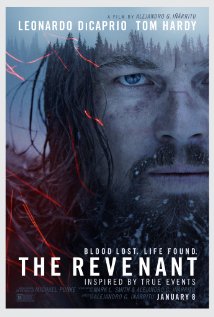 Director Alejandro González Iñárritu ("
Birdman
") largely avoided using CGI (filming on location in Canada, Argentina, and Montana) and cinematographer Emmanuel Lubezki shot using only natural light. The result is a movie that can be harrowing just to watch (and reportedly was no picnic for some of the crew).
There is minimal dialogue, and the elements often upstage the actors. DiCaprio is up for the movie's physical challenges, becoming nearly an animal himself in a role that denies him the use of his usual charisma. Hardy brings the hate, and a couple of very understated instances of humor, which are amplified given the movie's grim context.
The movie is visually breathtaking, but panoramic width doesn't give a story depth. It's possible you'll find yourself simultaneously marveling at the sublime landscape and wondering how long this guy is going to walk in the woods. Turns out it's 2.5 hours, and not everyone will be pleased the director decided to take the scenic route.
"The Revenant" is a survivalist story and tale of revenge, with surreal touches, which looks mostly like a Western, only colder (a Northern?). But you don't have to call it anything. This movie is comfortable with silence.