The Hitman's Bodyguard Review
By Matthew Passantino
Reynolds, Jackson Can't Save Action-Comedy
Even as a late-summer distraction, "The Hitman's Bodyguard" rarely functions accordingly. This summer has offered an array of fun spectacles, smart blockbusters, and thoughtful smaller films, producing one of the better summer movie seasons in some time. Too bad we have to end on a sour note.
Ryan Reynolds stars as Michael Bryce, a former "Triple-A Rated" elite security specialist, who falls from self-proclaimed greatness when one of his clients is murdered aboard a plane. Everyone around him scrambles to assess the situation; Bryce just stares in awe at his departed client without ever moving. Maybe he wasn't as good at his job as he likes to think.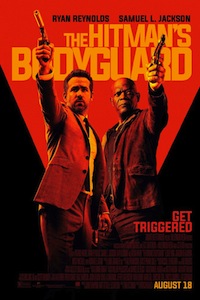 Two years later, Bryce is broken down and dispirited. He still works as a bodyguard but not for anyone he puts any form of importance upon. His ex-girlfriend, Interpol Agent Amelia (Elodie Yung), contacts him out of desperation with a job she needs done to make herself look good. Bryce hesitantly accepts, only to find out he has to transport infamous assassin Darius Kincaid (Samuel L. Jackson) to The Hague to testify against a dictator named Vladislav Dukhovich (Gary Oldman).
The bulk of "The Hitman's Bodyguard" is watching the mismatched Bryce and Kincaid travel from Point A to Point B. They bicker and clash from the start. Bryce is too uptight for Kincaid, demanding seatbelts and general safety, and Kincaid usually retorts with something that starts with motherf…well, you probably get the picture. Their journey has a staggering body count, which causes most of the movie to feel numbing and repetitive.
What plagues director Patrick Hughes' action-comedy extravaganza is its pervasive blandness and overwhelming sense of been there, done that. Reynolds is effortlessly charismatic and no one plays foul-mouthed, off-the-charts like Jackson but together they are just asked to be their personas, not characters. In between the melee, the characters reflect upon life and love, with Kincaid hoping to break his wife (Selma Hayek) out of jail. It's all an effort to provide shading to these thinly sketched caricatures but it doesn't quite work.
Screenwriter Tom O'Connor has built a story upon contrivances with the hopes the gunfire and blood splatter would be enough to entertain audiences. Just shy of two hours, "The Hitman's Bodyguard" feels like an eternity with its prolonged action sequences and monologues about love. It's a shame that the individual charms of Reynolds and Jackson couldn't provide much of a spark among the explosions because the movie feels warmed-over from the very beginning.