Star Wars: The Clone Wars The Complete Season One Blu-ray Review
By Chris Chiarella
The Show
Buffy.
On the big screen, not so hot. In weekly doses, she was pretty darned good. Clearly, the theatrically released Clone Wars animated movie was always intended to serve as the pilot for the ongoing weekly series, but I was not a fan. And yet now that I've spent the day catching up on The Clone Wars The Complete Season One, I'm pleasantly surprised how much there is to like. Perhaps the problem is the immature interplay between Jedi Knight/soon-to-be-Darth-Vader Anakin Skywalker and his young apprentice Ahsoka Tano, which is unfortunately a central relationship on the show. And the attempts at humor (yes, Jar-Jar is back-back) never seem to hit the mark.
Happily, with this many missions, Anakin and Ahsoka might be split up or left behind entirely, and we are free to explore all manner of galactic intrigue and danger through the eyes of Yoda, Mace Windu and other familiar Jedi, and many other freedom-loving heroes we meet along the way. With heavy involvement from George Lucas himself, the stories explore some remarkably deep themes, often with great subtlety and numerous inside references. The artistic design of the series is also astounding.
Seven of the episodes from Season One are presented in Director's Cuts, maybe three minutes longer. The Cartoon Network-broadcast originals are not here for comparison, but I was surprised more than once by the level of intensity, particularly the actions of General Grievous and his minions. It's not the Star Wars I grew up on, but taken on its own, The Clone Wars is a captivating long-term adventure.
The Picture
Once again, Clone Wars brings its own unique contrast between the hard, sharp mechanical aspects of this world and the stylized organic look of faces, cloth, and so forth, right down to the faux brushstrokes (this is ultra-modern digital animation after all) and all of the dirt and textures that distinguish Lucas' lived-in science-fantasy universe. The aspect ratio is distinctive as well: How many weekly cartoons are presented at 2.4:1? Guessing this choice was made to maintain consistency across the entire saga. Detail is generous (note the engraving on Jedi Plo Koon's breath mask), with solid black space and credibly glowing stars. I noticed virtually no artifacts or ringing despite frequent soft light effects, just a bit in a smoky scene. The colors are absolutely gorgeous.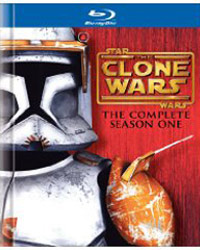 The Sound
First, the disappointing bit: This is a Star Wars-branded product, a Blu-ray disc, and the maximum quality available is Dolby Digital 5.1. I could hardly believe the menus, but this is indeed the only format here, accessible in five different languages. The good news is that the sound designers and mixers here are the best in the business, and we are treated to some terrific effects, albeit in the last-generation's less-than-high-resolution.  There's a lot of front-to-back, side-to-side, and every-which-way firing, launches and other movement across the soundstage, coupled with all sorts of imaginative weapons, big and small. We can feel the damage inflicted by a tractor beam upon a smaller ship, some crisp treble on a little metal "droid popper" hitting the deck, and plenty of respectable bass, although the low end is never quite--dare I say it--stellar.
The Extras
Under the "Jedi Temple Archives" banner, we are invited into a wonderland of still artwork in different media, animatics and much more. This is a largely self-guided tour spread out across all three discs in the set and can take quite a while, what with all the 2D (still-frame) and 3D (motion artwork) to flip through and watch. Even the video segments with revelatory creator interviews often give us heads-up icons to click out for further multimedia enlightenment. One freestanding featurette (anywhere from five to eight minutes long) accompanies each episode. We can go directly to any one via the main menu, or wait until the end and immerse ourselves in it all straight through for total geek overload. These bonuses are exceptionally well-produced, in 1080p and highly interactive, and they even include coveted clips from the Star Wars feature films in HD!
Upbeat video Easter eggs can also be unearthed hither and thither, and while not an "extra" per se, I must give a shout out to the truly beautiful book-style packaging, with an overview of the disc contents plus pages and pages of artwork and notes.
Final Thoughts
If you've resisted, now is the time to give The Clone Wars a chance. It definitely deserves to be watched in high-def and 5.1, and the bounty of bonus material will almost certainly enhance your appreciation for this epic struggle between good and evil.
Product Details
Voice Actors: Matt Lanter, Ashley Eckstein, James Arnold Taylor, Dee Bradley Baker Tom Kane, Matthew Wood, Corey Burton, Ian Abercrombie, Terrence 'T.C.' Carson, Catherine Taber  Anthony Daniels
Directors: Dave Filoni, Brain O'Connell, Justin Ridge, Rob Coleman, Atsushi Takeuchi, Steward Lee, Giancarlo Volpe, Jesse Yeh
Audio Format/Languages: Dolby Digital 5.1 (English, French, German, Castilian, Spanish, Spanish)
Subtitles: English SDH, French, German SDH, Castilian Spanish, Spanish
Aspect Ratio: 2.35:1
Number of discs: 3
Rating: NR
Studio: Warner
Release Date: November 3, 2009
Run Time: 502 minutes
List Price: $59.99
Extras: