The Site for Home Theater and Movie Reviews
Star Wars: The Clone Wars on Blu-ray Disc Review
By Chris Chiarella
The Film
Buck Rogers in the 25th Century did it, and Battlestar Galactica did it before that: The practice of theatrically releasing the feature-length pilot for a new, ongoing TV series is touchy (is it really cinematic quality?) but certainly not defunct. Late this past summer, as the new Cartoon Network show was counting down to its premiere, Warner released Star Wars: The Clone Wars, kicking off the string of adventures aiming to bridge the gap between Star Wars: Episode II - Attack of the Clones and Episode III - Revenge of the Sith, still riffing off of Luke Skywalker's historical reference line of dialogue in the original Star Wars 31 years ago.
Now, I don't find this new movie as odious as some, I just resent the notion that anything Star Wars ever be intentionally geared specifically "for kids." I was thirteen years old when I saw Star Wars (a.k.a. Episode IV: A New Hope) and an immature one at that, and it worked brilliantly. It still does, because it's universal, not made "for kids" to the exclusion of anyone else. Watching Attack of the Clones and even The Phantom Menace is a lot like being at the grocery store and picking up a box of sugary "fruit" snacks with cartoon characters on it: Flashy packaging and a twinge of familiarity, but clearly this is for children, and not for me.
Clone Wars takes the worst of the Star Wars prequel trilogy--inane battle droids, abundant hardware, too many creatures and not enough believable humans--and pushes it even further, peppering in some downright insulting characterizations and infantile nicknames which, like some of the plot points, don't make much sense. The story is once again unnecessarily complicated too, with schemes wrapped inside of schemes as the Jedi are called to rescue Jabba the Hutt's baby son in hopes of ensuring control of all-important travel routes that could help turn the tide in the ongoing war between The Republic and The Separatists. It's a far cry from Genndy Tartakovsky's more traditional animated take on The Clone Wars, a sparse, intellectually challenging series of brief vignettes several years ago. This movie bombards the eyeballs, with the occasional lip service paid to the brain.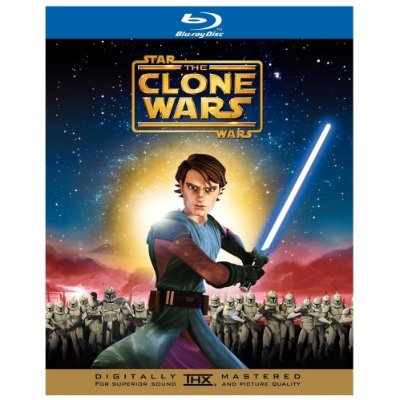 The Picture
Although no attempt has been made to render the movie as photo-realistic or slavishly faithful to the imagery of the feature films, the animation does display an exquisite range of hues and tremendous detail incorporated into every shot, making Clone Wars a bona fide visual treat in high-def. A lens flare--100% synthetic--as starship engines pass right in front of the virtual camera is a reminder of the extent of the digital delicacy at play here, the sheer effort invested to give these sights credibility. The often-muted grittiness of this universe contrasts interestingly against the bright, sharp bolts of energy being shot/swung by both sides in the fight, and some of the scenes appear as though one of artist Ralph McQuarrie's 2.4:1 original concept paintings has come to life. Flaws? I didn't see any.
The Sound
This is another Warner disc that defaults to Dolby Digital, despite the presence of a perfectly good Dolby TrueHD 5.1 soundtrack, so keep that remote control handy. It's a Star Wars movie so there are a lot of familiar sound effects in the mix in addition to some creative new ones, although I noted a distinct lack of punch, too much restraint in the surrounds and particularly the subwoofer throughout. Plenty of stuff blows up so, as Marvin the Martian said, "Where's the kaboom?" My best guess is that the producers want this to match the sound levels of the weekly TV series, which are not likely finished to ass-kicking cinematic standards. That's not to say that the audio is limited entirely to the mains, as Republic gunships do fly over us, front-to-back/back-to-front, precise chunks of debris drift by in all directions, and there was one instance of sonic oomph during a bit of Forcing. While the new score by Kevin Kiner, reworking several of John Williams' themes (the famous opening is more drum-heavy, for example, and am I now hearing electric guitars?) has foregone some of the operatic edge, it is woven well into the 5.1-channel soundfield, as a backdrop to the action.
The Extras
"A Creative Conversation" is an especially well-executed video commentary which brings together director Dave Filoni, producer Catherine Winder, writer Henry Gilroy and editor Jason W.A. Tucker. Their spoken words appear onscreen as text, and at multiple points the movie image shrinks down to show the speaker as well. That leaves an empty black rectangle that is sometimes filled with additional behind-the-scenes or movie videos as the creators spill their secrets. "Star Wars: The Clone Wars - The Untold Stories (25 minutes, in high-definition) provides an overview of the first season of the subsequent show; "The Voices of Star Wars: The Clone Wars" (ten minutes, HD) includes split-screen scenes with the movie and the voice actors, apparently quite a cool bunch; while "A New Score" (eleven minutes, HD) goes deep on the music, but this featurette would really have benefited from audio better than its two-channel Dolby Digital. Six repurposed promotional "webisodes" (21 minutes total, HD) are collected here, along with four deleted scenes running about eleven minutes all told, in HD although not at the full quality of the main presentation. The bonus materials are liberally sprinkled with clips from the live-action films, by the way.
The Hologram Memory Challenge game is a kinda-fun Concentration-style diversion (in HD and Dolby Digital 5.1!) wherein we match two characters or symbols to unlock little video rewards. And while we're unlocking little video rewards, a code is included to transfer a DRM-protected Digital Copy (for iTunes/Windows Media) from the enclosed DVD.
Final Thoughts
Fascinating to watch for its ambitious artistic design as well as its digital clarity, Star Wars: The Clone Wars is a skirmish-laden spectacle that sheds new light on the legendary galactic struggle, and a compelling kickoff to Cartoon Network's ongoing saga.
Where to Buy:
Product Details:
Actors: Matt Lanter, Ashley Eckstein, James Arnold Taylor, Dee Bradley Baker, Tom Kane, Nika Futterman, Corey Burton, Kevin Michael Richardson, Samuel L. Jackson, Anthony Daniels, Christopher Lee
Director: Dave Filoni
Audio Format/Languages: Dolby TrueHD 5.1 (English), Dolby Digital 5.1 (English, French, Spanish, Portuguese)
Subtitles: English SDH, Spanish, French, Portuguese
Aspect Ratio: 2.35:1
Number of discs: 2
Rating: PG
Studio: Warner
Release Date: November 11, 2008
Run Time: 98 minutes
List Price: $35.99
Extras:

Video commentary with director Dave Filoni, producer Catherine Winder, writer Henry Gilroy and editor Jason W.A. Tucker
"Star Wars: The Clone Wars - The Untold Stories"
"The Voices of Star Wars: The Clone Wars"
"A New Score"
Webisodes
Deleted Scenes
Hologram Memory Challenge game
Image Gallery of production art
Digital Copy of Star Wars: The Clone Wars for iPod and PC
What do you think?
| | |
| --- | --- |
| Overall | |
| Video | |
| Audio | |
| Movie | |
| Extras | |
Explore Big Picture Big Sound