Panasonic TH-46PZ800U 46-inch 1080p Plasma HDTV Review
By Chris Boylan
Panasonic TH46-PZ800U 46-inch 1080p Plasma HDTV
Back in Black
As most video and home theater enthusiasts know, black level reproduction is one of the critical elements for producing a realistic, enjoyable image on a television. Sure, detail and color accuracy are important too, but it's the deep rich blacks and shadow detail that can lend an almost three-dimensional realism to an image. Black, as a TV cabinet or frame color is also gaining in popularity. People want an HDTV that will only draw attention to itself when it's on, and will blend with their interior design aesthetics when powered off. Panasonic brings both of these elements of black together in their PZ800 series of televisions, of which the 46-inch TH46PZ800U is subject to review here.
Unlike previous plasma models with silver or silver-accented cabinets, the PZ800 series features a semi-gloss black frame and stand, with a dark gunmetal grey bottom accent piece. The screen itself is covered by a single pane of glass that goes all the way out to the edges of the frame for a sleek, elegant design. My only beef with the design is that the outer frame (the bezel) is wider than most. Our 46-inch review sample measures in at 46.5 inches wide, which is as wide as some narrow bezel 50-inch HDTV models. This may not be an issue for you if you're hanging the set up on the wall, but may make a difference if you're trying to fit the set into an existing piece of furniture.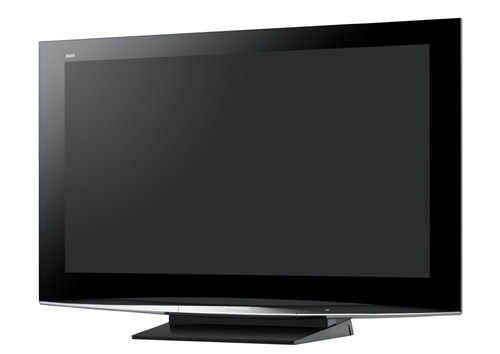 Why Can't They Just Set it up Right at the Factory?
I can't tell you how often we get questions about setting up and calibrating televisions and display devices. These questions led to an extensive 3-part article series on setting up an HDTV which continues to be a popular feature, with a separate piece just on HDTV calibration. Buyers bring these sets home and find that they can look quite terrible in the subdued lighting of the home, where they looked so bright and shiny on the showroom floor. And therein lays the rub. TV manufacturers generally set their TV's default picture mode to look brighter, sharper and more colorful than the competition in the bright lighting of the showroom, and this makes them look less than perfect in the softer lighting of the living room or home theater.
Most TVs come with a movie-viewing picture mode, sometimes called "Film" or "Movie" or "Cinema." These tend to be closer to a properly calibrated image, but usually in order to get the best results, you still need to tweak the picture either with advanced measurement tools and software or at least set them by eye manually with a calibration DVDs or Blu-ray Disc. But with the PZ800 series, Panasonic is doing things a little differently.
Panasonic's TH46-PZ800U is among the first on the market to include THX mode - this is promoted as being a pre-set calibration to industry picture standards (brightness, contrast, color temperature, saturation, etc.), right out of the box, with no tweaking required. And I'm happy to say: it works extremely well. Without any tweaks, THX Mode on the PZ800 series televisions will give you a pleasing and accurate picture, ideal for enjoying movies in a light-controlled room. If you don't want the added expense of hiring a professional calibrator or doing it yourself, then just set it to THX mode and forget it. Those who spend the extra time (and/or money) for professional calibration will be able to squeeze some additional picture quality out of the set, but only a little.
The Big Picture
After we set the TV to THX mode, and did some slight additional tweaking to the picture settings, we ran the PZ800 through its paces. On the Silicon Optix HQV DVD, coming in via the set's 480i component video inputs, the PZ800 produced excellent results on the "jaggies" tests. These are moving diagonal lines which test a video processor's ability to handle, well, moving diagonal lines. The so-called "diagonal filtering" test is one that trips up many lower performance video processors, but the PZ800 sailed through it with relative ease.
Also, in the mixed film/video mode test, the set does a pretty good job with scrolling video titles over a film-sourced background, though it does stutter on this slightly with some de-interlacing artifacts visible in the text. This is something that you may notice with stock or news tickers at the bottom of a film-sourced program (though if it's titles scrolling on a video-based source, then you will most likely never see this problem).
The only area of standard definition performance which was less impressive was in the set's detection of 3:2 cadence in film-based material. It took the PZ800 a full two seconds to lock to a film cadence (as seen in the "Super Speedway" excerpt on the HQV DVD). This leaves moiré distortion clearly visible on the grandstands of this segment far longer than it should. A better processor (including the one in Panasonic's own DMP-BD55 Blu-ray player) can lock to the 3:2 cadence in this sequence in under a second.
Overall, with that minor caveat, the set performed very well in upconverting 480i standard definition content. If you've got an older DVD player, then definitely set its output to 480i (interlaced) so you can benefit from this set's de-interlacing and upconversion.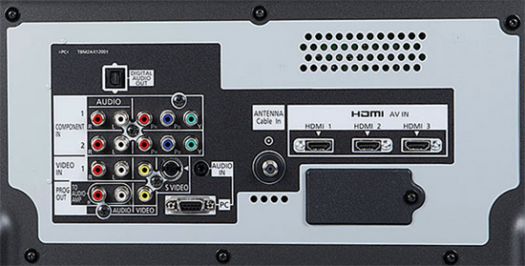 On the Blu-ray version of the HQV test, which tests high definition de-interlacing (HD inverse telecine processing), noise reduction, and cadence detection, the set produced similar results. In the HD noise processing segments, the PZ800 produced clear noise-free HD images without a hint of smear in moving images. The set also performed well on the Video Resolution loss test which reconstructs a 1080p image from a 1080i video source. On the jaggies test, the set repeated its excellent performance as seen on SD material, with no hint of stair-stepping on the test with three moving diagonal lines. This confirms that the set has excellent diagonal filtering. On the film detail test, the set didn't fare quite as well with noticeable strobing of the single pixel high alternating white/black lines in the 1920x1080 text pattern. This shows that the set's 3:2 film cadence detection is not working as well as it could. However, the film pan over the stadium did not reveal any moiré or softening of detail so these results are not completely conclusive.
On actual program material, the PZ800 was a real visual treat. The delay in locking to 3:2 sources was not as evident on real world material and the set's deep black levels and vivid colors left most competitive sets in the dust. Blade Runner: The Final Cut on Blu-ray Disc, with its deep rich black backgrounds and murky cityscapes, is difficult for any set to handle. But the opening sequence with the white and red text crawling up the screen proved to be child's play for the PZ800. The text seemed to float on an inky black background with no bleed or aliasing of the text and excellent uniformity. And the close-up of a human (or is it a replicant?) eye that follows is presented with wonderfully eye-catching detail.
On other Blu-ray content, the set really shined with rich accurate colors across the spectrum and exquisite detail. The PZ800 may have had an unfair advantage as I paired it with Panasonic's brand new DMP-BD55 fourth generation Blu-ray Disc player. The player's newly enhanced UniPhier chip with Chroma Plus processing restores missing color detail to the encoded 4:2:0 source material, replacing it with 4:4:4 encoded output. What this means, in layman's terms, is that the player fills in accurate color details for each of the 1920x1080 pixels, creating an image that is, in a sense, better than the original Blu-ray Disc. And this is part of the reason why Blu-ray Discs looked so pure and vivid on the PZ800, because color detail is precise and rock solid. Not all HDTVs support the full bandwidth 4:4:4 encoded 1080p/24 video signal, but the PZ800 series does and it really shows when paired with an appropriate source component.
And speaking of 1080p/24, this is another of the PZ800 series' features that you won't find in the more affordable PZ80 and PZ85 models. The PZ800 has a native Cinema Mode which accepts a 1080p/24 or "24p" (24 frames per second) signal, and displays it at 48 Hz, flashing the image twice for each frame with a quick black frame in between. Supporting native 24p content by displaying it at an even multiple of 24 prevents a condition called "judder" - jerky motion artifacts that can occur when a 24 frame per second source signal is unevenly mapped to a 60 Hz display signal, as is common on most HDTVs. In Cinema Mode, film-based material takes on a smoother feel than in 60 Hz mode.
Unfortunately the artifact of displaying the signal at 48 Hz is that there is some visible flicker in the picture. So, for some, the cure is worse than the disease. To me, the flicker was actually not that bad, and something that my eyes adjusted to pretty quickly, particularly in a darkened room. It did give the image more of a cinematic feel, quite unlike what you'll see on most other TVs. And if you find the flicker annoying, then you can simply turn it off in the Picture menu.
The Sound
With a TV of this caliber, it's almost silly reviewing the quality of the sound. If you can afford this TV, then you can afford to spend a few extra bucks on a home theater receiver and speakers, or at least an HTiB (home theater in a box) system. But despite our best efforts, many customers continue to rely on the speakers built into their television for sound, either exclusively or when they want to "simply watch TV."
The PZ800 series features a number of sound enhancement features, including "AI volume" (which is designed to automatically equalize the differences between channels and between inputs), and "Audio leveler" which allows you to boost or cut the volume on different inputs so that there are smaller disparities between volume levels on say, the internal tuner vs. a DVD player hooked up to one of the HDMI inputs. Unlike AI Volume, which works automatically, Audio Leveler provides a simple fixed cut or gain for each input which does not automatically impact the dynamic range.
The set also includes BBE VIVA 3D Technology, which simultaneously optimizes the sound of dialog and enhances the three dimensionality of music and effects. Like most simulated surround technology, it does a decent job of increasing the spaciousness of the sound, but does not really give you a simulation of real surround sound. The sound output and speakers built into the PZ800 series will get you by in a pinch, but if you want real bass output, and a spacious surround soundstage, you'd be best served hooking the set up to an external sound system.

The Features
In addition to the picture enhancement features discussed above, the unit includes a pretty robust set of usability features, including 4 HDMI inputs, an SD/SDHC card slot for viewing pictures directly on the TV and VieraLink, an extension of HDMI-CEC that allows you to operate multiple Panasonic products from one remote, even if those components are not accessible via line of sight. In other words, you can hook up a Panasonic DVD or Blu-ray Disc player to the PZ800 and control its essential operations from the TV remote, even if the disc player is hidden in a cabinet or equipment closet. To take advantage of this, simply hook up the device via HDMI and enable VieraLink on both components.
The PZ800 also includes a built-in NTSC/ATSC/QAM tuner for tuning in analog and digital broadcasts from cable or over the air. I connected the set to a roof antenna and had no trouble acquiring the 30 or so local channels and sub-channels being broadcast over the air from the Empire State Building. The quality of signal the internal tuner was excellent and the Info button on the remote showed program details of the current channel and show.
Occasionally, I noticed a slight picture glitch at the very top of the set when watching internally tuned channels (or the output of a cable or satellite receiver connected via HDMI). This is caused by incorrect overscan by the broadcaster. Fortunately the Panasonic TV allows you to correct for this in the Picture settings menu under "advanced picture" controls. I adjusted the "HD Size" setting to zoom the image slightly which cropped out the overscan distortion.
The set also includes a VGA (DB15) input with a mini-jack stereo audio connection for computer hook-up. Unfortunately, like many PC-enabled TVs, the input resolution from the analog VGA port is capped at 1366x768 and below. But the set does a good job scaling PC output resolutions to the set's native 1920x1080 panel resolution. If you want to hook up a PC at native 1920x1080 resolution, your PC will need a DVI-D or HDMI connector which you can connect to one of the set's HDMI inputs. If you are using an HDMI connection from PC to TV, then you can enable the TV's analog audio input on one of the 4 HDMI inputs so you will get PC sound through the TV speakers as well.
The remote control is a basic non-backlit unit with some transport controls for operating a VCR, cable box, DVD or Blu-ray Disc player. Although it lacks direct input buttons for each of the 10 inputs, it does not require that you scroll through all of the inputs to get to the one you want. Instead you can hit the "TV/Video" button then the numeric input corresponding to the input you want. For example, hitting "TV/Video" then "4" will select the HDMI 1 input (the fourth input on the list). This makes programming a universal remote to operate the TV a little simpler and more fool-proof.
The set's screen is coated with Panasonic's latest Anti-Reflective (AR) filter to minimize light reflection (a big improvement over earlier generation plasma panels from Panasonic). The set's one sheet of glass design does present an elegant look, and its included (removable) stand includes a swivel bass so you can rotate the set's viewing angle plus or minus 10 degrees. Wall-mounting is also an option with any standard flat panel wall-mount.
Turn-Ons
Excellent black levels and color saturation
Eye-popping 1080p detail
THX mode gets the set very close to optimum image quality
48 Hz mode gives you a smooth cinematic feel for compatible sources
Flexible input/output options
4:4:4 color support makes it an excellent match for Panasonic's DMP-BD35 and DMP-BD55 Blu-ray players
Turn-Offs
48 Hz mode produces some flicker which can be distracting
Wide bezel makes the set larger than it needs to be for its screen size
Final Thoughts
The TH-46PZ800U gets the important stuff right, producing outstanding image quality, including excellent color saturation and deep black levels that give the picture an almost three-dimensional quality. The 48 Hz Cinema Mode does eliminate judder but it presents its own challenges with flicker that can be distracting to some viewers. With a THX mode that brings the image close to perfection without calibration and flexible input/output options, the PZ800 series presents a compelling option for the consumer who wants the best picture available without breaking the bank.
Where to Buy:
PZ800 Series is also available in 42-inch, 50-inch and 58-inch sizes:
Manufacturer's Specifications:
VIDEO
Screen Size Diagonal (inches): 46
Aspect Ratio:16:9
Number of Pixels: 2,073,600 (1,920 x 1,080)
Pixel Pitch (mm): 0.531 x 0.531 mm
Moving Picture Resolution: 900 lines or more
Contrast Ratio: Native: 30,000:1; Dynamic: 1,000,000:1
Shades of Gradation: 5,120 equivalent
HDTV Display Capability (1080p, 1080i, 720p): Y
EDTV Display Capability (480p): Y
Aspect Control: 4:3, Zoom, Full, Just, H-fill for TV/AV modes; 4:3, Full for PC mode
Panel: G11 Progressive 1080p HD Plasma Display Panel
Screen Coating (Filter): New AR (Anti-Reflective) Filter
Progressive Scan
480 Hz Sub-field Drive
24p Playback
Deep Color
x.v.Color
THX Mode
Video Noise Reduction
Motion Adaptive 3D Y/C Digital Comb Filter
3D Color Management
Sub Pixel Control
Motion Pattern Noise Reduction
Digital Cinema Reality
AUDIO
Number of Speaker drives: 4 (2 per channel)
Audio Output: 31 W ( 10% THD ); ( Woofer: 8 ohms, 55Hz - 200Hz, Tweeter: 8 ohms, 200Hz - 17kHz )
BBE® ViVA HD3D Sound
INPUTS/OUTPUTS
Integrated ATSC Tuner: Y
SD Memory Card Slot (SDHC Compatible): Y
HDMI Input: 4 (1 front) [ver. 1.3]
Analog Audio Input ( for HDMI): 2
Composite Video Input: 2 (1 front)
S-Video Input: 2 (1 front)
Audio Input (for Video): 2 (1 front)
PC Input: Mini D-sub 15-pin x 1 (rear)
Audio Input (for PC): Stereo M3 ( 3.5 mm) Jack
Component Video Input (Y, PB, PR): 2
Audio Input (for Component Video): 2
Composite Video Output: 1
Analog Audio Output: 1
Digital Audio Output: 1
ADDITIONAL SPECS:
VIERA Link
Game Mode
Pixel Shifter (Anti-Image Retention)
Power Supply: AC 120 V, 60Hz
Receiving System: ATSC/QAM/NTSC
Dimensions with stand
Height [inches (mm)]: 31.6" (803 mm)
Width [inches (mm)]: 46.5" (1,181 mm)
Depth [inches (mm)]: 15.2" (387 mm)
Weight with stand: 92.6 lbs. (42 kg)
Dimensions W/O stand
Height: 29.5" (750 mm)
Width: 46.5" (1,181 mm)
Depth: 4.3" (108 mm)
Weight W/O stand: 81.6 lbs. (37 kg)
Swivel Angle: ±10°
MSRP: $2499.99
Manufacturer's Contact Information:
Panasonic Corporation of North America
One Panasonic Way
Secaucus, NJ 07094
Web Site: http://www.panasonic.com/