The Site for Home Theater and Movie Reviews
Stardust Blu-ray Review
By Greg Robinson
A philosopher once asked, are we human because we gaze at the stars? Or do we gaze at them because we are human? Pointless really.

Do the stars gaze back?  Now that's a question...

The Film
Before delving into "Stardust the Film," let us first consider  "Stardust the Book." Penned by the great Neil Gaiman, and illustrated by long time collaborator Charles Vess, Stardust came to be when Gaiman - upon discovering William Goldman's The Princess Bride - realized that fairy tales written expressly for adults represent a dying breed. Rather than whine about this grim reality, Gaiman put his considerable talents to work and crafted a magical and enchanting bedtime story for himself in Stardust.
Adapted for the screen by Jane Goldman and Co-Writer/Director Matthew Vaughn (Kick-Ass and the upcoming X-Men: First Class), Stardust the Film makes a few necessary changes to the story's structure, but the fundamental elements and spirit of Gaiman's tale have remained blessedly intact.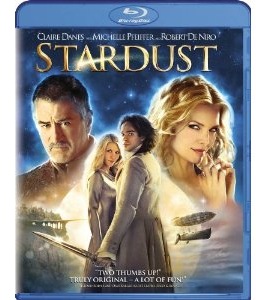 Newcomer Charlie Cox plays Tristan, a smitten young lad from the village of Wall, who vows to retrieve a fallen star as proof of his love for fair Victoria (Sienna Miller). But the journey will be great, for the star has fallen beyond the wall. And "nobody crosses the wall."
What lies beyond the wall, you ask? To divulge too much would be a disservice to this charming tale, but rest assured that murderous princes (Mark Strong), bloodthirsty witches (Michelle Pfeiffer), money-grubbing pawn brokers (Ricky Gervais), and tough-talking pirates (Robert DeNiro) will each stand between Tristan and his happily ever after.
The Picture
In Stardust, the harsh yet beautiful landscapes of Iceland and Scotland serve as a stand-in for the fictional kingdom of Stormhold. This picturesque backdrop is nicely rendered on Paramount's Blu-ray Disc, but an occasional lack of image depth and some mediocre effects while on the sky pirates' ship hold Stardust back from joining the ranks of the best of the best. That said, colors appear warm and well-saturated throughout and skin tones - particularly on Tristan and Victoria - look wonderfully natural. Yvaine's (Claire Danes) positively glowing complexion, on the other hand, makes her a bit harder to evaluate. Black levels are consistent and deep throughout.

The Sound
Paramount has graced Stardust with a well-engineered DTS-HD Master Audio 5.1 channel soundtrack. From its intelligible dialogue to its refreshingly restrained use of the surround channels for ambient effects, Stardust's sound mix is a classy affair from start to finish. Though that's not to say its dull - far from it. Once Captain Shakespeare (DeNiro) and his unique vessel arrive, you'll be quickly reminded of your subwoofer's presence and the climactic battle in the witches' mirror-filled lair is a well-executed and acoustically impressive shatter fest. Overall, this is a highly-engaging 5.1 channel mix.

The Extras
Fun fact: Stardust is one of the few Paramount titles that received an HD DVD-only release during the politically-charged high definition format war a few years back. (There's some home entertainment trivia you can bust out at your next geek-attended gathering.) Thankfully, that wrong has finally been righted thanks to this long-awaited Blu-ray edition. And in a surprising turn of events, we even get some new bonus material to talk about.

Chief among the supplements is a new, multi-part featurette entitled "Crossing the Wall: The Making of Stardust." Points must be deducted for the maddening lack of a "Play All" option, but each of these segments covers a different element of the production, starting things off right with Neil Gaiman talking about the story's origin and how he didn't want to be the one to upset fans by writing the modified screenplay.
Special effects aficionados will appreciate the many shots where they show us the multiple "layers" that go into creating a shot before the final composite is ready. Overall, there's some good stuff in here with minimal overlap from piece to piece and it's definitely worth a look for fans.

Final Thoughts
Director Matthew Vaughn has described Stardust as "The Princess Bride meets Midnight Run." I usually try to avoid those "X meets Y" summary descriptions of a film, but that one is remarkably apt. Whether it's romance, action, adventure or comedy you seek, this film truly does offer something for everyone. If there's room in your imagination for the bedtime stories you heard as a child, you'd be well-advised to get a little Stardust on you.

Product Details
Actors: Charlie Cox, Claire Danes, Sienna Miller, Mark Strong, Ricky Gervais, Robert DeNiro, Michelle Pfeiffer
Director: Matthew Vaughn
Audio/Languages: DTS-HD Master Audio 5.1 (English), Dolby Digital 5.1 (Spanish, Italian, German, French)
Subtitles: English, English SDH, Spanish, German, Danish, French, Italian, Dutch, Norwegian, Portuguese, Finnish, Swedish
Aspect Ratio: 2.35:1
Region: A
Number of Discs: 1
Rating: PG-13
Studio: Paramount Home Entertainment
Blu-ray Disc Release Date: September 7, 2010
Run Time: 127 minutes
List Price: $29.99
Extras:

Featurette: "Crossing the Wall: The Making of Stardust"
Featurette: "Nothing is True"
5 Deleted Scenes
Blooper Reel
Theatrical Trailer
What do you think?
| | |
| --- | --- |
| Overall | |
| Video | |
| Audio | |
| Movie | |
| Extras | |
Explore Big Picture Big Sound