Silent House Blu-ray Review
By Rachel Cericola
The Film
Olsen Twins' adventures aside, little sister Elizabeth made her big movie debut in the indie thriller Martha Marcy May Marlene. It was a huge splash with audiences and critics. Now, she is dealing with a different kind of creepy in Silent House.
Sarah (Olsen) is staying at the family's lake house, which her father John (Adam Trese) and her Uncle Peter (Eric Sheffer Stevens) are planning to fix up and flip. That's going to be difficult, though, since the place is downright scary. Why? Well, that's not too clear for most of the film.
Peter leaves after a fight with John and that's when the hell seems to break loose. Um, maybe. It's really hard to tell what's going on for most of this movie. The one thing you will be able to decipher is that it's not half as scary as the trailer. Supposedly, the two remaining characters are somehow locked in the house, with someone or something stalking them. It's too bad that the "thing" couldn't catch up with Sarah and put everyone out of their respective misery. Once Sarah gets out, that doesn't seem to help things -- or this movie, frankly.
The hook on this remake of the 2010 Uruguayan film La casa muda is that it takes place in real time, so it's like one single, uninterrupted shot. As you know, real time can be sort of slow, just like this movie. Silent House takes a good 25 minutes to really get going, which isn't great since the movie is only 86 minutes long. After that, it doesn't seem half as scary as Olsen's screams would indicate.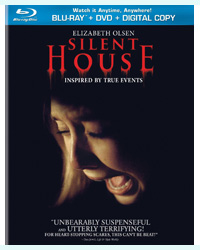 Want to be really scared? Check out Lora Grady's theatrical review of Silent House.

The Picture
Silent House opens with gorgeous detail, color and depth. From there, the 1.85:1 transfer goes dark -- literally. Shot using the Canon EOS 5D Mark II camera, filmmakers used natural light, flashlights, candles and the flash from a Polaroid camera to illuminate most of the movie. In other words, don't expect to see a whole lot. In some of the film's darkest scenes, that light creates vertical lines on the screen. Maybe it was intentional, but it's distracting. Colors are muted, but decent. Detail, on the other hand, is hit or miss. All of this doesn't make for the best high-def experience, but it certainly ups the creepy factor.
The Sound
Until the action kicks in, the lone DTS-HD Master Audio track is very focused on dialogue with little else. Once the film picks up, the track does its best to scare the crap out of you with a ton of creaky sounds, screams, and a scary score. There are some excellent rumbly moments and others that will make you jump. Overall though, it's just not the immersive experience that it should be.
The Extras
The lone special feature in this set is an audio commentary with co-directors Chris Kentis and Laura Lau. The duo have a lot to say, and actually make this quiet film slightly more interesting. That's it, though. It's surprising that the real-time gimmick didn't get its own featurette. This release doesn't even have the film's theatrical trailer.
Final Thoughts
If you're looking for a pee-your-pants scarefest, Silent House just isn't going to cut it. Elizabeth Olsen does her best with what's she's given, but she deserves a much better movie -- and so do you. This one has a muddy presentation, is sort of slow moving, and just isn't very scary.
Product Details
Actors: Elizabeth Olsen, Adam Trese, Eric Sheffer Stevens
Directors: Chris Kentis, Laura Lau
Audio/Languages: DTS-HD Master Audio 5.1 (English)
Subtitles: English SDH, French, Spanish
Aspect Ratio: 1.85:1
Number of Discs: 2
Rating: R
Studio: Universal
Blu-ray Disc Release Date: July 24, 2011
Run Time: 86 minutes
List Price: $34.98
Extras:

Feature Commentary with Co-Director Chris Kentis and Screenwriter/Co-Director Laura Lou
D-BOX Motion Code
BD-Live
Standard-Def DVD
UltraViolet Digital Copy