Martha Marcy May Marlene Blu-ray Review
By Rachel Cericola
The Film
The Olsen name is not synonymous with good film. With efforts like How the West Was Fun, Mary Kate and Ashley have pretty much made a name and massive fortune on crappy movies geared towards a tween audience. Elizabeth Olsen, however, is a different story.
Yes, there is a younger Olsen. She's not a twin, but she just happens to be a fine actress. That evidence lies in Martha Marcy May Marlene, a film as complex as its title.
Martha Marcy May Marlene is the story of Martha (Olsen), a girl who escapes a cult and its leader (Winter's Bone's John Hawkes). However, the refuge she finds living with her sister is short-lived, when she develops feelings of paranoia that she's still being watched -- and perhaps followed as well.
Writer/director Sean Durkin's feature film debut is intriguing. That said, Martha Marcy May Marlene is an extremely slow-moving film. Apparently, cult life and its aftermath has a lot of downtime. However, it is a good film, with a wonderful, star-making turn by Olsen that should not be missed.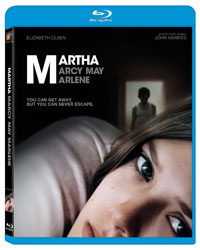 Looking to dissect this film a little closer? Check out Mary Grady's theatrical review of
Martha Marcy May Marlene
.
The Picture
Its lead actress notwithstanding, Martha Marcy May Marlene is not a very attractive looking film. Home theater enthusiasts may scoff at the image presented here, and that's justified. It's a little grainy, with muted colors and black levels that are more on the gray side. All of that translates into a bit of a softer image that doesn't offer up a ton of detail. That said, this appears to be director Sean Durkin's intention, and it works in this 2.40:1 transfer.
The Sound
Like the movie, the audio here is pretty muted. The DTS-HD Master Audio track does a nice job delivering the dialogue, which is often low, but also the main focus of the film. It seems like there should be a little more surround sound here, but the quiet also makes the film more sad and creepy -- and the film's occasional score seems to enhance both of those feelings. That's not to say that you won't get any goodies for the surrounds. There's a boat rumbling, birds tweeting, and a ringing phone that will make you jump.
The Extras
Martha Marcy May Marlene features a surprising number of extras, given the film's limited release. There's a promo feature, something about the production, a chat with filmmakers, a piece about Elizabeth Olsen, and a few other shorts. However, the most intriguing extra is a short film titled Mary Last Seen. Written in a few days and filmed for $500, this is director Sean Durkin's prequel to Martha, with a look at how someone gets sucked into cult living.
Final Thoughts
Some may find Martha Marcy May Marlene to be a tough pill to swallow. The film is a little slow and sometimes confusing. Also, the audio and video presentation certainly won't win over Blu-ray fans. That said, writer/director has created a cult-worthy film, thanks to his star Elizabeth Olsen. Her performance alone makes this one worth picking up.
Product Details
Actors: Elizabeth Olsen, Brady Corbet, Hugh Dancy, John Hawkes, Louisa Krause, Sarah Paulson
Director: Sean Durkin
Audio/Languages: DTS-HD Master Audio 5.1 (English), Dolby Digital 5.1 (French, Spanish)
Subtitles: English SDH, Spanish
Aspect Ratio: 2.40:1
Number of Discs: 1
Rating: R
Studio: 20th Century Fox
Blu-ray Disc Release Date: February 21, 2012
Run Time: 102 minutes
List Price: $39.99
Extras:

Mary Last Seen
Spotlight on Elizabeth Olsen
The Story
The Making of Martha Marcy May Marlene
A Conversation with Filmmakers
The Psyche of a Cult
"Marcy's Song" Music Video by John Hawkes
Theatrical Trailer
Sneak Peek