Samsung P3 Widescreen Portable Multimedia Player Review
By Chris Chiarella
Edited by Chris Boylan
Samsung P3 Review
Handy, Dandy
I remember attending the launch event for a portable media player a few years ago, celebrities were in attendance, drinks flowed, and the view was spectacular, the only thing missing was a genuinely compelling new product. That night was one of the first times I'd heard the expression, "a 'me-too' product," used when a manufacturer jumps into a category not with any real innovation, rather just a desire to be a part of a growing niche. You know. "Me too!"
These days, we all live in the shadow of the giant fruit, and "yo-también" just doesn't cut it in the PMP world. No one needs to tell Samsung that, as they are already on their third generation, hence the designation of their P3 Widescreen Portable Multimedia Player. They were offering features like Bluetooth 2.0 (stereo) right out of the box years ago, on the P2 (perpetuated on the P3 as well) and the innovations have continued since. Then again, spend any amount of time with the P3 and the wide LCD touchscreen will remind one of Apple's iPod touch, but despite some similarities, don't dismiss it as a mere clone.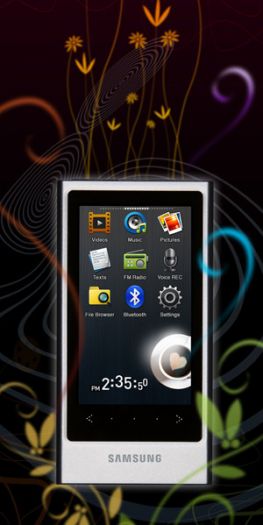 Wee Bit o' Shakin' Goin' On
From startup, the P3 reveals a personality all its own, and not just because the touch interface has been trademarked "EmoTure." (Yeah, well...) The crisp color LCD is strewn with Samsung's "Widget" icons, some for obvious applications such as Music and Video, others for utilities such as Alarm and Address Book and Calculator, and then some real Zen-type stuff like a flower that blooms or a butterfly that flutters by or a gingerbread man begging "Touch me!" even though he crumbles when we comply. Application-wise, we're limited to what comes pre-loaded on the P3, but the depth of functionality is superior to most other media players. Global subway maps on my PMP? Okay, sure, with five cities plotted out in North America including New York and Chicago, eleven in Europe, seven in Asia, and one down in "Oceania," a.k.a. Australia. And who knows what new feats future firmware updates might bring?
Certainly worth tapping is the Settings icon, as the P3 is highly customizable, including one nifty trick no doubt learned from Samsung's cellphone experience: tactile feedback, vibrating in the hand at key moments, one-upping even the built-in speaker. I'm still amazed how useful that speaker can be, at times when I don't feel like wedging earbuds into my headholes. The VibeWoofer also underscores bass with a hint of buzz. The P3 is plug-and-play under Windows XP, charging quickly, simply via a proprietary USB cable. It's a breeze to load up with content via Windows Media Player--some files can also be directly dragged and dropped onto the device, specifically the folders within its file system--no other software installation is needed, although Samsung does bundle in their own "EmoDio" software application, which I found to be a little rough around the edges, particularly when handling tricky DRM-protected files.
While not officially certified to work with a paid music subscription service such as Napster To Go (the P2 is), the P3 did easily play back my purchased Napster tracks (DRM-protected WMA files, although some of my cover art did not survive the trip), synced via Windows Media Player, and of course MP3 is never a problem. As for video, in these virtual pages we've discussed iTunes at length, but there is also plenty of Windows Media content out there too, if you know where to look. My favorites include Amazon Unbox, with its mix of interesting free and familiar rent/buy titles, and the Digital Copies of major Hollywood motion pictures that are more frequently being included as the studios release their films on Blu-ray and DVD.
Windows Media Video-format digital copies, specifically the more compact portable versions included on many discs, tend to be significantly smaller than the single iTunes file included, so I was impressed how many full-length movies I could fit onto even this lowest capacity 8GB P3 I tried. So yes, the Samsung EmoDio software application will help us manage our media (ripping CDs, compiling playlists, transferring, etc.) but there's no real incentive to install and master it versus what we've been using up until this point.
Go, Look and Listen
Video-wise, 30-frames-per-second playback is supported, and depending upon the quality of the file, movies can look terrific, like recent A-lister Watchmen. End credit crawls in highly compressed files can look soft, but that's to be expected at these dimensions. We can change our view of the video as we watch via the Screen Size setting: "Actual," which varies based upon the specs of the original video file; "Standard," which maintains the original aspect ratio at the largest possible size; and "Full," to cover all three inches of the 16:9 LCD screen, even if it means stretching the image to fit. With but a tap, much information is displayed on the screen along with the easy-to-understand virtual controls, and even non-chaptered movies can be skipped through with "Mosaic Search" thumbnails, generated on the fly by the P3, dividing the program into 16, 32 or 64 equal chunks.


Sonically, Samsung's DNSe (Digital Natural Sound engine) 3.0 sound-enhancing technology provides a standard mode, a dozen alternate preset modes, plus "My DSNe," with a tweakable EQ, plus 3D & Bass, Concert hall (Size and Level) and Clarity. I'm not a huge fan of after-the-fact digital sound processing, to me it tends to sound artificial, more valuable is "Street Mode," which boosts key frequencies as a hedge against ambient noise, very handy if we actually use it on a crowded thoroughfare. (They should really call it "New York in Summer Mode.") Also welcome is Dynamic Audio Upscaling, instant restoration for poor-quality compressed tracks.
But it is the broad and sometimes funky feature set--again, fully usable from Day One--that makes the P3 unique. The integrated microphone enables voice recording, for people too lazy to write stuff down, while the FM tuner offers 30 presets, the headphone cable doubling as an antenna. Put these two together and you have FM recording, perfect for folks wanting to time-shift their favorite morning programs to the afternoon. Text-to-Speech converts common text files to MP3, while highly adjustable variable speed playback for audio and video helps when we're slow on the draw or in a hurry. The Bluetooth connectivity is rather robust, pairing with outboard speakers and mobile phones, allowing us to make/receive calls via the P3 and even transfer files wirelessly. There's also a Flash Player onboard, seven nifty little games (Bubble Bang, Bubble Smile, World Car Puzzle, ALGGAGI, Omok 2, PowWow and Sudoku Champ), and a world clock, all inside a slim rectangular slab of tough die-cast metal, matte-finished to help hide fingerprints, everywhere but the screen, apparently.
Turn-Ons:
Solid video/music/photo compatibility and performance
Outstanding Bluetooth connectivity, with no firmware update needed
Incredible complement of both fun and practical "Widgets" (applications)
Turn-Offs:
Controls and certain features can be a challenge to figure out
Paid music subscriptions not supported, a few minor file transfer glitches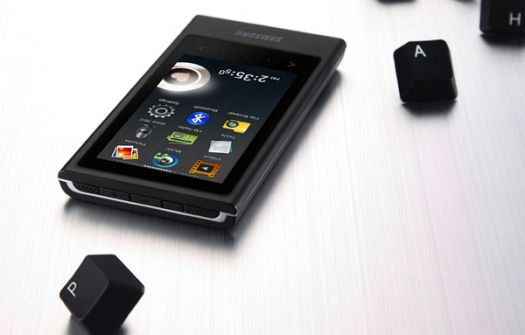 Final Thoughts
Packing a lot into a little space is always a noble quest for a manufacturer, but one that can lead to double-duty controls and secret handshakes to access it all. The touch interface and even the few hard buttons are not always as intuitive as I'd like, which is to say that practice makes perfect, and we might need to spend some time with the manual to sort it out, which some other players have never asked of me. For the main course, however; music, video and photos; the P3 is an extremely enjoyable portable companion, while Samsung's heaping helping of side dishes round out the meal in a tasty fashion.
Where to Buy:
Features/Specifications of the Samsung P3 Portable Media Player:
Dimensions: 4" H x 2.1" W x 0.4" D
Weight: 3.4 ounces
Screen: 3-inch (diagonal) 16:9 touch screen TFT-LCD
Resolution: 480 x 272 (WQVGA)
Input: none
Output: 3.5mm stereo headphone mini-jack
Other: proprietary connector port (USB adapter cable included)
Compatible Video Formats: WMV9, MPEG4 (AVI, SVI), H.264 (.MP4)
Compatible Audio Formats: MP3, WMA, Ogg, FLAC, AAC, WAV, ASF
Storage capacity: 8 gigbytes (tested), 16 GB or 32 GB
Bluetooth 2.0 connectivity (A2DP, AVRCP, HFP, OPP)
Battery: Built-in rechargeable lithium ion
Available Finishes: Matte Black or Matte Silver
MSRP: $149.99 (8GB), $199.99 (16GB), $299.99 (32GB)
Manufacturer's Company Information:

Samsung Electronics America, Inc.
105 Challenger Road
Ridgefield Park, NJ 07660
ph: 800-SAMSUNG
Website: www.samsung.com