Samsung Teams Up with DIRECTV for Box-Free Whole Home HD DVR
By Rachel Cericola
While DISH Network was out promoting the new Hopper with Sling, DIRECTV was making its own 2013 International CES announcement -- a DVR announcement. The provider is partnering up with Samsung on a boxless DVR option.
The idea is to embed the DVR right into Samsung's new Smart TVs. The sets will feature the Remote User Interface technology protocol, which goes by the name RVU. This allows the TV to appear as a client to the DIRECTV server. That way, the TV will get the full User Interface (UI) and features of a DIRECTV server, but without an actual set-top box.
Ditching the box also means you can have a much cleaner installation. No additional wires or boxes are needed to watch both live and recorded content.
"We applaud Samsung for their efforts in developing their RVU TV and set-top box solutions," said Romulo Pontual, executive vice president and CTO for DIRECTV. "Their support of the RVU initiative has been instrumental in the success of this innovative technology. Our mutual customers will be delighted to get the full DIRECTV experience on their Samsung TVs without the need for a separate set-top box in that room."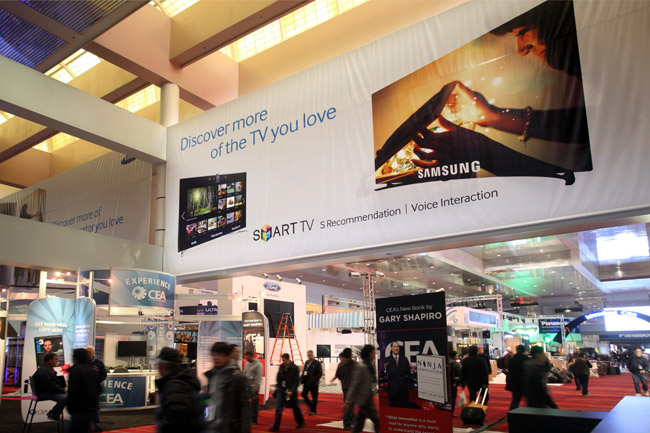 Samsung is currently working on the DIRECTV HR44-200 "Genie" server, with plans to launch sometime in 2013.
Based on industry standards such as DLNA and UPnP, RVU allows a set-top box server to provide a multi-room, complete viewing experience that includes DVR services, without the need for additional set-top boxes in homes that have more than one connected TV.
"Many homes today have more than one TV to cater to the different needs of everyone in the family," said Stephen Goldstein, VP of cable/satellite operations for Samsung Electronics America. "By working with a leading provider like DIRECTV, we're able to offer consumers unmatched enhanced convenience in access so they can enjoy the content they desire from any room in the home, any time they choose."
For More Information:
More News from CES: