Samsung Starts Streaming Blockbuster & Amazon to HDTVs & Blu-ray Players
By Rachel Cericola
Netflix and VUDU aren't the only streaming services to invade your electronics equipment. Samsung just announced that select televisions, Blu-ray players and home theater systems will start streaming Blockbuster OnDemand, with a few televisions also getting an Amazon Video On Demand widget.
Starting today, millions of homes can rent and buy endless titles from either service. However, you will need one of the following devices:
Samsung Series 650 and above LCD & Plasma HDTVs
Samsung Series 7000 and above LED-lit LCD HDTVs
Samsung BD-P1600, BD-P3600 and BD-P4600 Blu-ray players
Samsung HT-BD1250, HT-BD3252, HT-BD7200 and HT-BD8200 Blu-ray integrated Home Theater Systems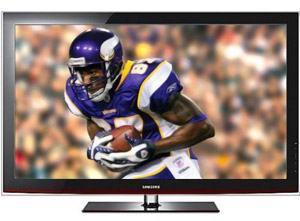 Only the TVs will get the Amazon Video On Demand widget which can be downloaded now via the internet@TV menu on your compatible (and net-connected) Samsung TV.  But all of the above devices will get access to Blockbuster OnDemand.
The home theater systems and Blu-ray players will need a firmware upgrade (available now to compatible net-connected Blu-ray players), so navigate through your on-screen set-up menus to get the goods.  After the firmware upgrade, Blockbuster OnDemand will appear as a new content option in the player or HTiB's on-screen menus.  It can also be accessed via one of the color coded buttons on the remote control.  Blockbuster rental titles can also be selected through the company's website.
Once the appropriate widgets have been downloaded to your Samsung TV, you can access either service via the on-screen interface to the Internet@TV feature.  This will allow you to browse through available titles.
"This is another real example that shows our commitment to giving consumers even more ways to access and enjoy a broad variety of high quality content through innovation, and really pushing the envelope with defining what connected TV experiences can deliver," said Tim Baxter, president of Samsung Electronics America. "Whether it's renting their favorite Blu-ray movie from Blockbuster or streaming their favorite content, our goal is to take the TV-watching experience to new levels and deliver maximum value."
Blockbuster rentals are ready to stream for $2.99 to $3.99. Amazon has a few freebies, with many rentals available for 99 cents each. Both services also allow you to purchase titles. We've seen them for as low as $5.99 on Amazon. Blockbuster says that the average purchase price is $7.99 to $19.99.
To support the new feature, Blockbuster also plans to carry the integrated Blu-ray disc players in some of its stores.
Where to Buy: