Samsung Readies OLED TV for August IFA Appearance
By Rachel Cericola
Back in January, Samsung showed off its OLED TV at the Consumer Electronics Show in Las Vegas. Now, they seem to be sprucing up the set for its second major appearance. Expect to see the set at IFA 2012 in late August.
Samsung previously had the Super OLED 55-inch set on display at CES, but didn't divulge too many of the set's specs. Besides "the ultimate in picture quality and thinness," the OLED TV has a built-in camera, Samsung's web-enabled Smart Hub platform, and Voice Control, Motion Control and Face Recognition features. There isn't too much other info available about the set, but Slash Gear says that it should also include the latest and greatest version of Samsung AllShare, which adds a cloud element to the DLNA-based service.
That upgraded service would offer 5GB of free cloud storage to users for uploading photos, audio and video from Galaxy Tab tablets and Galaxy phones. That stored content could then be streamed to other devices -- including the new OLED TV. A remote login system is expected to follow later this year.
Those services and all of the questions regarding TV specs should be detailed at IFA 2012.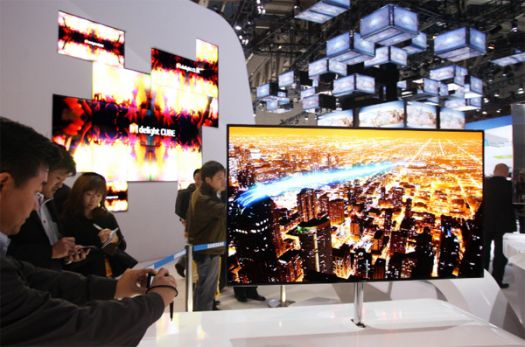 To date, OLED has been an exclusive for super-small screen sizes. OLED TV, however, promises a bigger image that's better than plasma and LCD, but in that thin OLED form factor. Boasting excellent color saturation, image uniformity, brightness and contrast, OLED can actually generate the same or better black levels that plasma can do, but in a panel as slim as an LCD.
There's no word on when Samsung will make the set available for purchase or when. However, Slash Gear added that we should see something before the end of the year.
LG recently announced plans to start selling the 55-inch 55EM9600 OLED TV starting in May. At launch, the set will be released to a limited audience, with a rumored $7900 (9 million Korean Won) price tag.