Remastered Cabaret on Blu-ray Today After One Night at Ziegfeld
By Chris Boylan
Almost 41 years ago, a little film called Cabaret made its debut at the legendary Ziegfeld theater in Manhattan. It would go on to win eight Oscars, including Best Director (Bob Fosse), Best Actress (Liza Minelli) and Best Supporting Actor (Joel Grey). In celebration of its 40th birthday and studio Warner Bros.' 90th year in business, the film has received a complete makeover. A digitally restored and enhanced version is now available on Blu-ray for a new generation of fans to enjoy.
To mark the occasion, Warner and TCM (Turner Classic Movies) hosted a showing of the remastered film at the Ziegfeld Theater in Manhattan last week, preceded by a lively Q&A session with Minelli and Grey, as well as costars Michael York and Marisa Berenson.
The four had a comfortable chemistry, as they reminisced about those heady days in the early 1970s when they were making the film. All recalled the late Bob Fosse as a brilliant director with a flair for bringing out an actor's best performances, whether in a song and dance number or in a tender or tense moment. Apparently Bob's nickname for Joel Grey was "Mr. Porno," as the director encouraged a lascivious performance from the pasty-faced MC.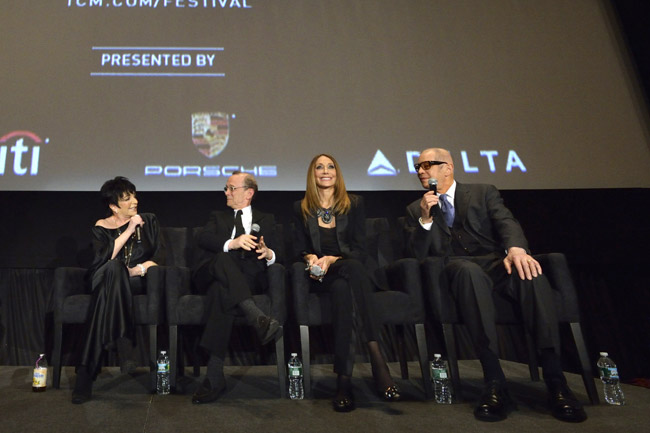 Having never seen the film before, I now see why it has become such a cultural landmark. Its juxtaposition of whimsical, carefree abandonment with the violence and growing menace of the Nazi party in pre-WWII Germany evokes a barrage of conflicting emotions and elicits as many tears as it does laughs.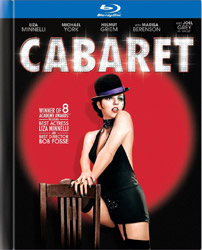 The cinematography, in particular, is top notch: from capturing the ambitious musical numbers in all their bawdy elegance to quick jump cuts between mock violence on the stage and real violence on the streets of Berlin to closeups revealing the inner conflicts and interactions among the lead characters. Geoffrey Unsworth won an Oscar for cinematography on the film and it's easy to see why. It's not an entirely uplifting film: the fate of its various characters is left ambiguous during rather dark times. However, it's an important one, as it deals with universal themes in a powerful and entertaining way and it redefines the musical genre thanks to Fosse's unique directorial and choreographic style.
Watching the film on the big screen, the colors were nicely saturated, the image nicely detailed, and the sound was crisp and clear -- if not as immersive or dynamic as modern film soundtracks. I'd imagine that the film probably looks and sounds at least as good as it did in 1972, thanks to a painstaking restoration from original elements.
On the Blu-ray, you can enjoy the benefits of this restoration at home with a full HD 1080p 16:9 image and a lossless DTS-HD Master Audio 5.1-channel soundtrack. Musical numbers are expansive and detailed, while dialogue is clear and articulate.  The image is richly detailed without signs of artificial edge enhancement.  In short, it looks and sounds better than a 40 year old film has any right to.
The Blu-ray comes in Warner's Blu-ray Book packaging, with a 40-page color glossy book chock full of photos and text. A new documentary, "Cabaret: The Musical That Changed Musicals" is included, along with vintage documentaries "Cabaret: A Legend in the Making," "The Recreation of an Era," a multi-part memory gallery, a commentary track, and more.
If you're a fan of the film or a fan of film in general, this 40th anniversary Blu-ray is a must-own.
Where to Buy: