RedRay Player Offers 4K Ultra HD Movie Playback for Homes and Businesses
By Rachel Cericola
While the Blu-ray Disc Association may have formed a task force to investigate the possibility of putting 4K (Ultra HD) movies on Blu-ray Disc, Red has already shown off a 4K video player that you can buy (or at least pre-order) today. With a wink toward the "competition," Red's new player is called RedRay and it was in use at CES, showing off native 4K content on some of the hot new Ultra HD TVs.

RedRay is a video player that can bring Ultra HD content into the home via the web. It doesn't just do 4K, either. It can stream HD and 3D media as well, claiming to do the latter at high frame rates of 48 to 60fps which is something you can't currently do on Blu-ray.  For video goodies you want to keep, RedRay has an expandable 1TB internal hard drive.
RedRay connects to 4K displays using one 1.4 HDMI output or four HDMI 1.3 outputs, with an additional HDMI output for 7.1 channel audio (LPCM up to 24 bit/48 KHz). For HD displays or preview monitors, RedRay uses a standard HDMI 1.3 output.
The player works best in conjunction with a 4K projector or Ultra HD TV. There's really no point in having the player without one. That's because both display content at four times the resolution we've been seeing on 1080p HDTVs.  RedRay supports both the DCI 4K spec (4096x2160 pixels) as well as the Ultra HD spec (3860x2160 pixels).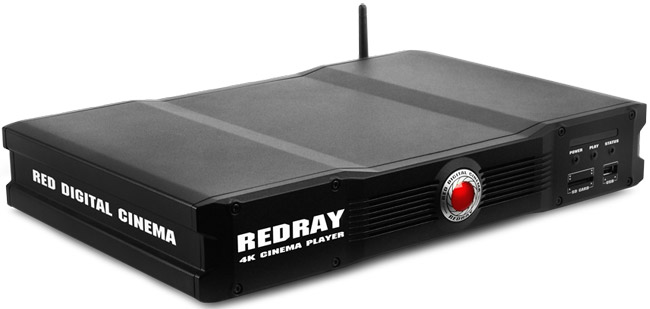 According to Electronic House, RedRay combines the hardware with Red's proprietary .RED file format and a cloud-based delivery system from Odemax. While there's no word on what exactly Odemax will be streaming in 4K, we do know that the service is expected to launch alongside the RedRay player's release in March.
Red says that the player's "advanced networking and low data rates" are designed so that users can distribute content via FTP transfer or solid-state media such as an SD card. Red claims that their codec technology can actually crank out content that's small enough to fit on a USB2 flash drive. the RED file format boasts a compressed data rate under 2.5MB/s (20 mbps) and secure encryption as well to keep the studios happy.
That 20 mbps data rate requirement is still too high for most consumers with DSL and cable modem connections but we're hoping that the player's internal hard drive will allow users to order up a movie in advance so that a big chunk can be downloaded and cached on the local drive before playback begins.  This could help prevent buffering issues while streaming.
Sony is currently offering a 4K video player to shoppers buying the XBR-84X900 4K LED TV. However, the RedRay is the first player that's being marketed to the masses. It's available for pre-order now, with an MSRP of $1499.

For More Information: