Puppets Rejoice: Walt Disney's Pinocchio on Blu-ray March 10, 2009!
By Chris Chiarella
Walt Disney Studios Home Entertainment set the bar mighty high with their Blu-ray of Sleeping Beauty, but they might just be aiming to top themselves with their next Platinum Edition release. Liberated from Vault Disney and presented in high-definition for the first time, Pinocchio will be celebrating his 70th birthday (cinematically speaking, the book was published in 1883) Blu-ray-style on March 10, 2009. The tale of a puppet whose "father" wishes upon a star for a real boy was Walt Disney's second animated feature film, following 1937's Snow White and the Seven Dwarfs.
The incredibly gorgeous hand-rendered animation has been restored of course, with a new 7.1-channel soundtrack to match plus scads of bonus features. Chief among the BD exclusives is a revolutionary new concept, dubbed Disney View. As the 4:3 Pinocchio predates widescreen filmmaking, it would appear with two vertical black bars when displayed on a 16:9 TV, which some families have grumbled about. Disney has added a series of custom-designed side panel images to fill those gaps, be it an ornate bookbinding when genial insect sidekick Jiminy Cricket is reading, or a starry sky when the action moves outside at night. It's always fitting, with subtle shifts that are never distracting, and completely optional.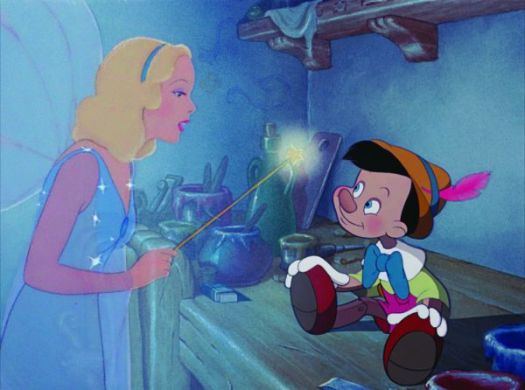 The many other features begin with another "Cine-Explore" Picture-in-Picture (BonusView) video commentary with film critic/historian Leonard Maltin, animator Eric Goldberg and author/expert J. B. Kaufman, also accessible as an audio-only commentary. Onscreen facts and trivia can be activated, and we can pick precisely which songs--if any--we want to sing along with, complete with lyrics.
Pinocchio is Disney BD-Live Network-enabled, with lots of ambitious online possibilities, including synchronized viewing parties at multiple locations. On Disc Two we'll find a comprehensive "making of" documentary, footage of the live-action reference created for key characters, two deleted scenes plus an alternate ending, as well as an earful of some vintage "pop" songs that were considered but ultimately dropped from the movie.
There's also a look at real-life working "Geppettos," from woodworking to digital media, in addition to yet another revelation of the classic animation process, "The Sweat Box" phase of production where Walt--portrayed in flashbacks once again by the studio's go-to actor--would personally critique the work-in-progress. The "Pinocchio Knows" Trivia Challenge is a Blu-ray exclusive.
As another bonus of sorts, the Blu-ray package also includes a DVD of the movie, essentially disc one of the two-platter standard-def set, complete with the appropriate bonus features. This DVD is intended to help ease the transition for consumers on the verge of upgrading to Blu-ray. Look for Walt Disney's Pinocchio 70th Anniversary Platinum Edition 2-Disc Blu-ray next year for a suggested price of $35.99.