Sleeping Beauty on Blu-ray Disc Review
By Chris Chiarella
The Film
By Walt Disney's decree, Sleeping Beauty had to be bigger and better than any of his landmark animated feature films that had come before. It was also the most expensive, amid talk that delays and cost overruns might actually bankrupt the studio, but in the end the movie was a resounding critical and financial success.
A dark tale certainly, it involves a curse of "death by 16" placed by an evil queen upon a newly born princess. Three helpful fairies manage to commute death down to a deep sleep, from which only true love's first kiss can awaken her, although as part of the plan the parents can't see their only child until her sixteenth birthday! Rough, although they do get to skip over a lot of those rocky puberty years.
While clearly derivative of Walt's Cinderella and Snow White, among others, Sleeping Beauty does play with a humor all its own, thanks to some strong characters and brisk pacing. The climactic showdown between good and evil is also among the most thrilling ever put on film.
The Picture
This digital restoration of Sleeping Beauty was created from 4K scans of the original Technirama camera negative. Technirama is a 70mm film process with a 2.55:1 aspect ratio, shown at its full width on home video for the first time here. We're watching the work of some of the greatest visual artists in the history of motion pictures, and so we want to see every bit of the frame that they so meticulously designed.
The clarity and detail of the high-resolution scans, presented on Blu-ray at 1080p, is as close to flawless as we can realistically expect. The sharpness makes us aware of every single frame at times, as we notice the unique crinkling in a fairy's wings for example, while some scenes are so precisely rendered as to border on photorealism. Remaining are faint traces of cumulative dirt that from the layers of cels shot by the multi-plane camera, used by the animators to create more convincing depth-of-field. Soft blurs are evident here and there, whether deliberate or not, and we can appreciate the textures that the artists put into the painted cloth, metal and stone. The generally decrepit condition of Maleficent's castle is on full display, and they even bothered to decorate the moldings with little skulls!
Colors are so rich and so dense, sometimes combined in such potent contrasts that it's hard not to stare in awe, and smile. Greens in particular can be so intense, I started to worry that they might break my TV. And of course Disney was forward-thinking enough to give us Flora, Fauna and Merryweather, that trio of RGB characters just made for home theater.
Those imperfections I did see were so rare and minor, I almost feel guilty mentioning the digital crush in the gentle shades of the sunset, although we can dismiss some of it as uneven transition in the paint, plus we can still make out many individual stars in the night sky. At a recent event in New York City, the same digital file used to create the Blu-ray was projected up on a movie theater screen, and even then the problems were few and far between. On a 50-inch HDTV, the concentration of the image fairly throbs with visual power: My wife and children are almost hypnotized by it.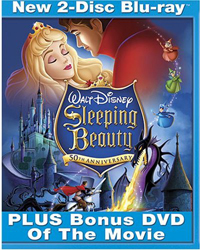 The Sound
The DTS-HD Master Audio 7.1 on the disc was remixed from the Disney Studio's 35mm magnetic elements, including the original three-track stereo music masters, recorded in Berlin, Germany because that's where the world's finest equipment could be found back in 1958. Remixed from the original stems, the resulting "Disney Enhanced High-Definition Sound" seriously exploits the rears, including placement of the singing voices in different channels when Prince Phillip is trying to find his future wife --by ear-- in the forest. The original music recording exhibits and extremely low noise floor, but hiss, pops, snaps and rumble had to be removed from the dialogue and effects tracks as part of the restoration.
Wind surrounds us, thunder has might, and a voice from outside a scene or a cheering crowd reminds us of the multiple channels. Galloping hoofbeats cut a path around us, an evil bird flies from front to back, and the echo of Maleficent's staff on the castle floor resonates with profound subtlety. A voice can expand out of the center channel when it takes on a magical, almost dreamlike quality, for fantastic effect. High frequencies in the music are especially strong and crisp. The "Restored Original Soundtrack" is also onboard, presented as Dolby Digital 4.0.
The Extras
The folks at Disney put a lot of thought into choosing Sleeping Beauty as their first classic animated release on the Blu-ray format, and beyond the stellar audio and video, they absolutely swung for the fences with the bonus features. Their "Cine-Explore" Bonus View picture-in-picture brings together Pixar's John Lasseter, animator Andreas Deja and critic/historian Leonard Maltin for an ambitious conglomeration of vintage photos and video clips, behind-the-scenes images, a variety of artwork, plus scenes from other movies, Sometimes there's more than one window on the screen at once, but it's all well-timed and carefully laid out. The three also "host" modern and vintage interviews that have been edited in, and the audio is also available as a more traditional commentary track. "Princess Fun Facts" onscreen trivia is provided, too.
For "Dragon Encounter" we are instructed to "Turn off the lights, turn up the sound" for maximum impact as we simulate what it's like to be trapped in Maleficent's dungeon. This sensory experience lasts five minutes, in high-definition, with DTS-HD HR audio. "Grand Canyon," the Oscar-winning the 29-minute live-action nature film which was released with Sleeping Beauty in its first theatrical run, is included here in HD, along with a pop music video in standard-definition and direct access to the songs in the movie, with optional onscreen lyrics. And while we don't usually go on about disc menus, these are presented in Dolby Digital 5.1 and HD, keying off of the current season and weather (my PlayStation 3 is connected to the internet) to change the scene periodically: The leaves on the trees were brown and falling, while birds chirped all around me.
The first Blu-ray to offer the groundbreaking Disney BD-Live functionality, Sleeping Beauty immediately required an update in order to access those features, about two minutes to download over broadband, after I flipped through nine (nine!) screens to get to the end of the user agreement. I clicked the button for "New to BD-Live?" and was instructed to go to the http://www.disneybdlive.com/ website to create an account, which meant leaving the home theater for the computer.
Once there I had to click down more than 30 times to get to the bottom of the addendum to the user agreement--the technological frontier is a tough place to be--and enter the last four digits of my Social Security number, but I was granted access on the spot, albeit with a temporary guest number. (Big Picture Big Sound Editor Chris Boylan encountered some difficulty with his signup, seemingly arbitrary but frustrating nonetheless). [editor's note: apparently you're not allowed to use your real name in your username as it violates Disney-fied privacy requirements].
We can have up to ten different devices linked to our account, adding movies to our "Library" as they continue to be released. The various BD-Live features are fun, or at least promising. Disney Movie Chat enables us to schedule or take part in an online chat during the movie, with synched Blu-ray players all showing the movie at the same time, so we can share bon mots such as "This is my favorite scene coming up!"
Disney Movie Challenge gives us the choice to play Private Games live against friends remotely, or automatically scheduled Public Games that anyone can join. No one else was in my group when I tested my trivia wits on a weekday afternoon, so of course I won. Disney Movie Mail offers the option to create and send (or receive) a small video greeting that we capture with our cell phone or internet camera, to play over the movie.
Disney Movie Rewards Live! is a new flavor of the studio's program of "free" perks for frequent customers. I snagged some complimentary new Sleeping Beauty avatars for myself, but some of the features were sill listed as "coming soon." My Manager helps us organize a calendar of upcoming BD-Live events, three months in advance, add friends and even "True Friends," find and collect new avatars, as well as juggle connections to computers and web-enabled cell phones. Here again, features like News, Notifications and File Manager were not yet active. As rich as it is, Disney's BD-Live is still a work in progress.
On to Disc Two, where Games & Activities await us. "Maleficent's Challenge" miraculously reads minds, while "Briar Rose's Enchanted Dance Game" either uses the remote to play, or we can hop off of the couch for an interactive waltz lesson. The "Sleeping Beauty Fun with Language Game" might be enlightening for some, but was not particularly "fun" for me.
Backstage Disney is the destination for movie buffs. "Original Disneyland Sleeping Beauty Castle Walkthrough Attraction" is an elaborate, immersive virtual recreation of a now-defunct non-ride in Anaheim, California. With optional insights from super-fan (and Senior Vice President of Walt Disney Imagineering) Tony Baxter, we can tour at our own pace, stopping to read the book pages which are posted throughout or take longer, closer looks at key spots, with selectable breakaways to behind-the-scenes explanations, all with a touch of the remote. This is followed by the ten-minute "History of the Sleeping Beauty Castle Walkthrough Attraction," in HD. "Picture Perfect: The Making of Sleeping Beauty" (43-and-a-half minutes, HD), is the documentary to watch if you can only commit to one, benefiting tremendously from the multitude of informed voices on the subject.
"Eyvind Earle: The Man and his Art" discusses the visionary who brought so much to the look of Sleeping Beauty. "Sequence 8" dishes about the portion of the movie where the prince first meets the princess in the woods: lovely to look at but back-breakingly difficult to complete. The Alternate Opening storyboards include a new recording of a different song, "Holiday," written for the film, while more than ten minutes of Deleted (and alternate) Songs are showcased, along with accompanying clips and renderings. Split-screen storyboards are compared against the finished film in another of the extras, and "Live Action Reference" features the rough black-and-white films made of costumed performers acting out certain sequences from the script, commissioned to help guide the animators.
The Sleeping Beauty Art Galleries collect copious quantities of still images. "The Sound of Beauty: Restoring a Classic" (in high-def and DTS-HD MA 7.1) is a highlight, especially for the home theater crowd, illustrating how the audio team created its impressive new master. "Walt Disney Presents: The Peter Tchaikovsky Story" is shown in two versions (both 49-and-a-half minutes, in HD) owing to the no-longer-necessary stereo simulcast instructions that appeared as part of the original TV broadcast. And "4 Artists Paint 1 Tree: A Walt Disney 'Adventure in Art'" from 1958 (16 minutes, HD) is a wonderfully expressive, practical lesson.
A portion of this content was borrowed from the 2003 DVD, some of which is presented here in improved quality for Blu-ray.
Also attached to the front of the case in a little cardboard envelope is a DVD of the remastered movie. It appears to be the first disc from the new standard-def Platinum Edition, with audio commentary and additional bonus features. Yes, that's right, buy the Blu-ray Disc and you get a free DVD of the film. Do you think Disney is commited to Blu-ray?
Final Thoughts
With Sleeping Beauty, Walt Disney Studios Home Entertainment has given us a glimpse of how good Blu-rays can look and sound, how deeply the bonus features can educate and entertain us… in short, they've shown us all how amazing this format can be. Not surprisingly, I give this disc my highest recommendation.
Where to Buy:
Product Details:
Actors (voices): Mary Costa, Bill Shirley, Eleanor Audley, Verna Felton, Barbara Luddy, Barbara Jo Allen, Taylor Holmes, Bill Thompson
Director: Clyde Geronimi
Audio Format/Languages: DTS HD Master Audio 7.1 (English), Dolby Digital 4.0 (English)
Subtitles: English
Aspect Ratio: 2.55:1
Number of discs: 3
Rating: G
Studio: Walt Disney
Release Date: October 7, 2008
Run Time: 75 minutes
List Price: $34.99
Extras:

"Cine-Explore" Bonus View/Audio Commentary
"Princess Fun Facts" onscreen trivia
"Dragon Encounter"
"Grand Canyon"
Music Video
Song Selection
Disney BD-Live (Disney Movie Chat, Disney Movie Challenge, Disney Movie Mail, Disney Movie Rewards Live!)
Maleficent's Challenge
Briar Rose's Enchanted Dance Game
Sleeping Beauty Fun with Language Game
"Original Disneyland Sleeping Beauty Castle Walkthrough Attraction"
"History of the Sleeping Beauty Castle Walkthrough Attraction"
"Picture Perfect: The Making of Sleeping Beauty"
"Eyvind Earle: The Man and his Art"
"Live Action Reference"
"The Sound of Beauty: Restoring a Classic"
"Walt Disney Presents: The Peter Tchaikovsky Story" (two versions)
"4 Artists Paint 1 Tree: A Walt Disney 'Adventure in Art"
Deleted Songs
Alternate Opening
Storyboards
Art Galleries
DVD of restored movie with select bonus features