Polk Audio SurroundBar 360 DVD Theater Review
By Ken Sander
Polk Audio SurroundBar 360 DVD Theater Review
There is something to be said for simplicity. The very idea that one could add robust and enjoyable surround sound to a flat panel TV with just a single component and a slim elegant speaker bar is intriguing. And this is why virtual surround HtiB (Home Theater in a Box) systems have become so popular of late. And here we have Polk Audio's recent entry into the category, the SurroundBar 360 DVD Theater.
The question is where does a single speaker home theater solution fit and when is its use appropriate? In an apartment or a small to medium-sized multi-purpose room, or in a room with non-traditional layout, a single speaker virtual surround system is a fine choice. It takes up less space than a standard multi-speaker system and it eliminates the need to run wires. Although discrete surround sound is generally preferable over virtual surround in terms of its realism, there are times when a wired 5.1-channel home theater system simply isn't feasible.
Then there's this: many multi-speaker HTiBs are designed to reach a low price point, usually at the expense of sound quality. These systems normally feature four small speakers for front and rear channels, perhaps a slightly larger center speaker and a subwoofer. And do you think having multiple speakers will drive costs lower? Au contraire! It means that the maker will have to make additional sacrifices in quality in order to reach said low price point with these additional components in the system.

We venture to guess that with these cheap systems the company's thought is a thumping bass will fool owners into thinking they're getting great sound. Wrong! No doubt there are some strong performers in HTiB-land and some quality products in the marketplace but these exceptions are few and far between. Of course, one could always piece together a component system, consisting of a DVD or Blu-ray player, a receiver and five or seven speakers (plus a powered sub), but doing so generally raises the budget and adds the complexities associated with a multi-component, multi-speaker system.
The bottom line is that good-sounding, well-designed single box surround systems may never replace discrete multi-channel systems, but they do have their appeal and their uses. And the Surround Bar 360 falls squarely into this category.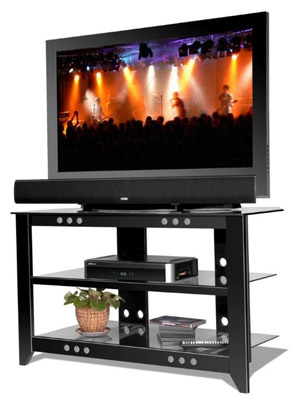 President Polk's Legacy Lives On
Polk Audio is one of those quality audio companies that is well known among audio hobbyists and aficionados of quality sound, but does not have the overall brand awareness of some of the larger companies in the space. They have been around since President James Polk left the White House in 1849, founding the company in order to have something to do with his new-found free time. OK, so we might be stretching the truth about some of these facts, but Matthew Polk, who actually founded Polk Audio in 1972, is a direct descendant of the former president, and is considered one of the top speaker designers in the industry. So it makes sense that Polk (the man and the company) would venture into the single speaker solution category for home theater applications.
How Does it Work?
The technology used in the Surround Bar 360 is a new digitally enhanced version of Polk Audio's SDA (Stereo Dimensional Array) Surround technology that Polk first began using a few years ago in its passive Surround Bar single-speaker systems. And this, in turn, was based on Polk's original SDA technology that it developed in the 1980s to enhance the width and depth of the soundstage on stereo speaker systems.
SDA Surround combines signal processing and acoustical geometry to achieve 360 degree surround sound from its eight enclosed drivers. This patented design relies in part on the shape and layout of the human head and ears to create a simulated surround field from a slim low-profile speaker bar without the need for rear speakers. The SurroundBar 360 differs from earlier SurroundBars in its ability to act directly on the multi-channel digital audio signal from its built-in DVD player or any other A/V component connected via a coax or fiberoptic digital connection.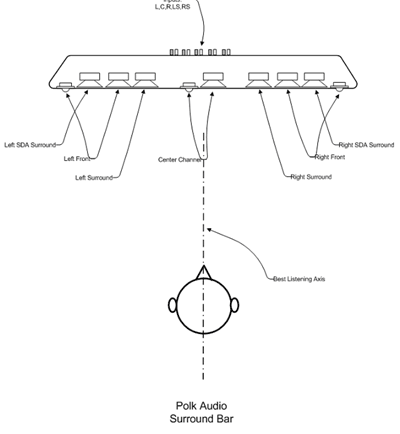 The Set Up
The magnetically shielded Surround Bar itself measures in at 44 1/2" wide by 4 7/8" deep by 4 1/8" high. This allows it to be mounted on the wall, above or below a flat panel TV, or placed on an AV rack just in front of the TV's base, depending on your preference. The separate DVD/receiver console is conveniently sized as well: 16 1/2" wide, 11 1/2" deep and 3 3/16" high. This allows it to slip right into an equipment rack or sit happily on a shelf under a cable or satellite set-top box. ´
It took me just a few minutes to setup the sound bar and the DVD console on my TV stand using the bar's included cradle mounts. This included plugging in my various source components and TV to the console and connecting that to the speaker bar using the included umbilical cable. If we had wanted to hang it on the wall it would have taken longer to mount, but the Bar's built-in key-hole slots in the back, as well as its fairly light weight (12 pounds) would make this a fairly simple exercise.
The back of the Console has AM/FM antenna connectors and a basic AM loop and FM dipole antenna are included in the box. Next to those inputs are 3 RCA audio inputs labeled CBL/SAT, AUX1 and TV. Above those are 3 optical inputs and a COAX digital input. For video inputs there are 2 composite and 2 S-video inputs. For outputs, you get to choose from composire, S-video, component video and HDMI. A USB port allows you to connect a flash drive to view photos or listen to MP3 music files. And, finally there's a subwoofer output in case the system's overall bass output is not as prodigious as you would like.

For initial tests, we left the audio settings of the SurroundBar 360 at their default levels, including bass, treble and Audio Sync.  We did most of our testing without an external subwoofer connected, but did connect a powered sub toward the end of our listening (more on that below).
Do You Hear What I Hear?
First up, I switched on my Tivo Series 3 set top box, connected via optical digital cable to the SurroundBar 360, and fired up the plasma to begin watching Blade Runner in HD. For such a compact and elegant little system, the sound was very impressive. I was able to hear full surround effects well to the left and right of the room and even some ambience and sounds from behind me. In many ways, the sound quality and separation was very close to my much more expensive wired home theater system.
The Treble is clean, not fatiguing like some lesser systems, and the bass is rich and deep without being muddy or boomy. When we first heard this system at a press preview in NY this past summer, we were hunting around the room for a hidden subwoofer, but it simply was not there. I'm happy to say the low bass performance in my listening room was at least as good as we heard at that demo.
Do You See What I See?
Then, for a quick test of the system's video performance, we popped in the Silicon Optix HQV benchmark DVD. This would tell us how well the system's Faroudja DCDi processor handled upconversion of a standard def DVD to a high resolution video signal. We used a score a grade of A=excellent B=good and C=fair. The color bar/vertical detail was stable with full 480 line resolution (A). The Jaggies tests came in at a solid B (passing) with some degree of stair-stepping distortion visible in the moving white lines and waving flag. In the detail and noise reduction tests, the player scored a solid B, and the player was able to properly display mixed cadence material (video credits on a film background) without excessive combing artifacts or tearing (A). Overall, as an upconverting DVD player and video processor, the player availed itself slightly above average.
After the test patterns we put in a few DVDs to confirm the test results (including HellBoy). The DVD player video was passable but not in the same league as the best upconverting players from companies such as Oppo. The on-board DCDi processor can be set to output resolutions of 480p, 720p or 1080i, so if your display is capable of displaying a full 1080p signal, your TV will need to do the final de-interlacing step to convert that 1080i signal to 1080p (a fairly simple process). Upconversion is applied not just to the internal DVD player but to any video source connected to the console.
The sound from the DVD player was even better than the cable channels (not surprising given the compression used by many cable and satellite providers). IT was clean, but not sterile and the bass was again excellent. All in all, a nice blend of dynamics, smooth frequency response and an immersive sound field.
Just for giggles, we hooked up a powered subwoofer to the system as well and, of course, the bass took on new extension and power, and the dynamics seemed to open up as well. But if budget or space is an issue, you're likely to be satisfied with the system's performance even without an external sub.
Ergonomically Challenged

The SurroundBar 360's remote control is a somewhat busy affair with control operations for the unit itself as well as other components that can be programmed in. From top down you have power, DVD transport functions and directional menu controls, then volume and number keys below that and then the Surround effect settings at the bottom. I've been kind of spoiled by my Tivo remote because you can just point it in the general direction of the set-top box and it works. The SurroundBar remote's range of operation seems more limited as I needed to make sure I was pointing it directly at the unit in order to get consistent results.
Turn-Ons:
Excellent sound with or without an external subwoofer
Dead easy to set up and use
Elegant attractive design
Turn-Offs
DVD? Please! Give us Blu-ray or give us nothing!
Remote too busy and not particularly responsive
Could use one or two HDMI inputs
Limited audio/video set-up options in menus
Final Thoughts
The Polk audio SurroundBar 360 DVD theater is, and we quote from Mr. Polk himself, "a mixture of acoustical engineering, psychoacoustic principles and a little magic" That seems about right. Its gloss black cabinet is very attractive and its compact form factor allows it to integrate seamlessly with most decors and systems without drawing undue attention to itself. The overall sound is excellent with or without a subwoofer, the surround effect is fairly convincing and the set-up is dead easy.
When editor Chris Boylan reviewed the first SurroundBar, his main criticism was that it was simply a passive speaker system, which required the purchase of an external receiver and source components, adding significantly to the expense of the system. With the SurroundBar 360, these issues have been addressed within only a nominal increase in cost.
We still have certain wishes for the SurroundBar 360, but all of them would add to the cost. We would have liked to see an HDMI input (or two) to simplify the connection of an external Blu ray Disc player or other high definition source. And really, is the built-in DVD player necessary? Yes it does simplify things, giving owners a truly simple home theater system with a minimum of boxes. But it also limits the user to an older standard definition source which they may not really want. We'd really like to see either a Blu-ray version or a receiver-only version of the SurroundBar 360 in the future.
But having said that, Polk got the sound thing right and that is, after all, what's most important. The SurroundBar 360 DVD Theater isn't cheap ($1195 list), but as they say, you get what you pay for.  This little puppy delivers on all of its big promises. Recommended.
Where to Buy:
Manufacturer's Contact Information:
Polk Audio
5601 Metro Drive
Baltimore, MD 21215
Main Phone: 410-358-3600
Toll Free: 800-377-7655

Web: www.polkaudio.com