Pioneer VSX-822-K Receiver Review
By Rachel Cericola
Edited by Chris Boylan
A Worthy Successor
If you're reading this website, you probably already know that a receiver is a home theater necessity. It's certainly not the prettiest girl at the dance, but it's the one with the best personality. Everything in your home theater will be connected to this thing, so you're going to want it to be good, right?
Pioneer Electronics knows its way around the receiver realm. We've reviewed them many times before, and they really have yet to disappoint. Thankfully, the streak lives on with the VSX-822 5.1-Channel 3D-Ready AV Receiver. This receiver is a sweet upgrade for those of you clinging to the 5.1 setup, but wanting all of the latest and greatest features.
As an upgrade to last year's VSX-821, the VSX-822 can crank out 140 watts (1kHz@6ohm) to each of its five channels. It welcomes six of your favorite HDMI-capable devices, with 3D support, Audio Return Channel, and standby pass-through. It can also decode all kinds of audio goodies, including Dolby True HD, Dolby Digital Plus, and DTS-HD Master Audio formats. Dolby ProLogic IIz is also on-board in case you get a hankering for height channels (requires external amp).
Although it's billed as a 5.1-channel receiver (due to the 5 on-board amps and sub output), the VSX-822 can also support 7.1 (rear surrounds) with the addition of an external 2-channel power amp. Other connectivity options include two composite inputs, optical and coaxial digital audio inputs, and a front-panel USB port that's compatible with the iPhone, the iPod touch and the iPad.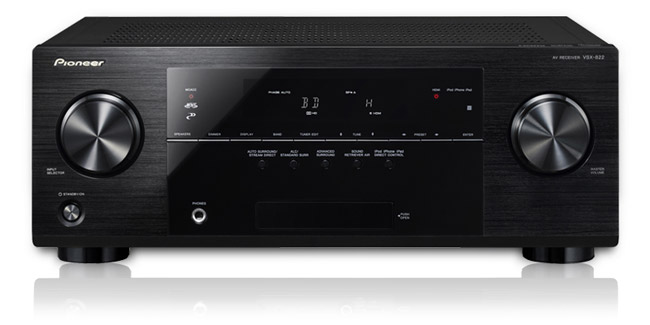 Hooking up that iOS device is a nice perk, but also not necessary for audio junkies. The VSX-822 features the even-better perk of Apple AirPlay. This allows users to stream music straight to the receiver, from any networked iPod touch, iPhone, iPad, Mac or PC.
That's an awful lot for one component. At 19.62 pounds, this hefty beast can certainly handle a lot. At last peek, however, it had a very respectable price tag of $379.99 (MSRP). Given the feature set, that seems like a sweet deal. Let's take a closer peek at whether or not this receiver can deliver on its many promises.
Unleashing the Beast
At this point, it's hard to find something all that unique when unboxing a receiver. At 17.13-by-6.6-by-13.48 inches, the VSX-822 is one chunky monkey, so you'd better have a little room in your AV cabinet.
The front of the panel is pretty busy, with the two most obvious items being those giant knobs. One controls the source selection, while the other handles the volume. The smaller items are numerous, to handle a variety of other functions. There are buttons to select the speakers and listening mode, dim the display, and power the receiver on and off. There are also several tuner control buttons and indicators for HDMI, iOS and remote control use, as well as an MCACC indicator, which assures that this piece is calibrated. Finally, the front also offers various jacks and ports for headphones, the MCACC setup mic, and a little something for your iOS device or USB thumb drive.
Just about everything can be accessed via the included remote control. We'll get to that in a minute.
The back of the receiver has just as much going on -- possibly more. There are five sets of speaker terminals, one line level input, six HDMI inputs and one out, an Ethernet jack, two composite AV inputs and one out, an analog input, an optical input, a coax connector, and even something for your AM and FM antennas. There's also a 2-channel preamp output for those who want to hook up an external amp for height channels or rear surround speakers. It's busy, but very easy to decipher.
Also worth noting are a few little hookups. First of all, Pioneer has been kind enough to include an iOS cable with this receiver. That basically means you can hook up your iPod, iPhone or iPad without searching for the cord. Of course, it's the soon to be obsolete (but still current) large 30-pin connector.  If you want to hook up an iPhone 5 or the upcoming iPod touch or nano with the new Lightning connectors, you'll need an adapter. For those with existing devices connected via the included cable, you can even pass video content through the receiver to your TV as long as you connect the receiver to your TV via a composite video cable (not included).
If you want to go wireless from your device instead, you can either use AirPlay for iOs devices (more on that later) or pick up the optional AS-BT200 Bluetooth adapter ($99). This adapter allows users to stream content from an iPhone or other smartphone, a tablet, PC, or other Bluetooth-capable device. There's also the option for WiFi connectivity, which may be appreciated if you don't have an Ethernet jack close by. That comes with the AS-WL300 WiFi Adapter, which retails for $149.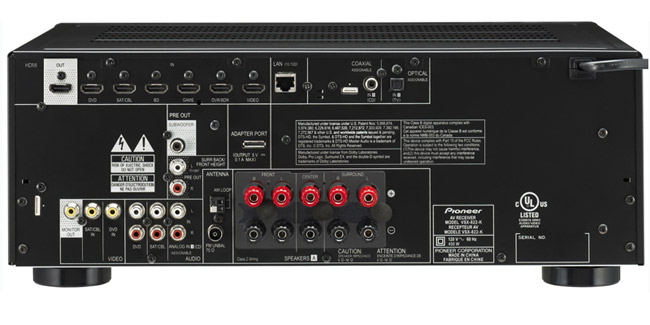 Don't Hate, Calibrate!
Before we get down to business about the VSX-822's performance, we need to make sure it is calibrated. Pioneer couldn't make this process any easier. The company includes the Multi-Channel Acoustic Calibration Control (MCACC) automated process, as well as a little microphone.
That mic has its own input, right on the front of the receiver. After it's connected, turn on the TV and switch the receiver to the proper TV input mode. From there, press the Receiver button, the Home button, and then navigate to the Auto MCACC. The test will go through your speakers, making sure each one is connected and calibrated properly based on what's going on in your room. It's important to note that the test can get a little loud -- but that doesn't mean that you should. If there's too much noise in the room while you're running it, it won't work.
In the end, the MCACC system deemed our front speakers to be "large," with the surrounds being rated as "small." It's funny, because all of our speakers are identical. However, this happened to us on a previous Pioneer review, and like in that review, you can manually adjust the speakers and the crossover to your subwoofer, with options for 50Hz, 80Hz, 100Hz, 150Hz and 200Hz.
This Thing Rocks!
We used the VSX-822 for quite some time, and it became a beloved member of my family. Even my non-techie husband noted that the receiver gave our system a nice little audio bump. There were many times where I swore that my son was upstairs goofing around well past his bedtime, when in fact, I was just catching little details from the speakers mounted above. Sports, movies and everyday TV programs were all much more detailed. I ran every possible piece of content through this thing, from movies and sports to TV programs and music. Despite all of the different genres, it played everything beautifully.
Of course, you don't even have to come packing content to enjoy this receiver. Since it can be networked, there are options to tap into web radio and podcasts, Pandora, and even whatever content you are sharing on your home network.
As far as web radio is concened, the number of countries and stations being offered can be daunting. However, all of that hard work can be saved in a selection of favorites. Web radio comes through in 2-channel stereo, but the sound quality was good overall. If you need a fuller sound, the Ext. Stereo surround mode provides multichannel sound from stereo sources. This option is available through the "ADV SURR" button on the included remote.
Another nice perk is the inclusion of AirPlay. Oh, how my musical diet has become dependent on this little feature! AirPlay is built into iTunes, and allows you to stream your music from a networked PC, Mac, iPad or iPhone directly to your receiver as a separate playback zone.  Your iPad or iPhone can then be the volume control (if you wish) and control center - pick playlists, skip forward and back through songs, etc.  It's a lot easier to call up your music or services like Pandora and Spotify using this little perk. Once you click for the AirPlay option in iTunes on your PC or portable device and select the receiver as the playback zone, it just works.  No additional tweaking is needed.

Rockin' Remote Options
As with almost any receiver, Pioneer has included a remote control with the VSX-822. At first peek, this thing is very overwhelming, thanks to a total of 61 (!) buttons. When you have a nice little receiver that has a lot of features, you're going to get a remote with just as many options. Most of these items are things you're not going to use every day. A few of those options include the display dimmer, the Midnight button for late-night listening, etc. It's a thorough controller, but one that has a bit of a learning curve. There's just a lot of stuff here!
If you want something a little simpler, this receiver is compatible with Pioneer's free ControlAV app. This offers some of the basic features on two screens. Pioneer doesn't attempt to replicate all of the factory remote's features or buttons on one screen, nor should they. This free app basically has two simple screens: one for volume, power and surround formats, and another to flip between sources.  And, most of the time, that's probably all you'll need.
One thing that should be noted about the app is the power feature. The app allows you to turn the receiver off, but you're going to have to go the manual route (or pick up the actual remote) to turn it back on again. Also, once we did that, we found that we always needed to close and relaunch the app in order to get it to work again.  But hey, you can't beat the price.
Turn Ons
Low price
AirPlay adds a slew of audio options
Excellent AV performer
Includes iPod/iPhone/iPad support out of the box
Can be used with Pioneer ControlAV app
Turn Offs
No video processing or upconversion (passthrough only)
No component video input
Included remote is a bit overwhelming
No Audyssey (has MCACC, which works pretty well)
Final Thoughts
I was a big fan of last year's VSX-821, but the VSX-822 is more than a worthy successor. This handsome unit provides better audio and video and throws in a ton of networking options -- but at the same price as its predecessor. It doesn't have any of the AV processing extras you see on higher-end units. However, what it does it does insanely well at a really nice price.
Manufacturer's Specifications:
Company Contact Information:
Pioneer Electronics (USA)
2265 E. 220th Street
Long Beach, CA 90810
On the web: www.pioneerelectronics.com