Pioneer VSX-821-K Receiver Review
By Rachel Cericola
Edited by Chris Boylan
Sexy Beast
We have always found it a little bizarre when people in and around the consumer electronics industry have referred to a piece of electronics as "sexy." Most of the items are typically kind of boxy, and well... made of metal. It's sort of hard to look at something like that and get worked up the same way we'd look at Ryan Reynolds (or Mila Kunis for the fellas), but dang, if the Pioneer VSX-821 Receiver isn't one sexy beast.
We all know (right?) the benefits of having an A/V receiver at this point. Besides being a hub for all of your audio and video equipment, this component can decode all of today's high-definition lossless audio formats, such as Dolby TrueHD and DTS-HD Master Audio for the best audio experience in the home.
Even though it serves as the "brain" of your home's 5.1 channel home theater setup, the VSX-821 isn't exactly rocket science. It doesn't have a lot of the bells and whistles that some of today's receivers have. However, it does cover a little bit of everything, and does so at a very respectable list price: only $349.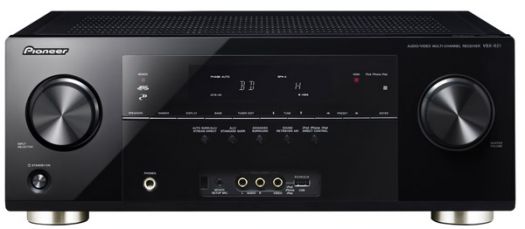 So while the VSX-821 won't stream music from three continents or power up other rooms or a party three blocks away, this receiver can crank 110 watts (1kHz@8ohm) to each of its five channels. It can also take in signals from four of your favorite HDMI-capable components and dish out 3D video pass-through, standby pass-through, and even provide support for audio return channel. Also very notable are the options for two component and five composite video sources, as well as AM/FM radio, Sirius Satellite Radio (with monthly service), and a front-panel iPhone/iPod Touch/iPad-compatible USB port.  It's important to note that if you do use the component or composite video inputs, you'll also need to connect the corresponding component or composite monitor output from the receiver to the TV as the VSX-821 does not convert these analog video signals to digital video for output over HDMI.
Front and Center
While speakers and flat panels have been getting all of the oohs and aahs over the years, the VSX-821 certainly commands some attention. At 17.16 by 6.6 by 14.27 inches, this is a big boy. Because of that girth, we were unable to just swap it out for our old receiver. The VSX-821 needed a little extra breathing room (and a totally different shelf). Of course, it doesn't just look big; it's built like a brick house. When you hoist this 20.24-pound device into your A/V cabinet, remember to lift with your knees. However, you may be distracted by just how well this thing is made.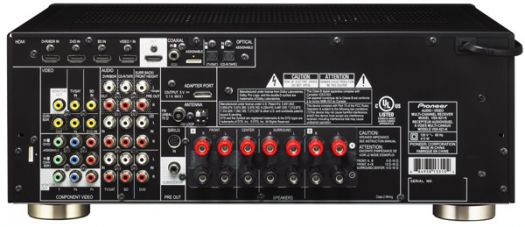 Besides being large, the VSX-821 is rather nice-looking (coming back to that "sexy beast" comment). The front panel offers a constant reminder of what source is playing, as well as a button to dim that info or get rid of it altogether. Other buttons control the speakers, tuner and presets. The VSX-821 also has two giant knobs: one for source selection and one for volume. It's easier to use the included remote, which is nothing insanely special, but lays everything out nicely. Our one quip about this controller is that it looks like it should offer backlighting, but it does not.
Setting up the receiver is fairly straightforward. There are plenty of HDMI options for your Blu-ray player, DVD player, cable box and There's even enough slots for an antenna and other extras. Overall, the layout is nice and pretty easy to decipher. We are HDMI snobs, but even the A/V neat freak will want to add at least one composite connection from the receiver's Monitor Out jacks to the TV. This is a necessity for both iPod video or photo playback as well as the Multi-Channel Acoustic Calibration Control (MCACC) setup screen as these types of signals are not sent over the unit's HDMI output.
Don't let the lengthy name fool you. MCACC is a nifty addition, especially for those of you that need a little extra setup help and don't happen to own an SPL (Soud Pressure Level) meter. The VSX-821 comes with a circular microphone that hooks right to the front of the receiver. From there, flip your TV to the input mode that has the Monitor jack connected. Turn on the receiver and press the Home/Setup button. From there, you are given a menu; choose Auto MCACC. During the test, your speakers will sound off, and things can get a little loud (but you'll need to keep quiet, in order to get the most accurate readings during calibration).
When the calibration was completed, we checked out the manual settings and found that the MCACC deemed the front speakers as "large," while our surrounds got a "small" rating. The weird thing about this is that all of the speakers in our current system are identical. With this setting, we seemed to get a lot of bass. Luckily, the receiver does allow you to change those settings, as well as manually adjust the crossover to your subwoofer, with options for 50Hz, 80Hz, 100Hz, 150Hz and 200Hz.
Just the Basics

Although the receiver does support 7.1-channel surround, either via the traditional rear surround channels or Dolby ProLogic IIz front height channels, doing so requires the addition of a separate 2-channel power amp to power those additional speakers.  Without such an amp, we focused instead on the unit's 5.1-channel performance.  Also, because the receiver offers no video scaling, upconversion or analog to digital video transcoding, there's no need to test its video processing capabilities.  We verified that it did pass through a 3D signal over HDMI as promised and it happily switched between multiple HDMI input devices without complaint and without noticeable artifacts.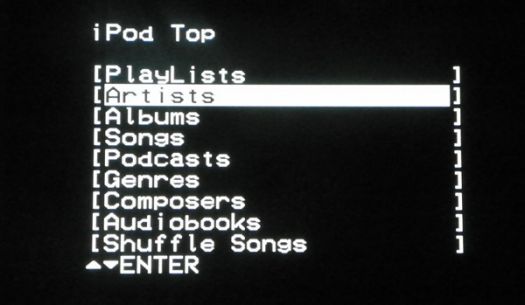 For movie viewing, we popped in a DVD of Spider-Man 2 and found that our Panasonic DMP-BDT110 Blu-ray player did a nice job upconverting the standard def DVD to 1080p, routed through the VSX-821.  Moving onto a full HD feed, we popped in a few choice scenes from Disney's Tangled Blu-ray. That film never gets old, and never seems to dim. The video was flawless and the soundtrack matched perfectly. Everything was wonderful, from the music and the rumble of galloping horses to heavy breathing and arrows whipping by. We also popped in the "100 Mile Dash" scene from the new Blu-ray release of The Incredibles, and it was well... incredible. This unit also supports 3D, which we tried out with both Avatar and Cloudy with a Chance of Meatballs on Blu-ray 3D Disc, with equally bold and beautiful results.  No problems passing that full HD 3D signal through this receiver.
Besides Blu-ray, we did spend a good amount of time using this receiver for just our regular TV watching with a DISH ViP722K DVR as the source. We checked multiple movies, including a rocking (literally) version of The Runaways in 5.1 via Netflix. We also ran the receiver through VUDU's Dolby demo, which produced stellar sound effects. Overall, we weren't just pleased; we were actually impressed. There were quite a few times during sporting events and even weekly TV shows where we thought something was going on in other rooms in our house -- only to find out that it was just the VSX-821 introducing us to some new surround sounds. It's also important to note that whenever we switched audio content, we could easily see which audio format (and source) was playing, right on the receiver's front panel.
A Little Something Extra
Pioneer's higher-end (and higher-priced at $549) VSX-1021 adds in the option to control the receiver via an iPod touch, iPhone or iPad, via Pioneer's iControlAV app. Since the VSX-821 is not a networked receiver, it doesn't have that option. However, it does not alienate our Apple-dependent friends. This receiver has a nice front port specifically designed for adding an iPod, iPhone or iPad. Even better, the good people at Pioneer have included the cable to hook up one of those devices.
While it's insanely easy to hook up the iPod, the interface is slightly old-school. Our 3rd-generation iPod nano meant we couldn't enjoy video. Also, no cover art option was available. That said, it was easy to make our way around the iPod menu and the music sounded sharp and powerful (in a good way).

If you prefer to store all of your music on a cell phone, you're in luck. The VSX-821 does support Bluetooth wireless music streaming. However, you will need the optional Pioneer AS-BT100 or AS-BT200 connected to the receiver. Since we were not supplied with either adapter, we were unable to test out this particular feature.
Turn Ons
Nice price
Solid performer
Excellent option for 3D and for HDMI sources

Plenty of A/V connections
Can add iPod/iPhone/iPad out of the box
Turn Offs
Source selection dial is goofy
No Audyssey (has MCACC instead)
No analog video upconversion or transcoding to HDMI digital output (requires separate cables to TV for analog sources)
7.1 requires separate power amp
No networking extras
Final Thoughts
It may not be the cream of the crop, but Pioneer's VSX-821 is a solid, entry-level 5.1-channel surround receiver with excellent audio and video performance, within its limitations. If you're looking for bells and whistles like networking and analog video upconversion, you'll have to look elsewhere -- and pay more as well. But for those in need of an upgrade for 3D or just decoding of today's audio codecs over HDMI, it's hard to ignore the oomph this receiver can add, especially given its low price tag.
Product Specifications for Pioneer's VSX-821 (VSX-821-K):
Power Output: 110 watts per channel (5.1)
Finish: Black
Decoders & Formats:


Dolby Pro Logic IIz, Dolby TrueHD, Dolby Digital Plus, DTS-HD Master Audio
iPod Digital Audio
192K/24-Bit DACs
HDMI SACD Transfer (2 ch.)

Listening Modes:

Auto Surround
Stream Direct: Direct, Pure Direct
Advanced Surround: 9+1 Mode DPS
Front Stage Surround Advance
Headphone Surround

Video Processing:

3D-Ready
Audio Return Channel
HDMI Standby Through
HDMI 36-bit Deep Color
HDMI x.v. Color

Made for iPod/iPhone/iPad Certified

Supported Apple Devices: 5th gen. Nano and Above / iPhone, 3G, 3GS, 4, iPad

Front-Panel iPod/iPhone/iPad port

iTunes Movie / TV / Video Playback

Android Audio Playback via USB

Connectivity:

HDMI Inputs: 4 x 1.4a inputs
HDMI Outputs: 1 x 1.4a output
Bluetooth Adapter Port (via optional AS-BT200 or AS-BT100)
Composite Video Inputs: 2
Composite Video Inputs: 4 rear/1 front
Composite Video Outputs: 1
Front-Panel USB Memory Input
Sirius Satellite Ready
Analog Audio Inputs/Output: 2 in/1 out
Digital Inputs: 3
Pre-Amp Output: 2.1 Ch. (SW, SB/FH)
Headphone Output

Soundfield Calibration: 

Phase Control
Auto MCACC
EQ Bands: 5
Symmetric EQ
MCACC Memory: 1
Distance Adjustment: 0.1 feet

On-Screen Display: Analog OSD
30 station auto-preset memory tuning
Sleep Timer
Dimensions: 17.16 x 6.6 x 14.27 inches
Weight: 20.24 pounds
MSRP: $349
Company Contact Information:
Pioneer Electronics (USA)
2265 E. 220th Street
Long Beach, CA 90810
On the web: www.pioneerelectronics.com