Panasonic Goes Hands-On with Z1 Uber-Plasma HDTV, New LCDs and All Things VIERA
By Chris Chiarella
Panasonic crossed the river from Secaucus to The Big Apple yesterday to give us an up-close, eyes-on, hands-on unveiling of some of their many new VIERA TVs (and other products) announced previously at this year's Consumer Electronics Show. The funky VIERA handle (referring to "the new visual era") applies to all their flat panel displays - both LCD (screen sizes up to 37 inches) and plasma (screen sizes 42 inches and above). Dozens of models were discussed, and the plan for 2009 seems to be all about bringing their proprietary technologies to more and more of their product line, making the best performance and feature set available across many price points and display sizes.
The Z1, V10, G10 and S1 series of VIERA plasmas all incorporate NeoPDP technology which enables a brighter picture in superior quality while reducing power consumption, and in a thinner form factor. Contrast ratios are higher, too: 40,000:1 native (up from 30K), with dynamic contrast of over 2,000,000:1, what they are calling "Infinite Black." Take these numbers with a huge grain of salt, though, as these dynamic contrast specs exceed what's measurable with even the finest equipment.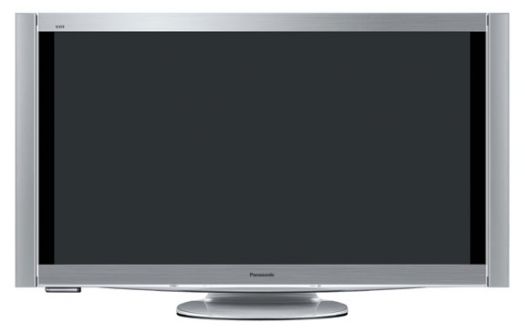 Best-ever resolution in fast-action scenes means up to 1,080 lines of full-time full motion resolution for incredible sharpness, especially valuable for sports-watching. Even the entry-level X1 series (720p) incorporates Panasonic's impressive 600Hz sub-field drive, processing the video at a speed of 600 subfields per second in order to optimize a 60Hz or 24Hz image. Native 24p (24 frames/second) Cinematic Playback support has been enhanced this year on the top-end models. Last year's PZ800 series supported 24p content at 48Hz which gave a nice film-like look to movies, but also produced visible flicker which some people found distracting. The 2009 models (V10 and Z1 only) will support Cinematic Playback at 96Hz so they should maintain the 24p benefits (reduced judder) while avoiding flicker.
The Z1, V10 and G10 series all now include THX-certified models (eight in total, in the V10 and G10 series), and all of the plasmas are Energy Star 3.0-compliant. In terms of longevity, the panels are estimated to last 100,000 hours to half-brightness, which factors down to about 30 years of TV-viewing at eight hours a day.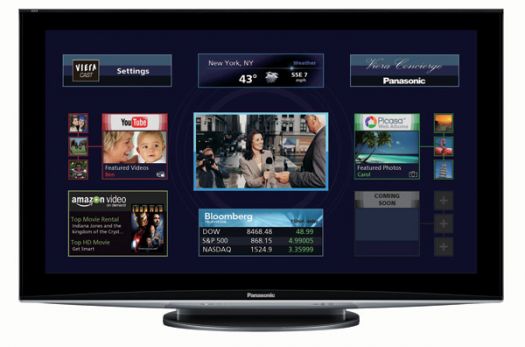 Connectivity and interoperability are also being pushed aggressively on the new models. All VIERA TVs will include the VIERA Image Viewer, an SD card slot for viewing photos and possibly AVCHD video, depending upon the model. We were also treated to a live demo of the internet-powered VIERA CAST, Panasonic's free-to-use suite of online features that bring YouTube (including "HQ" videos), Picasa photo sharing, Bloomberg financial news and live weather info directly to the TV. VIERA CAST is standard on models in the G10, V10 and Z1 serries, and is accessible via the regular remote control which allows quick content searches via the alphanumeric keys.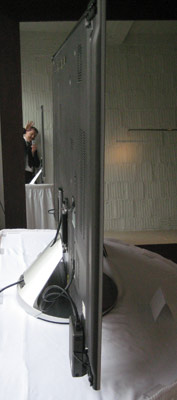 We can search and watch at the same time, and VIERA CAST now supports Amazon.com's Video-On-Demand (VOD) pay services, including streaming HD movie rentals. A big, unmistakable green button gives one-touch access to these features.
VIERA Link, building upon HDMI-CEC (Consumer Electronics Control) technology, means that all VIERA Link-compatible A/V components can be operated with just the TV remote, aided by onscreen menus. But beyond a connected Blu-ray/DVD player and home theater receiver; VIERA Link can also operate select Panasonic Lumix cameras and camcorders as well as a network camera, expected to be available summer 2009 (G10-and-above models).
The flagship Z1 series of plasma displays begins with the revolutionary TC-54Z1, boasting a new screen size, 54 inches measured diagonally. That's 2 inches larger than competitor's 52-inch LCD models - coincidence? This ultra-sleek model offers all of the best features mentioned above, with a panel engineered down to a single inch thick. The THX-certified 54Z1 also offers next-gen wireless high-definition streaming ("WiHD"), 24P Cinematic Playback and 4 HDMI inputs, plus it arrives with a works-through-walls RF remote and a swivel base. It's coming this summer, at a previously announced manufacturer's suggested retail price of $5,999.95.
[editor's note: with RF remote support instead of IR, integration of the Z1 with IR-based universal remotes might be a little tricky. Let's hope they also add IR control before this goes into production]
Panasonic also demonstrated their commitment to LCD, confirming 11 new models this year, up from five in 2008. The VIERA LCD S1 series launching this month comes in 32- and 37-inch screen sizes, both 1080p with Motion Focus technology, the IPS Alpha Panel with 178-degree viewing angle, a 15,000:1 native contrast ratio, PC Input, 3 HDMI inputs and a dedicated Game mode. The 720p VIERA X1 LCD series brings the new iPod Entertainment Kit which displays content on the HD screen using the TV remote control to navigate. The outboard dock kit also charges the iPod. The X1 series includes 26-, 32- and 37-inch screen sizes and will become available throughout March and April.
Also, from the same event, see details on Panasonic's 2009 Blu-ray Player line-up.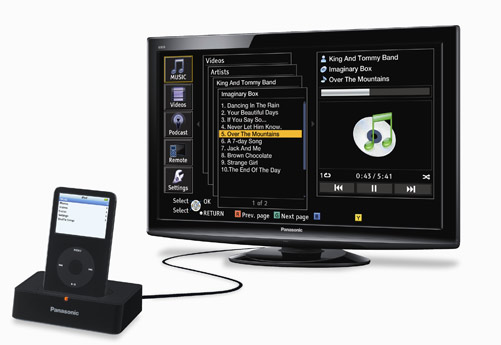 More Information:
Where to Buy: