Panasonic's TH-85PF12U 85-inch Plasma Display Qualifies for Its Own Zip Code
By Chris Chiarella
Panasonic Professional Display Company came to CEDIA Expo in Atlanta this year primarily to show off a single new product, but it was a big one: 85 inches diagonal, to be precise.  The TH-85PF12U 85-inch Plasma monitor may lack a built-in tuner or fancy IPTV features, but what it lacks in features it more than makes up for in picture quality and, well, enormous size!   
It isn't the largest plasma panel Panasonic has ever produced - that honor would go to the 150-inch behemoth shown at CES in 2008.  It's not even the largest model currently in production - that would be the 103-inch TH-103PF10UK, but the new 85-inch model seems more refined than its bigger brethren, with its narrow black bezel and 99 mm (3.9 inch) panel depth.  And as for its picture?  In a word: breathtaking.  In fact, I think the TH-85PF12U merits its own new word in the English language: "enorgeous" (enormous + gorgeous).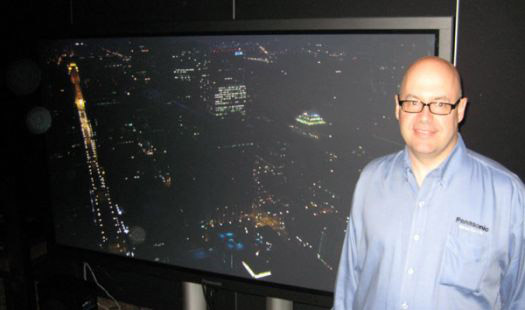 The viewing angle issues we mentioned in the LED/LCD vs. plasma comparison become even more of an issue at this screen size, and so the benefits of plasma become even more apparent. Amazement such as this comes at a price though, $29,995 to be precise.  You can bring this gentle giant to your home theater or office (with sufficient credit or cash) starting next month from Panasonic professional line dealers such as B&H Photo Video in New York.
Some additional details on the TH-85PF12U from Panasonic: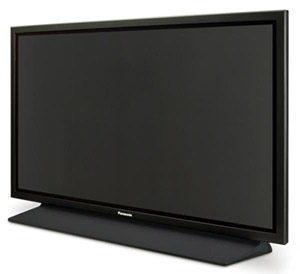 NeoPDP Technology - key to the ultra-slim body and power-saving efficiency is the newly developed "Neo Plasma display panel," which achieves the world's highest moving image resolution of 1,080 lines and highest contrast ratio of 40,000:1 (2,000,000:1 dynamic). The result is a vibrant, high-contrast, high-resolution image with a real sense of depth and scope. 

Thinner and Lighter design - even with effective wide-screen dimensions of 74.4" x 41.8", the TH-85PF12U is significantly thinner and lighter than past plasmas. The main body depth is only 3.9", and with the weight per inch reduced by 30%, the overall weight of the display is approximately 296 lbs.

Low Power Consumption, Long Life - with an equivalent screen size of four 42" displays, the TH-PF12U is slimmer, lighter weight and brighter, with a lower power consumption and a long panel life of 100,000 hours.

Vertical Installation - the 85" plasma is capable of being installed vertically, allowing the display of life-sized models--creating enormous visual impact for digital signage, commercial messaging and audio/video presentation applications.

More information:
Where to Buy: