Panasonic SC-BTT195 Blu-ray 3D Home Theater System Review
By Peter Suciu
Edited by Chris Boylan
Big Sound Can Come in Small Packages
A real home theater system can accentuate your viewing experience at home. Whether you enjoy movies, sports or the latest episode of "Sons of Anarchy" or "Walking Dead," good sound can step up the excitement.  Sure, a simple sound bar might be fine for the local news or "Downton Abbey," but real immersion requires real surround sound.
But there are situations where a big multi-component home theater system is overkill. Whether it's the size, the complexity or the cost, sometimes a packaged compact surround system or "home theater in a box" is the best option.  These are usually simple enough to set up, reasonably affordable and best of all can deliver real discrete surround sound for movies and TV. What's not to love?
With this in mind, we decided to check out Panasonic's SC-BTT195 Blu-ray 3D Home Theater System and fortunately I had the perfect room for it. Living in the burbs after years in the city has its ups and downs but one benefit is a little throwback from the 50s and 60s called the "family room." By today's standards of great rooms and wide open spaces, this 10x14-foot room space doesn't offer a lot for a family - but for a couple of happily married freelance writers it is an ideal space for a compact sound system: a TV at one end, a couch at the other. Could this little system from Panasonic turn this unassuming little space into a miniature home theater?  Read on to find out.
Out of the Box
As noted by the category, this truly is a home theater in a box. Everything one could need except for the TV set and HDMI cable is here and ready for action. The heart of the SC-BTT195 is the Blu-ray 3D player/receiver and while taking it out of the box, I though... "where's the rest of it?"  This little box seemed entirely too small to handle everything.
Oh, but it does. The Blu-ray player/receiver measures just 1.8x16.9 x10.4 inches and is thinner - yet a bit wider - than our current cable box. It is light too, weighing just a bit over five pounds. The Blu-ray drive tray is obviously located on the front panel, along with the display, SD card slot and USB port for connecting an iPod, iPhone, other digital music player or thumb drive with media files.  Yes, that's right: in addition to playing CDs, DVDs, Blu-ray Discs and Blu-ray 3D Discs, the BTT195 can also play or display a variety of digital media formats including MP4, MPEG, MKV, JPEG, MPO, FLAC, MP3 and WAV files.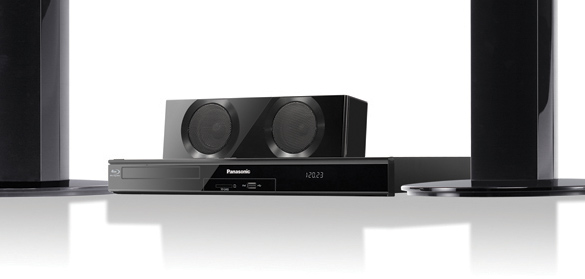 The unit is free of buttons other than the power, eject and volume controls on the top. Everything else is powered by the remote, which is great but having extra batteries will probably come in handy.
At the back of the unit is where the main connections are and Panasonic can take credit for making this about as simple as it can be. Here you'll find the unit's HDMI output (to connect to your TV) as well as auxilliary analog and fiberoptic digital inputs so you can connect your cable box or other source component's audio outputs directly to the system. There's an FM antenna input in case you want to tune in local stations. There's even a USB connection for a compatible camera in case you want to use Skype on your big screen.
If you use your TV's built in HD tuner to tune in your local cable or over the air TV signals, you'll be happy to hear that this unit supports ARC (Audio Return Channel).  This means that the same HDMI cable that brings a picture to your TV can carry sound back from the TV's internal tuner and from there to the speakers (requires an ARC-capable television).
While the HDMI cable is not included, speaker cables are, and they're long enough for a typical room, color-coded with channel ID stickers on each cable for simple setup.  You'd have to go out of your way to get these connections wrong (though it certainly wouldn't be impossible).
The Set Up
Setting the speakers up was - as noted - pretty much a snap. Panasonic didn't skimp on the cable and there was plenty for my aforementioned space. A room double the size might have a problem as there wouldn't be enough cable but this system isn't really meant for massive halls.
The actual speakers assemble easily and look nice; very nice.  In fact, if there is a complaint they look better than they feel. While Panasonic earns points in design, the speakers are very light, lacking notable substance. Given the price this is probably an acceptable tradeoff, and who really picks up the speakers anyway?
The other potential complaint in terms of design is that the front towers are two piece monoliths that stand slightly under four feet tall. This brings the speakers up to the proper listening height, but it does mean they'll need a little bit of floor space.  The bottom part of the tower, including the base is more than half the height but it's actually hollow - the speaker components are only housed in the upper section, which is also around 2-feet tall. It is unfortunate that the upper section couldn't be used without the base for those who might have a built-in entertainment system or a TV stand that allows the speakers to sit next to the TV. As it stands - no pun intended - the speakers don't offer a great deal of flexibility.  Then again, if you want smaller speakers, you can consider the SC-BTT190 instead.
The system offers a quick set up, including a speaker test to ensure that it was set up correctly. This is a small thing but for those who aren't audiophiles or home theater junkies it could be very helpful. Just a few of the little things where Panasonic has seemed to go the extra distance.
Play Time
As for actual performance, the system sounds very good - and really packs a punch in our smallish room with its "1000 watts" per channel of system power. I use quotes because the claims can be exaggerated and the system's speakers are rated at 3 ohms, which means the amps will be driven to higher numbers than if they were powering a standard 6-ogm or 8-ohm load.  The subwoofer offers a 6.5-inch driver and it delivered decent low end punch for its size. The left and right speakers feature 2.5-inch drivers, with three grilles but two of these covers are actually passive ports (not active drivers) so these provide a little less sound than was originally expected. The rears also have the same single 2.5-inch driver, whilst the center features a pair of these drivers. Combined, the system provides reasonable midrange and treble response, and compared to what TV speakers deliver, the SC-BTT195 system is a noticeable upgrade.
As with Panasonic's line of connected Blu-ray players and TVs, the SC-BTT195 system offers VIERA Connect, Panasonic's collection of streaming services and apps. To use these features you'll need to plug in a network cable or purchase the optional WiFi adapter (DY-WL5) which sells for under $50.  Available apps include NetFlix, HuluPlus, Pandora, Amazon Instant Video, VUDU and YouTube (among others). You can even use Skype to turn your TV into a huge videophone with the addition of a compatible camera.
We tested the system with a number of Blu-ray movies, including Valkryie to hear the bombastic sounds of war, and it did sound like a battle was being waged in the den.  The U-Boat themed Das Boot allowed the viewing space to feel much like a submarine from the massive sounds of depth chargers going off to the ambient sounds of the hulls creaking. The subwoofer managed to provide the sound along with the feel and rumble of the low end.
In terms of the visuals, pairing the system with a Panasonic ST50 plasma, the black levels and shadow details were very impressive in Das Boot, which has no shortage of dark scenes. And to contrast it with some color I opted for Warriors of the Rainbow, which really brings the rain forest of Taiwan to life with rich saturated reds, and vivid greens.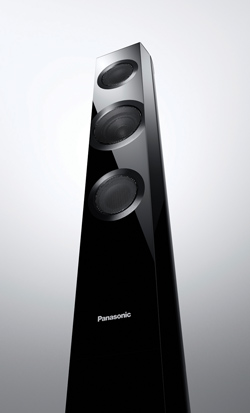 To test the unit's 3D capabilities, I opted to try
John Carter
. Not being a fan of 3D, my personal library of movies is somewhat limited and having read the books I opted to see if the film was as bad as the reviews had suggested.  More importantly here, I wanted to make sure 3D behaved as expected and see if perhaps I'd be more impressed than I have in the past with 3D. Well, I may still not be sold on 3D and am happy living in a 2D world; but the picture really did pop in 3D mode, looking quite good with a nice sense of depth.
John Carter is technically "upconverted" 3D content (it was not shot natively using 3D cameras), but the effects were rendered in 3D so there is a fair amount of depth to the image. That feeling of depth and spaciousness continued when watching scenes from a few Disney/Pixar and Dreamworks animated titles which were rendered in 3D.  Frankly the 3D effect will have more to do with the display than the player, but I'm happy to report that 3D did work as expected on the Panasonic HTiB system (even if I am still not a fan).
Loading Zone
Compared to earlier generation Blu-ray players and HTiB systems, the SC-BTT195 loaded DVDs and Blu-ray Discs fairly quickly and menu navigation was generally intuitive with simple directional buttons on the remote leading me to and around the various options. The VIERA Connect screens were a bit sluggish to load and navigate but the various streaming services worked reliably once loaded.  The layout of the remote control is straightforward and the unit responded accurately and quickly to commands.  Overall the system behaved as expected with few surprises, which is important for something targeted at the mainstream (e.g., non-techie) user.
Turn-Ons:
Simple to set-up, simple to use
Very nice appearance
Great upgrade from TV sound
Good selection of streaming apps
Excellent bang for the buck
Turn-Offs:
Speakers seems a bit cheaply made
Front tower speakers are a little bulky
a little thin-sounding in the midrange
No built-in Wi-Fi (requires optional adapter)
Final Thoughts
Given its $399 suggested retail price, the SC-BTT195 offers a whole lot of bang for the buck. It sets up quickly, providing a 3D-capable Blu-ray player and provides access to a nice selection of audio and video streaming services. While the speakers seem a little flimsy, for the price this can be overlooked, especially for anyone who loves movies but lacks the budget and space for a full-fledged component home theater system.
Manufacturer's Specs:
Manufacturer's Contact Information:
Panasonic
One Panasonic Way
Secaucus, New Jersey  07094
1-800-211-7262
On the web: panasonic.com
Where to Buy:
Also Consider: