Panasonic DMP-BDT220 Blu-ray 3D Player Review
By Rachel Cericola
Edited by Chris Boylan
Best Blu-ray Bang for Your Buck
It's amazing how much the price of Blu-ray players has come down over the years. Right now, even 3D-capable players can be had at an insanely affordable price. The Panasonic DMP-BDT220 Blu-ray 3D Player is one of those players that aims to please just about everybody -- including those seeking big features at budget prices.
At last peek, this player was available on Amazon for just $99. During the holiday shopping season, it dipped even lower. Now, does this budget player deliver budget performance and features? Or does it offer a taste of Dom Perignon at the price of bum wine? Let's take a closer peek at what you can expect.
First and foremost, the DMP-BDT220 is a disc player. It's fully compatible with both 3D and 2D Blu-rays, as well as DVDs and CDs. It also has a bunch of web-based goodies (streaming services and apps), which are all part of Panasonic's VIERA Connect platform. And if that's not enough for you, this one adds in the option for even more content and apps to be added via the VIERA Market.
The DMP-BDT220 also allows you to control some of that app clutter through something called Multi-User Mode. With this perk, up to four users can create separate profiles that are accessible through the main menu. From there, each user can have personalized audio and video settings, app picks (with separate login information), and even favorite wallpaper. So if Mom likes Facebook, but doesn't want the kids having free reign over her account, this is a nice option.
Other features include built-in WiFi, a 2D-to-3D conversion feature, Adaptive Chroma Processing, DLNA support, and Skype calling options via an add-on camera.
Super-Speedy Setup
At 3.3 pounds, the DMP-BDT220 is a lightweight component. There doesn't really seem like there's much to the device, which goes double for its design. Don't expect any sexy curves or anything.  The player is a pretty standard black box, so the good news is it should discreetly disappear into your AV cabinet.
The front of the player is nicely laid out, with an easy-to-read LED display and a flip-down panel that reveals the disc tray, an SD card slot, a USB port and two buttons to play and stop disc content. On the top of the player, there's a power button on the left and an eject button on the right. Around back, the player has an equally simple layout. There is one HDMI output, a set of analog inputs, an Ethernet jack, a digital audio output, and a second USB port that's specifically designed for the camera for Skype.
Hooking up the player should be pretty straightforward. I'm becoming a cable snob (ok, I'm just lazy), so I typically opt for the one-cable HDMI hookup. It's also a good idea to get this player on your network, for streaming BD-Live and VIERA Connect content. Thankfully, the player is versatile, offering both Ethernet and WiFi options right out of the box.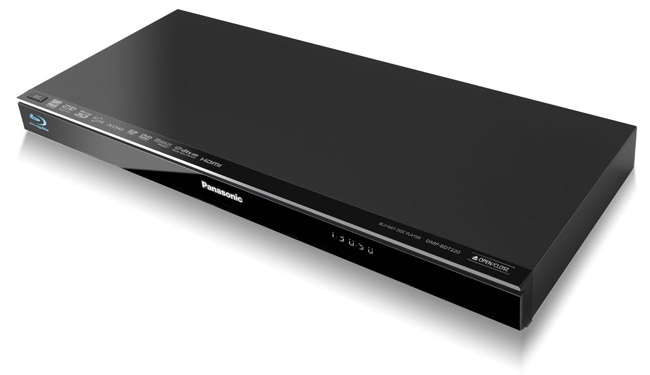 Well Hello There!
Assuming this isn't your first Panasonic Blu-ray player, the main menu should look pretty familiar. The home screen has selections labeled for Network, Photos, Setup, Music and Videos.
Most of the sections are pretty basic and self-explanatory. The Photos, Videos and Music sections don't link to any web-based services, offering playback of content via an SD card, a USB drive or by using an actual disc. That's always sort of bothered me. Shouldn't Netflix go under video, and so on? Instead, the Network section is where you'll find the streaming service and everything else under the VIERA Connect umbrella. You'll need to navigate to the tab labeled "Network Service," because there are also options to connect to networked and DLNA-supported devices.  For those who want to ump right into Skype or Netflix, you'll find direct dedicated buttons for these services right on the remote control.
Also, you may notice that Pandora is not one of the out-of-the-box streaming options. In fact, there's no love for any music apps on the main menu by default. That said, you can add Pandora, as well as SHOUTcast, as a free download through the VIERA Market and then put them into slots on the first page of Network services if you want them within eacy reach.
How You Like Me Now?
To make sure we aren't just blinded by superheroes and special effects, we always like to put our players through the paces of the HQV Benchmark test DVD. The DMP-BDT220 passed the color bar portion of the test with flying, um... colors. There was a slight bit of shimmer during both of the disc's first two jaggies tests, but not enough to fail the player on either portion. In fact, it handled the diagonal filtering quite nicely overall. The player also took a second to lock into the stands on the "Super Speedway" cadence test. However, it was literally a blink-and-you'd-miss-it moment. This shows that it can properly detect - and correct for - the 2:3 film-based cadence of the source material and prevent that tell-tale moire distortion visible in lesser players.  Otherwise, the player was impressive during tests on details, noise reduction and other areas of upcomversion and video processing. I had no complaints here.
Aside from the test DVD, I really put this player through the ringer. I spent a ton of time with it -- probably more than I should have. My family enjoyed everything from standard-def DVD to multiple Blu-rays and Blu-ray 3D Discs. Everything looked awesome. A few standouts included the recent remastered releases of JAWS and Titanic. Especially in the case of Titanic, the player managed to present some truly jaw-dropping images, with incredible color, detail and awesome 3D effects.

Of course, how the player actually displays content is really important to everyone here at Big Picture Big Sound. However, we are an impatient bunch, so we like to test out disc load times, to see what kind of wait you can expect on a nightly/weekly basis. For each title, the stopwatch started when I pressed play with the disc tray open. My go-to standard-def DVD (Old School) took about 24 seconds to get to the DreamWorks logo. A standard Blu-ray (Hitch) took a super-speedy 12 seconds to load, while a BD-Java title (Pirates of the Caribbean: The Curse of the Black Pearl) loaded to the Disney logo in about 20 seconds.
While those times were very nice, the notoriously slow, BD-Live heavy title, Inglourious Basterds took 104 seconds to load with the web connected. The last of the lot was the Blu-ray 3D Disc of Avatar, which loaded to the Fox logo in 65 seconds. It was all pretty acceptable, but considering that this is a newer player, the load times could be a little better, particularly on the BD-JAva, BD-Live heavy "Basterds."
And while those load times could use a little work, I was extremely pleased with the speed and image quality on Netflix streaming. Of course, my kid never complained about any of the flicks he watched through this player, but I blew through a full season of Breaking Bad in a few days, without one glitch in the playback. Also, the stream came with some pretty surprising surround sound, which was a nice little bonus.
Complete Control
Again, if you're familiar with any of Panasonic's other Blu-ray players, this remote should offer no surprises. It's very straightforward, with one-touch access to player controls, the VIERA Connect app menu and even dedicated buttons for Netflix and Skype. If I had to gripe, it would be that Panasonic goes out of its way to create and brand the VIERA Connect platform, but makes no note of it on the remote or the on-screen interface. The big green button that used to be labled VIERA Cast (last year) now simply says "INTERNET."  That said, this remote is a lot easier to work with than the touchscreen models that the company packaged with some of its higher-end players this year.
Of course, if you're addicted to your iPhone (and really, who isn't?), Panasonic does offer a compatible control app. With the exception of being able to type in commands a lot easier, I actually prefer the remote to the app. That said, it's available, it's free, and it does provide all of the same control options from your favorite iOS device.
Turn Ons
Unbelievably low price
3D playback
Stellar image
Built-in WiFi
Turn Offs
No Pandora out of the box (requires additional set-up)

More apps, please
Load times could be a squeak quicker
Final Thoughts
When we review products, we try to be as objective as possible. In other words, we like to call out the good and the bad. However, I found myself really stretching to come up with "Turns Offs" for the DMP-BDT220. Is it the greatest Blu-ray 3D player ever made? Um, no. However, it certainly is an excellent player for the price. If you've been waiting to add a player with streaming services or 3D capabilities, this is the one for you.
Manufacturer's Specs:
Manufacturer's Contact Information:
Panasonic Corporation of North America
One Panasonic Way
Secaucus, NJ 07094
1-800-211-PANA (7262)
Website: www.panasonic.com