Panasonic DMP-BDT110 Blu-ray 3D Player Review
By Rachel Cericola
A Good Place to Start
Remember when everyone was patiently (or not) waiting for Blu-ray players to drop below $200? We don't have time to reminisce. We are too busy drooling over something slightly more eye-popping (literally!): the Blu-ray 3D player.
Yes folks, this is the year that 3D will enter the mainstream and your home. Don't try to fight; it's inevitable. Every manufacturer seems to be going to the hoop with a bevy of 3D-capable products, so you may not have a choice. 3D is being built in as a feature, not just to high-end HDTVs but also to far less expensive Blu-ray players.  Why would you want one, anyway? The prices are dropping, making it a nice option to have in your back pocket, even if you don't intend to use the 3D feature now or in the immediate future.
Panasonic has released a few interesting Blu-ray 3D players this year, offering such niceties as built-in Wi-Fi networking and a touch-free sensor that opens the disc tray with a wave of your hand. The DMP-BDT110 WiFi-ready Blu-ray 3D player may not have those particular bells and whistles, but it does provide all the essentials of solid disc playback and a nice selection of streaming options, and all at an insanely good price. With an MSRP of $149.99 (even lower at most retailers), this player is a no-brainer, whether or not you plan to go all out with a 3D setup this year.  But I'm getting ahead of myself...
Out of the Box
Panasonic's DMP-BDT110 is very slim for an entry-level product. Since it's about half the size of our ancient Samsung BD-P1500 Blu-ray player, swapping them out left a gaping, but welcome, hole in our A/V cabinet.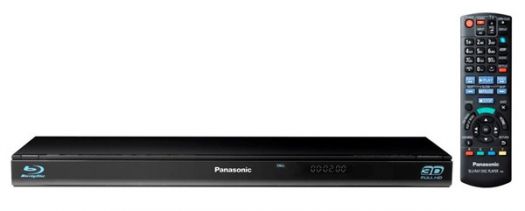 On top of the unit, near the front, there are two buttons: one for power and one to open and close the disc tray. The front panel has one of those hinged plastic doors to protect the tray. Behind this not-so-secret door is an SD card slot, a USB port, and both play and stop buttons. The door most likely keeps those features safe from dust and the tiny tumbleweeds that we often find on our hardwood floor. However, you may want to consider cleaning. The possibility of snapping off this plastic piece seems more plausible than having any impurity penetrate that precious disc compartment.
Those front ports may come in handy for quick USB or SD card media playback. Also, you'll need to insert an SD card into that card slot if you want to access any BD-Live content or the cool Skype video voice mail feature (requires optional Skype camera), because the DMP-BDT110 doesn't have enough built-in storage to accomodate these features. Panasonic recommends that you add an SD card with at least 1GB of memory but we'd recommend at least 4 GB and go for an SDHC or SDXC card (instead of a plain SD card) for fastest retrieval and storage of data.  Heck, you can get a 4GB SDHC card these days for under $8 so why even worry about it?
Around the back, there's another USB port, which is marked for the afore-mentioned Skype camera and/or Wi-Fi adapter needs. If you want to add on either of those items, they are sold separately. Other features include one HDMI port, analog stereo, composite video and optical digital outputs, and an Ethernet jack.

Let's Get Fired Up!
With a respectable start-up time of 20 seconds to the new Home screen, the DMP-BDT110 is perfect for the impatient viewer with a shaky attention span. However, this player can do better, by using the Quick Start mode, which can be enabled under the player's Settings menu. Panasonic says that this feature will increase the player's power consumption even when it's off. Power-schmower! Dropping that wait to a mere 3 seconds may be worth the extra pennies per month.
Our player came in need of a firmware upgrade, which took about 10 minutes. It wasn't a painful process, but might leave you frothing if you're waiting to watch a movie -- especially if it's your first 3D movie!
The newly redesigned graphical Main Menu or Home screen offers five options: Network, Music, Videos, Photos, and Setup. One fun little feature under Photos allows you to change wallpaper along with your mood. The player only comes with basic blue and frilly orange options. However, you can customize that background via images on a USB stick or SD card, or streamed from computers connected on the network.
All of the VIERA Cast items can be found under the Network section, although it's easier to access these features through the VIERA Cast button on the player's included remote. If you really have a case of short-attention span, this remote also has the new Netflix button that's becoming a standard on remotes that accompany new, shiny products.  So now your Netflix instant queue is just a single click away at all times.
Besides the dedicated Netflix button, it should be noted that the DMP-BDT110 offers Netflix's newer interface (version 3.0), which not only provides access to the user's queue, but also other recommendations, options to rate selections, and search features.  This is a big improvement over previous generation Panasonic players which only supported browsing your current Netflix queue.  Along with this interface enhancement comes support for Dolby Digital Plus 5.1 surround in Netflix, so you will be able to get discrete 5.1 channel surround sound from select Netflix titles.  We tested this on a couple of titles -- Let the Right One In and Stargate: The Ark of Truth -- and found that the player passed along the Dolby Digital 5.1 track to our receiver as expected.  Neat!
It should also be noted that this player's VIERA Cast interface offers a few new options, some of which are not available on our Panasonic VIERA TC-P50GT25 plasma. Aside from Netflix, menu selections include Skype, CinemaNow, Picasa, YouTube, Amazon Instant Video, Pandora, Twitter, Bloomberg Television, Fox Sports, Weather, and the German news service Tagesschau. The player can also do VUDU, which opens up a world of movie options with Dolby Digital 5.1 as well as HD or VUDU's HDX format. Earlier this year, VUDU announced plans to add 3D movies into that streaming mix. However, even though the player does VUDU and it does 3D, you cannot stream VUDU 3D on this player. We're hoping a firmware upgrade can enable this at some point in the future.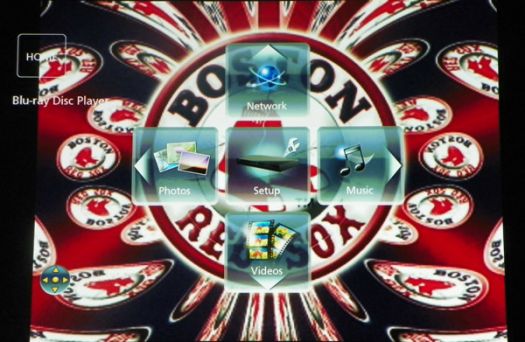 Get Yer Own 3D
So you can't stream VUDU's 3D content (yet), but you are more than welcome to get your own, since the DMP-BDT110 plays both 2D and 3D Blu-ray discs -- and very nicely, we might add.
But before we got too excited, we put the DMP-BDT110 through the 2D video processing paces of the trusty old HQV benchmark DVD. On the second Diagonal Filter "Jaggies" test, we did see some waves in the bottom of three lines, but the top two were nice and straight, earning it a good rating. The flag test showed improvement, providing very good deinterlacing and diagonal filtering, with smooth movement and edges and nice detail in the brick wall. The standard def picture detail test seemed a little on the soft side. However, this wasn't too disturbing, especially considering how well the player performed during the noise reduction tests which is one place few players shine. Rounding out the HQV disc, the player did well with the all of the cadence tests - locking onto the 3:2 cadence in the "Super Speedway" segment quickly, and performed extremely well on both the horizontal and vertical text crawls.
Now it was time to pop in real discs and check loading times. We went to our go-to standard-def DVD (Old School), which took 22 seconds to load. A Blu-ray (Hitch) only took 12 seconds to load (fastest we have seen), while a BD-Java title (Pirates of the Caribbean: The Curse of the Black Pearl) loaded to the Disney logo in a scant 24 seconds. We then tried the notoriously slow, BD-Live heavy title, Kick-Ass. With our player hooked up to the network, this title took 94 seconds to load. Unplugging the Ethernet jack shaved 17 seconds off that time. To test 3D loading, we used Cloudy with a Chance of Meatballs, which took a not too annoying 44 seconds to load. These are all exceptionally fast times, putting Panasonic back among the front runners for disc loading speed.
To look at actual images, we first checked out the train scene in Spider-Man 2 on standard-def DVD. Charlie's Angels also had a nice array of colors, with details on raindrops, fleshtones and freckles all coming through nicely. Both were very impressive, with nice colors and narry a sign of digital nasties or pixilation. Keeping with the superhero theme, we popped in Blu-rays for Iron Man, Kick-Ass and Scott Pilgrim vs. the World, all with equally impressive results.  Excellent detail throughout with deep saturated colors.
For 3D, we popped in Cloudy with a Chance of Meatballs, then went for a dip with The Ultimate Wave Tahiti. Both exhibited excellent depth and a lot of "in-your-face" action. Of course, the crowning jewel is Avatar, which displayed the most amazing 3D effects I've ever seen on the small screen (duh!).
If you like those amazing effects toned down a bit, Panasonic is offering something called the 3D Effect Controller on all of its newer Blu-ray 3D players, including the BDT110. This basically allows you to go in and mess with the 3D depth settings of real 3D content and also to tweak the effects of the 2D to 3D conversion, should you choose to use that feature. You can choose between Normal or Soft settings, or do a bit more tweaking under the Manual Settings tab. Those manual settings allow you to pick distance, choose between a flat or round screen, pick a frame width, and even choose a frame color. Having the option to tweak your 3D is very cool, but probably won't be something that everyone will want to touch. In fact, if you trust the directors and filmmakers, you probably won't want to touch these settings at all for native 3D content.  They are fun to experiment with in the 2D to 3D mode, though.
We tried to convert a few different standard Blu-ray titles to 3D, including Kick-Ass, Beauty and the Beast, and Disney's Oceans. With the glasses off, we could see a difference. With the glasses on, however, some of those adjustments were pretty subtle. On-screen text seemed to have the best pop and each title did gain a bit of depth. Overall though, it didn't seem that much of a difference over the 2D. Why do you think filmmakers and studios are touchy about being involved in the 2D to 3D conversion process and why those who do get involved spend millions of dollars and months of effort to do it right?  Because real-time 2D to 3D conversion simply can't be done well, and so, we aren't big fans.
Stay in Control
Like every other player, this one comes packing its own remote. It features a lot of one-touch access to services, such as Netflix, Skype, 3D effects, and the VIERA Cast menu. Also, if your player is connected via HDMI, you can use a little something called VIERA Link (Panasonic's version of HDMI-CEC). This allows you to use the player's remote to control another HDMI-CEC-enabled TV and vice versa. You're probably not going to use this remote as your remote of choice, but it is convenient to have access to things like TV power, volume and input selection.
Turn-Ons:
Great image on 3D, 2D and DVD content
Super-fast start-up/load times
Nice VIERA Cast menu
Enhanced Netflix interface
Easy to connect to DLNA content
Super cheap!
Turn-Offs:
No on-board storage (still need that SD card!)

No backlighting on the remote
3D Effect Controller seems a little gimmicky
Final Thoughts
For those worried about taking the 3D plunge, Panasonic is a real blessing. The DMP-BDT110 offers excellent 3D and 2D Blu-ray playback, and can even spruce up a few of those golden-oldie DVDs with excellent upconversion. It also opens a treasure chest of entertainment for those without a web-enabled HDTV or other streaming box. The DMP-BDT110 is not the world's best player, but it's one of the most affordable out there right now, especially considering what it's packing.
Features and Specifications
Video Upconversion: 720p/1080i/1080p
Disc Compatibility: Blu-ray 3D, Blu-ray, BD-R/RE, BD-R, DVD, DVD±R/RW, Audio CD, CD-R/RW
Supported Audio Formats: Dolby Digital, Dolby Digital Plus, Dolby True HD, DTS, DTS-HD, DTS-HD Master Audio
Other Supported Media Formats: AVCHD, MP3, JPEG, MPO, MKV
Convenience: BD-Live (Profile 2.0)
Internet Streaming: Netflix, Skype, CinemaNow, Picasa, YouTube, VUDU, Amazon Instant Video, Pandora, Twitter, Bloomberg Television, Fox Sports, Weather, Tagesschau
Unit Dimensions: 16.31" W x 1.44" H x 7.06" D
Unit Weight: 3.52 lbs
MSRP: $149.99
Connectivity:
HDMI x 1
Composite Video
Analog Stereo
Optical Digital Audio Out
Ethernet Port
USB Port (1 rear, 1 front)
SD Card Slot (1 front)
Manufacturer's Contact Information:
Panasonic Corporation of North America
One Panasonic Way
Secaucus, NJ 07094
1-800-211-PANA (7262)
Web Site: www.panasonic.com