Optoma Announces $999 HD20 High-Def 1080p DLP Projector
By Rachel Cericola
Seems like we have a bit of a price war going on. Hot on the heels of
Vivitek's announcement
that they would soon release a 1080p DLP projector for $999, Optoma is matching that price tag with its HD20.
Based on Texas Instruments' 1080p DLP chipset and BrilliantColor technology, this is actually the company's first 1080p DLP digital projector priced under $1,000. Aside from an enticing price, the unit also promises 1,700 ANSI lumens, a 4,000:1 contrast ratio, and two HDMI inputs. It also provides VGA, component and composite video inputs, and can support most computer resolutions over its VGA input (it can also do PC inputs via HDMI).
"We're very excited to be at the forefront of such a significant breakthrough in HD projectors," said Jon Grodem, director of product marketing for Optoma. "This new low price opens up a whole new audience to the high definition, large screen, home theater projection experience. Viewers will love how the HD20 displays an image more than 9 times larger than a 40-inch flat screen television, projecting a screen size image greater than 120 inches."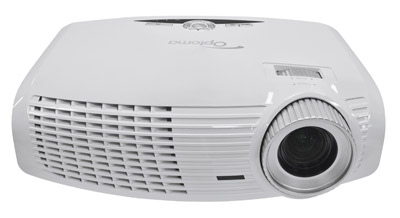 Optoma also isn't making it very hard to find the HD20. It's expected to be available at retailers including Adorama, Amazon.com, Beach Camera, Best Buy, B&H Photo Video, CDW, Fry's Electronics, J&R, Micro Center, Nebraska Furniture Mart, PC Richard, ProjectorPeople.com, Staples.com and Visual Apex.
Weighing in at 6.4 pounds, the HD20 comes with a backlit remote (with batteries), a composite video cable and other accessories.
Where to Buy: