Vivitek's New H1080FD: a 1080p DLP Projector for $999
By Rachel Cericola
You can now stop crying over your semi-crappy projector. Vivitek is ready to make good home theater available to all, thanks to the H1080FD.
The big news here is that it's a 1080p DLP projector -- for a measly $999. For that price, you should be able to buy one for each eye. OK, maybe not; but it's certainly a price that's hard to pass up.
"We're pleased to introduce a true 1080p home theater projector that the general consumer can enjoy," said Christopher Yang, senior product manager at Vivitek. "By combining the latest digital technologies in a portable and economical package, people can enjoy amazing HD content without compromises."
Aside from the enticing price, the H1080FD offers 1080p (1920 x 1080) resolution, 1,800 lumens of brightness and a contrast ratio of 5,000:1. The unit also has two HDMI ports and hookups for composite, component and S-Video. There's also a slot for RS-232c and a 12-volt trigger. The unit also boasts 3,000 hours of lamp life and a whisper quiet noise level of 29dB.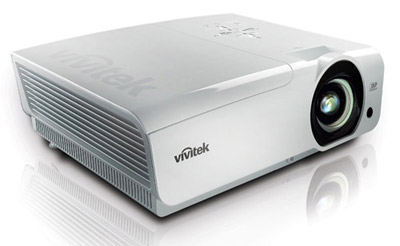 Start salivating; the H1080FD will be available through authorized retailers and e-tailers in August.
For More Information: