Onkyo TX-NR906 Home Theater Receiver Review
By Grant Clauser
Onkyo TX-NR906 Receiver Review
What's It Got?

When searching for an AV receiver, most people look first for power, then for inputs. The rest, as they say, is just gravy. On the other hand, for me at least, it's the gravy that makes the dish, and in this case, the gravy is excellent.

Onkyo's 7.1 channel, three-zone TX-NR906 sits at the top of the company's current line of A/V receivers. The front is covered with more logos than a NASCAR auto (they're subtlety placed at the bottom) indicating that this receiver can tackle every format known to home theater, including of course on-board decoding for the newer Dolby and DTS codecs found on Blu-ray discs (Dolby Digital Plus, Dolby TrueHD, DTS-HD Master Audio and DTS-HD High Resolution Audio). Also identifying this as a five-star dish is the THX Ultra2 Plus rating which includes THX's new Loudness Plus technology, which is supposed to make your movies sound reference-perfect even when you're not listening at studio reference volume level.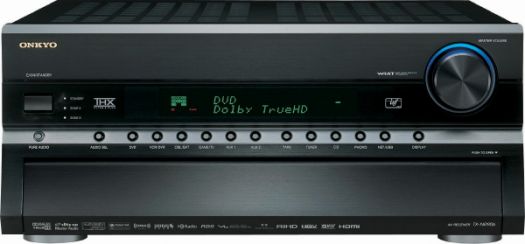 Aside from decoding just about everything, the TX-NR906 is an excellent hub that takes in all your sources, sorts them out for easy access, then sends them out to your TV and speakers shiny and clean like they've just been through a car wash. On the video switching side, you get the expected assortment of analog (s-video, composite, component) inputs for legacy equipment, plus four HDMI inputs and 2 HDMI outputs. Video gets spiced up with Silicon Optix's HQV Reon-VX processing that handles resolution upscaling to 1080p from any video source. It also includes Image Science Foundation Certified Calibration Controls (ISFccc) support for professionals (or daring amateurs) to tweak every facet of the picture and store these settings per input, just as Dr. Silver (Joel, to his friends) recommends.
On the audio side, the TX-NR906 is a 7.1, 145 watt-per-channel, 54-pound, aural monster. The list of audio components on this product reads like a space shuttle shopping list: toroidal and independent power supplies, Texas Instruments Aureus 32-bit DSP chips, Burr-Brown PCM 1796 DACs, Vector Linear Shaping Circuitry, inverted Darlington circuit ... what that all means is this receiver can handle The Dark Knight without a bump. Onkyo claims it's designed for rooms up to 3,000 cubic feet. My own home theater room measures 2,100 cubic feet, which seemed to fit this system just fine.
For custom installers and advanced installations, the NR906 includes a bi-directional RS-232 port and IR input for integration into a control system. A 12-volt input is included for running things like a drop-down screen.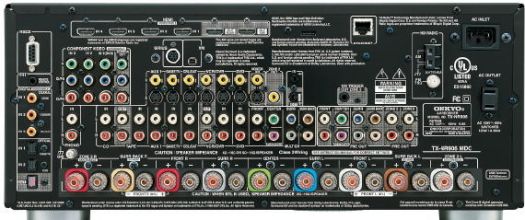 Getting Started
Getting a complex unit like this working could have been daunting, if Onkyo hadn't made set up so easy. My review unit didn't come with a manual (probably lost in the multiple packing and repacking that review equipment often goes through), so I decided to just dive in to see how far I could get before I felt the need to download a PDF manual. First, the remote is, well, average. The buttons are adequately sized and labeled and there's a joystick in the center that responds well, but it's not the kind of remote that screams "flagship" to me. The backlight is a dim green and there's no LCD display to tell you what mode you're in. Also the IR beam isn't strong enough to bounce off a back wall or ceiling (I can do that with my Logitech Harmony remote).  

The rear jack pack, while full of every conceivable port you could want (including phono for vinyl fans), has enough finger room to allow you to get the speaker wires screwed in tight without cursing. Once all the ins and outs were hooked up, I hit the setup button to see where that took me. The setup menu allows a good deal of customization on both the audio and video fronts, but it's easy to navigate. I quickly renamed the inputs, set up the output resolution and moved onto stage two.
Stage Two
Normally at this point I would have retrieved my Radio Shack sound meter, a disc of test tones and a beer to spend the next hour adjusting the speaker levels and distances. This time I skipped all that because the TX-NR906 includes Audyssey's MultiEQ XT system to calibrate the receiver for you. I just plugged the included microphone into the front of the receiver, pressed a couple of buttons and got out of the way while the receiver sent out test tones then crunched the measurements. The system can calculate up to eight listener locations, though I stuck with three.
The result was very good, though it pumped the subwoofer and rear channels a bit more than I usually like so I turned the sub down a smidgeon to keep from rattling the children sleeping upstairs.
Once all that was done, I slid The Dark Knight into my Blu-ray player to give those toroidal power supplies a whirl. From the Joker's mad mutterings to the Bat Mobile's hurricane engines, everything was sharp and powerful through the Canton CD300 speakers I had connected.
Switching over to stereo content, I put in the Mediaeval Babes' CD Salva Nos. I was impressed by how perfectly the soundstage stretched out the chorus while maintaining the solos front and center. Music was detailed, even at moderate volumes. On track two, I shuddered a little when I heard the Babes inhale into the microphone. For the most part, I preferred listening to stereo music in stereo mode, but some of the surround modes may work well for you. Out of all of them, I think the THX Music mode was the most subtle and my favorite because it doesn't treat the surround channels like gimmicks.
On the video side, the level that you depend on the receiver to work for you depends on the sources you put into it. As stated above, this model comes with Silicon Optix's HQV video processing, which deinterlaces low resolution video and scales it to your selected output; however, you may or may not need it. With Blu-ray discs, the video signal is just passed right through. For standard DVDs, you might also rely on your Blu-ray player to do the processing, and in my case, both my Samsung and PS3 do a very good job of upconverting standard def material.
I also saw no discernable difference when I hooked up my Oppo 981 DVD player (which uses Faroudja DCDi processing to accomplish essentially the same thing as SO's Reon chip) and ran test patterns on the HQV Benchmark DVD (which happens to have been produced by SO, by the way).  SO's processing strength became clear when I connected an older Toshiba SD DVD player connected via component cables. The Onkyo helped reduce jagged edges and picture noise compared to connecting the player directly to the TV. So if you have older video sources or ones that just don't upconvert very well (laserdisc, DVD, VHS, SD game systems, etc.), you will see the greatest improvements in picture quality. The video processing won't turn your SD images into HD ones, but it will take the gritty edge off the picture.
Beyond Surround
If you expect your home theater or home entertainment system to be about more than just watching movies, then you should expect your A/V receiver to be about more than just piping out surround sound. The TX-NR906 is a modern media hub. The NR in the model name stands for "network ready." In the back is an Ethernet jack which allows you to retrieve content from your home network whether that be from your PC, a media server/Vista computer (it's Windows Vista Certified) or more directly via Internet Radio.
Internet Radio stations on this receiver are compiled through vTuner. To access, simply press the Net/USB button on the remote or the front panel to get to the network options. A couple of follow-up presses will land you on the vTuner menu from which you can select from a long list of music genres. While this model is also compatible with SiriusXM satellite radio, I can't see why someone would want to pay extra for that when the Internet radio content is vast and free.
There's also a built-in HD radio tuner and a USB port for connecting media players or flash drives or you can connect Onkyo's optional iPod dock if you want to bring your own (or a friend's) portable media files to your home theater system in a seamless and integrated fashion.
Turn Ons
Lots of power for up to 7.1 channels
Easy setup with Audyessy system
Network capabilities expand the entertainment beyond home theater
Turn Offs
Remote is bland and not very bright
Sometimes slow when switching HDMI sources
Clicking sound when switching sources or formats
Final Thoughts
Performance and features like this don't come cheap. The TX-NR906 carries an MSRP of $2,299, though that's cheaper than comparable products from companies like Pioneer and Denon. This model rocks for standard home theater use--it's got plenty of power, is easy to use and sounds great. However, for me, the network features really make this one stand out. Networked media is where the whole industry is going (or coming from, depending on your perspective). Witness the popularity of Neflix's steaming, Pandora, Hulu and other services. This product recognizes that we're moving beyond round discs for all our content. I know it won't be long until we see video streaming services built into A/V receivers, but until then, this one does a great job.
This model doesn't include the brand new Dolby ProLogic IIz processing which puts another channel behind and above your head. For that you'll need the TX-SR607 which was just announced this month. But personally, I don't need another channel above my head, and wouldn't want to sacrifice the network capabilities or exceptionally high performance of the TX-NR906.
Where to Buy:
Specifications from the Manufacturer:
Power Output

Front L/R 145 W + 145 W (8 ohms, 20 Hz–20 kHz,
0.05%, 2 channels driven, FTC)
170 W + 170 W (8 ohms, 1 kHz, 0.7%,
2 channels driven, FTC)
180 W + 180 W (6 ohms, 1 kHz, 0.1%,
2 channels driven, FTC) Center 145 W + 145 W (8 ohms, 20 Hz–20 kHz, 0.05%, 2 channels driven, FTC)
170 W + 170 W (8 ohms, 1 kHz, 0.7%,
2 channels driven, FTC)
180 W + 180 W (6 ohms, 1 kHz, 0.1%,
2 channels driven, FTC) Surround L/R 145 W + 145 W (8 ohms, 20 Hz–20 kHz, 0.05%, 2 channels driven, FTC)
170 W + 170 W (8 ohms, 1 kHz, 0.7%,
2 channels driven, FTC)
180 W + 180 W (6 ohms, 1 kHz, 0.1%,
2 channels driven, FTC)
Surround Back L/R 145 W + 145 W (8 ohms, 20 Hz–20 kHz,
0.05%, 2 channels driven, FTC)
170 W + 170 W (8 ohms, 1 kHz, 0.7%, 2 channels driven, FTC)
180 W + 180 W (6 ohms, 1 kHz, 0.1%, 2 channels driven, FTC)
Dynamic Power 400 W (3 ohms, 1 ch); 300 W (4 ohms, 1 ch); 180 W (8 ohms, 1 ch)

THD (Total Harmonic Distortion) 0.05% (Rated power)
Damping Factor 60 (Front, 1 kHz, 8 ohms)
Input Sensitivity and Impedance 200 mV/47 k-ohms (Line); 2.5 mV/47 k-ohms (Phono MM)
Output Level and Impedance: 200 mV/470 ohms (Rec out)
Phono Overload: 70 mV (MM, 1 kHz, 0.5%)
Frequency Response 5 Hz–100 kHz/+1 dB, -3 dB (Direct mode)
Tone Control ±10 dB, 20 Hz (Bass)
±10 dB, 20 kHz (Treble)
Signal-to-Noise Ratio: 110 dB (Line, IHF-A)
Speaker Impedance: 4 ohms–16 ohms or 6 ohms–16 ohms
Video Section
Input Sensitivity/Output Level and Impedance - Video 1 Vp-p/75 ohms (Component and S-Video Y); 0.7 Vp-p/75 ohms (Component PB/CB, PR/CR); 0.28 Vp-p/75 ohms (S-Video C); 1 Vp-p/75 ohms (Composite)
Component Video Frequency Response 5 Hz–100 MHz (-3 dB)
Tuner Section
Tuning Frequency Range - FM 87.5 MHz–107.9 MHz
AM 530 kHz–1,710 kHz
FM/AM Preset Memory: 40 stations
General
Power Supply AC 120 V, 60 Hz
Power Consumption 9.8 A
Dimensions (W x H x D) 17 1/8" x 7 5/8" x 18 1/16" (435 x 194 x 458.5 mm)
Weight 54 lbs. (24.5 kg)

Manufacturer's Contact Information:

Onkyo USA Corporation
18 Park Way
Upper Saddle River, NJ 07458
Tel: 800 229-1687

Web site: www.onkyousa.com