Onkyo Introduces 3 High-End Network A/V Receivers
By Enid Burns
To think there was once a time when TVs had a single built-in speaker. Onkyo just pulled the curtain to unveil its first 11.4-channel network A/V receiver. Onkyo also announced two additional network A/V receivers in the line.
Onkyo named its new TX-NR5010 network A/V receiver its flagship model. The nine-channel TX-NR3010 and seven-channel TX-NR1010, both network A/V receivers, also joined the Onkyo line.
The Flagship has Landed
The flagship TX-NR5010 network A/V receiver is the first full 11.4-channel implementation of DTS Neo:X. The Neo: X is a DTS standard that creates an immersive 3D soundfield, in this case sending sound to 11 speakers and up to four subwoofers, using a single algorithm and 32 input/output combinations with cinema, game and music selectable modes.
Another first for the audio/video component is the Cisco Linksys' SimpleTap technology. Cisco just introduced its smart Wi-Fi routers to power the connected home, which includes SmartTap. The new SmartTap technology makes it easy to connect devices with the tap of a button or a quick swipe or scan of a device or tag. This means adding new components to the home theater can be done by pairing the new device with a quick scan.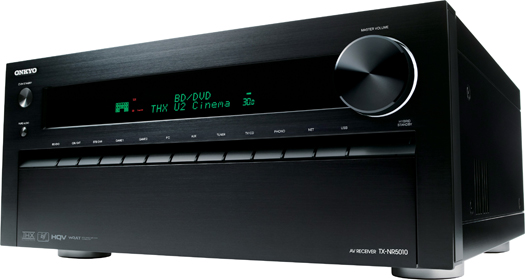 Details, Details
The three receivers feature THX Ultra2 Plus certification, which provides a dynamic Reference Level sound to larger home theater set-ups up to 85 cubic meters in size and a viewing distance of approximately 3.5 meters. Both the TX-NR5010 and TX-NR3010 support 11.4-channel pre-outs with DTS NEO:X with 11-channel upmixing support. The systems are also built with an Audyssey MultEQ XT32 room equalization with multi-channel upmixing from DTS Neo:X, Audyssey DSX and Dolby Pro Logic IIz
Onkyo's audio receivers provide InstaPrevue, a picture-in-picture input preview and selection technology developed by Silicon Image, for better control and visual confirmation of what device is connected to which input. A front-panel Mobile High-Definition Link (MHL) compatible HDMI port is available to connect a phone or camcorder and still provide charging over that device's microUSB port. Zone2 HDMI connectivity enables 1080p playback in a second zone while powered audio is available in up to three zones simultaneously - with multi-zone playback and setting controls managed by a remote app. An extra HDMI input support 3D video plus Dolby TrueHD and DTS-HD Master Audio (with 8+1 inputs on all three models).
While the receivers feature Cisco Linksys' SmartTap Wi-Fi technology, the receiver is also Bluetooth 3.0. An optional adapter provides wireless audio streaming via aptX. DLNA and Bluetooth allow for streaming of online audio channels as well as connectivity to smartphones, tablets and PCs. Audio channels such as Spotify come preloaded on the receivers.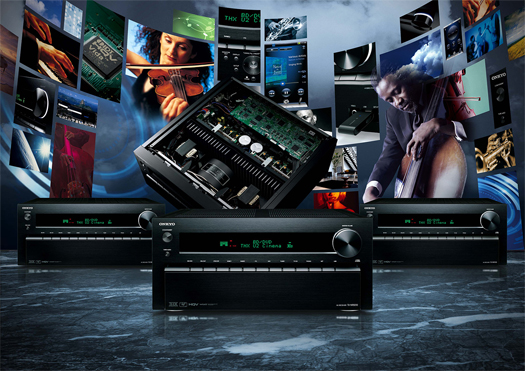 All three models feature Onkyo's Dual Core Video Engine for video processing. The system pairs HQV Vida VHD 1900 module with Marvell's Qdeo technology, which provides seamless upscaling to 4K. ISF video calibration settings allow a professional calibrator to set up each input differently for each source.
To provide the best A/V experience, the TX-NR5010 is housed in a rigid chassis with separate anti-resonant aluminum top and side panels. The unit has a massive toroidal transformer supported by two discrete transformers for audio and video processing. Gold-plated audio terminals and speaker posts ensure proper connections to home theater components.
The TX-NR3010 also includes multiple transformers including a heavy-duty EI transformer for A/V processing. All models feature isolated power and preamp blocks to reduce interference with super-rigid chassis to prevent vibration. A new Differential DAC Mode and Digital Crossover Processing Network powers all three models to optimize performance when bi-wiring and bi-amping the front channels.
The Onkyo TX-NR5010, TX-NR3010 and TX-NR1010 will be available in July with the suggested retail prices of $2999, $2299 and $1799, respectively.
Where to Buy:
For More Information: