OLED TV 10 Times More Expensive to Make than LCD TV?
By Rachel Cericola
Excited for those big, beautiful OLED TVs to start selling? You may want to start saving up.
According to new numbers from NPD DisplaySearch, OLED TVs may cost 10 times as much to make over standard LCD TVs being produced today.
Recent price estimates have put OLED TVs somewhere in the $8000 range. However, the recent NPD DisplaySearch AMOLED Process Roadmap Report says that the cost of a 55-inch oxide TFT-based AMOLED using white OLED with color filters is about eight times that of a high-end 55-inch TFT LCD display of equal size. When red, green and blue OLED elements are thrown into the mix, that number jumps to 10 times. The higher costs are a result of low yields and high materials costs.
Boasting excellent color saturation, image uniformity, brightness and contrast, OLED can actually generate the same or better black levels that plasma can do, but in a panel that's slimmer than an LCD. OLED TV actually promises a bigger image that's better than plasma and LCD, but in a form factor as slim as 0.16 inches.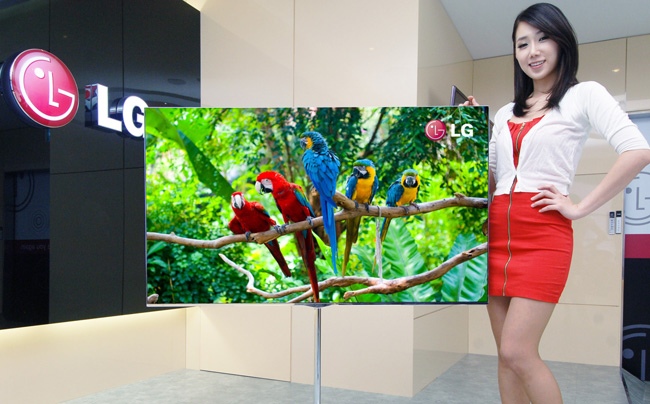 To date, OLED has been dedicated to smaller products, such as smartphones. With the industry anticipating the use of OLED in a variety of display applications, the research firm says that the market should grow tenfold, from 2.3 million square meters in 2012 to more than 22 million in 2016.
At this point, however, NPD says that there are too many unknowns -- mainly how far and how fast the tech will develop. After all, it has yet to be introduced in a larger format, other than 55-inch limited production OLED TV models from LG and Samsung, first shown at CES 2012.
"While cost reduction in LCDs has slowed, large panel AMOLED cost reduction is in its infancy," says Jae-Hak Choi, senior analyst of FPD manufacturing for NPD DisplaySearch. "In the long-term, new and improved processes, printing technology, and higher performance materials will reduce AMOLED costs to levels equal to or lower than LCD."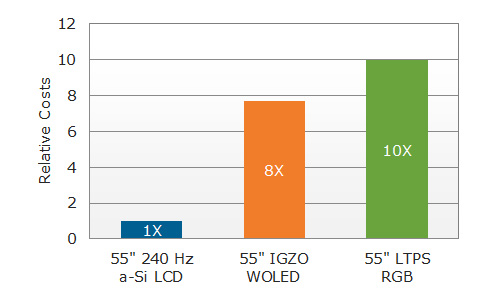 Also Check Out: