Netgear ReadyNAS Ultra 2 Plus Network Media Storage Device Review
By Greg Robinson
Edited by Chris Boylan
Ready? Set? Store!
Now that everything from your HDTV to your washer, dryer, and refrigerator features a network connection, the notion of a truly connected home is finally becoming a reality. Televisions, Blu-ray Disc players, tablets, smartphones, portable radios - all of these devices now have the ability to leverage your home network and spin up your favorite tunes, your video library, or even your family photo collection. Put simply, the methods and avenues for accessing your personal media library are more plentiful and more user-friendly than ever. However, one big question remains: where is that media coming from? Where is it being stored? And most importantly, is it safe and secure?

Netgear's answer to these questions comes in the form of their ReadyNAS line of home and "prosumer" Network Attached Storage (NAS) devices. And one such beauty is Netgear's ReadyNAS Ultra 2 Plus. If your personal media library is important to you, and the idea of centralizing and securing that media is appealing, read on.

What is a NAS and Why Do I Need One?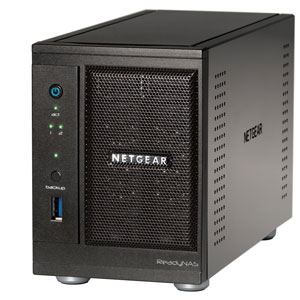 If you're like many consumers, your media collection is far from organized. Your photos may be on one computer (or several), while your music and video files are on another. Perhaps you use photo management software such as Google's Picasa, or Apple's iPhoto, and you're not even sure where those image files physically live on disk. And it could be that your old CD's were ripped onto the computer in the office, but your most recent song downloads only live on your laptop. In short, your media library is a mess. Don't worry, you're not alone.
The ability to tap into networked storage from one of our "smart" devices is only a plus if you can easily find what you're looking for. If your media library sounds anything like the scenario we described above, or you're worried about losing your precious photos and music to the very real dangers of hardware failure, you need a Network Attached Storage (NAS) device.
The short answer to the question, "What is a NAS?" is rather simple: it's a box of hard drives. Available in different sizes and different configurations, a NAS is just what its name implies: it's a storage box connected to your network. And set up properly, a NAS can support any other device on your home network. Looking to back up your laptop on a nightly basis? Back it up to the NAS. Serving up music to your SONOS Music System? Serve it from the NAS. Viewing home movies using the DLNA feature on your networked HDTV? Play them from the NAS. Unlike a traditional computer, which is often limited by its physical and wiring logistics, a NAS can be everywhere at once while remaining out of sight, out of mind, and all while using less electricity in the process.
Just Add Disks
As mentioned above, Netgear offers many models in their ReadyNAS line-up, but the one I was able to spend some quality time with is their Ultra 2 Plus. Although some models within the ReadyNAS line come with one of more hard drives pre-installed, a popular option is to purchase the unit "diskless" and add your own drives. In the case of the Ultra 2 Plus, I chose to add a pair of
Seagate 2TB Barracuda XT
SATA drives. I opted for the Seagates on account of their excellent reputation and their having passed Netgear's rigorous testing process to be a "
compatible
" hard disk according to Netgear's published support documentation.
When choosing a NAS, one of the big questions to ask is: how many drives can the unit accomodate? And by extension, how many disk configurations can it support? Seeing as how we're primarily interested in the ReadyNAS' multimedia streaming capabilities, we won't be going into the differences between RAID 1 and RAID 5, etc. - but just know that Netgear has an assortment of models in their ReadyNAS product line ready to support your preferred configuration.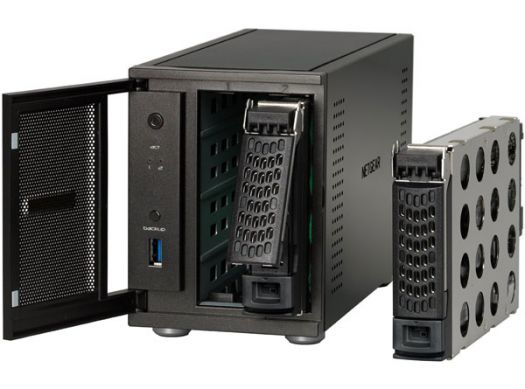 If "RAID configurations" and "disk striping" has you thinking about bug spray and Sharpie markers, then an advanced "prosumer" model like the Ultra 2 Plus may not be the best match for you. If your primary goal is a big hard drive that can be shared on your network, but you don't fancy yourself a computer whiz, Netgear's consumer-friendly ReadyNAS Stora product is probably a safer bet. Now, back to the Ultra 2 Plus...
Installing my pair of 2TB Seagate drives was a piece of cake, though it should be noted that I wasn't left with 4TB of storage as some might expect. Like many NAS devices, the Ultra 2 Plus uses disk mirroring to essentially create a redundant (i.e. backup) copy of Drive A on Drive B.  This means that instead of two separate 2TB drives giving me 4TB of total storage space, I was actually left with two identical copies of a single 2TB storage space.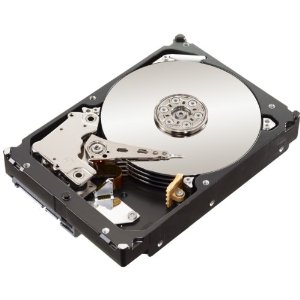 The benefit of storing your data this way - with redundant mirror images on two separate drives - is that you don't have to worry when (notice I didn't say "if") one of your drives fails. Hard drives feature moving parts and eventually they will fail - usually at the worst possible moment.  When that happens on the Ultra 2 Plus, you can simply pull out the failed drive, insert a new one, and the data from your good drive will instantly be propagated to the new drive.  And the best part is that because the ReadyNAS is "hot-swappable," you don't even have to power down the ReadyNAS to replace or upgrade a drive.
What Are You Doing, Dave?
One nice feature on the ReadyNAS is the ability to email yourself whenever important system events occur. In the above scenario, where you're swapping out a drive - a scenario I tested at home - the act of removing a drive triggered an email to me informing me that a drive had been removed. Once the drive was replaced, I received another email telling me a data synch between the drives had started, and I received yet another email when this synch was complete. Some folks may not enjoy receiving messages from their computer, but I found it comforting and rather informative at times. 
DLNA Media Server
Like any hard drive, you can store whatever you want on the Ultra 2 Plus. Create backups for your desktop(s) and laptop(s), store important work files, set up an internet-facing FTP directory, you name it. With an advanced NAS device like Netgear's Ultra 2 Plus, there are myriad options available to you, and countless features we could talk about for hours. In fact, we could easily fill three or four screens talking about things you may or may not care about. That being the case, we're going to keep things simple and focus on the NAS feature Big Picture Big Sound readers are most apt to care about: media streaming.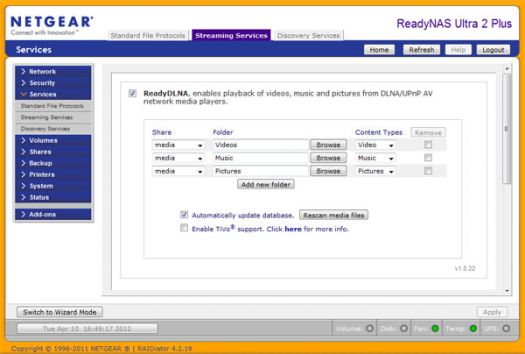 iTunes Streaming Service

After enabling the Ultra 2's "ReadyDLNA" streaming service, I first checked out the unit's music capabilities. There are three things to note here.  First, the ReadyDLNA service essentially turns the Ultra 2 Plus into a DLNA media server, and any compatible device should be able to browse its stored media content over your home network.  This worked smoothly in my setup and I was easily able to access my "Music" folder from remote locations around the house. Secondly, if you happen to be running any Logitech SqueezeBox devices, the Ultra 2 Plus features a service called SqueezeCenter, for hassle-free streaming of music to those devices. I wasn't set up for this, so I couldn't really test it.

Last but not least on the music front is the Ultra 2's iTunes Streaming Server. This service makes use of an open-source media server called Firefly, which was designed to stream music to Apple iTunes and Roku's Soundbridge product. It's not actively being improved these days, but it does the job and seems to work smoothly. After setting it up and scanning the music files on my NAS, my iTunes client presented this new network resource in the left side source chooser. I was able to stream music from multiple clients simultaneously without a hiccup.

ReadyNAS Photos II

As mentioned earlier, the Ultra 2 Plus can hold any type of file that you'd normally store on your computer's internal hard drive. When it comes to photos, Netgear takes things a step further with their impressive Photos II application.  The nutshell here is that you can share your photos with friends and family, but you don't need a photo site such as Flickr or Facebook to do it; they're hosted right from your NAS.  The nice thing about sharing photos this way is that you're not uploading massive image files over the web to an external site.  Chances are, they're already on your NAS, and if they're not, it's a quick operation to "upload" files from your computer to your NAS when it's all done on your home network.

ReadyNAS Photos II makes it easy to set permissions for public and private use, the slideshow function is easy and slick, and you can easily add background music and attractive photo captions. All told, what you get here is as feature-rich as popular photo sharing services such as Flickr and Picasa Web Albums. What sets it apart is the fact that the photos live on your NAS and in your home, so you have complete control over the installation.

As with any piece of software Photos II is not without its quirks and drawbacks. Contacts (photo sharing recipients) cannot be imported or synched with an external list, so they must be manually added and maintained. Also, in-application help is minimal at best and several error messages haven't been given intuitive, consumer-friendly translations, so it's not always obvious what has gone wrong.  That said, Photos II is slick, fun to use, and puts you in complete control of your photo sharing.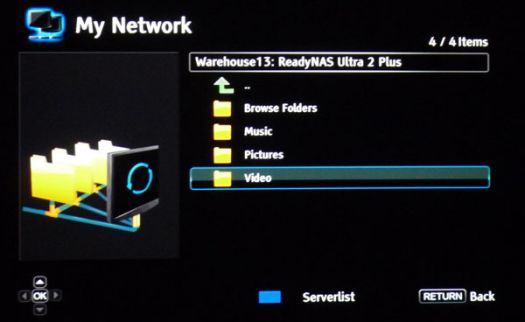 Video Streaming

If you're like me, your computer hard drive is overflowing with home movies, web videos, and movie trailers. Thanks to the Ultra 2's DLNA service, those videos can easily be streamed to networked devices such as your family room HDTV or Blu-ray Disc player. To test this functionality, I used my Oppo BDP-93 and had great success streaming numerous HD movie trailers from the ReadyNAS in my basement office to the Oppo in my home theater. Videos loaded quickly and navigation was quick and responsive.  

The only thing to note here is that not all DLNA clients are created equal.  Some devices support numerous file types while others support only a small handful. To illustrate this caveat, I played with a few Apple Quicktime movie trailers, downloaded and saved to the NAS as .mov files.  The Oppo had no trouble browsing and playing these files, but my Panasonic plasma refused to play nice. If you're planning to stream a particular file type using DLNA,  make sure the DLNA client you're using will cooperate with the format in question.
Turn Ons:
Quiet running
Solid build quality
Fast, effective, centralized DLNA server
Turn Offs:
Price varies, but steep entry point
Requires PC and networking know-how (more an FYI than a turn-off)
Photos II is slick but not without its quirks
Final Thoughts

As we said earlier, there is so much more to a NAS device than its DLNA media streaming capabilities. And Netgear's ReadyNAS machines serve as a shining example of that fact. As a result, it should be noted that an advanced prosumer model such as the Ultra 2 Plus does require a fair amount of computer savvy and networking know-how if you're planning to manage multiple backups, remotely access files from outside the home, and the like. However, if you're comfortable around computers, there is little you can't do with Netgear's awesome ReadyNAS Ultra 2 Plus. Built like a tank, it runs quiet and responds quickly when anything is asked of it.  Highly recommended.
Manufacturer's Specs:
Company Contact Information:
NETGEAR Inc.
350 East Plumeria Drive
San Jose, California 95134-1911

On the web: www.netgear.com