Netflix Streaming Error on my Blu-ray Player. Help!
By Chris Boylan
Dear Big Picture Big Sound,
I have a Panasonic Blu-ray player that has Netflix on it.  I set it up a few months ago and it has worked fine for streaming movies and viewing my Netflix instant queue.  But recently I've started getting error messages when trying to access Netflix.  "Cannot connect to netflix, please try again."
What can I do?
Thanks,
-Pat in Oakland
---
Hi, Pat,
We've gotten this question a few times via e-mail and on the forum and the good news is that there is a fairly simple fix.
Occasionally a Netflix client such as a Blu-ray player or TV can get "confused" about its account authorization. When this happens, you may start getting error messages when you attempt to access Netflix on a device that was previously working fine. This can happen on an LG or Sony or Panasonic or Samsung or VIZIO Blu-ray player or web-enabled TV, or on the ROKU streaming box or Apple TV (among others). The message you get can vary but may be one of these:
"Sorry, that title is not available to watch instantly- please try another title"
"Your Instant Queue Is Currently Not Available"
"Netflix in currently unavailable, please try again later"
"Cannot connect to Netflix, please try again or visit Netflix help website"
"Unable to connect to Netflix.  Please try again or visit www.netflix.com/tvhelp [Try again/Exit] - ui200"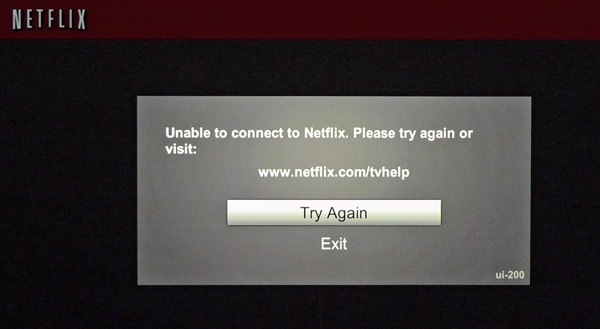 The workaround is to de-authorize or de-register the device from your Netflix account and then register it again. After doing this, Netflix usually works fine again on that device.
This procedure is also helpful if you are getting rid of a Blu-ray player or TV that you've previously set up for Netflix and you want to remove your account from the device. It used to be possible to manage devices online in your Netflix account but they've since disabled that feature. Currently if you want to remove a device from your Netflix account online, you have to disable *ALL* of the devices and add them back in one at a time.
But there is a way to break the link to your Netflix account from the actual device itself. To do so, get into the Netflix screen on that device (or the Netflix error screen, as the case may be), then using your device's remote, hit the following buttons:
up, up, down, down, left, right, left, right, up, up, up, up.
This should take you to a Netflix system information screen with the option to Deactivate the player from Netflix.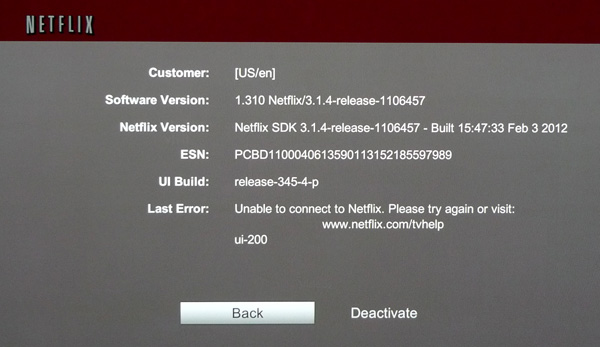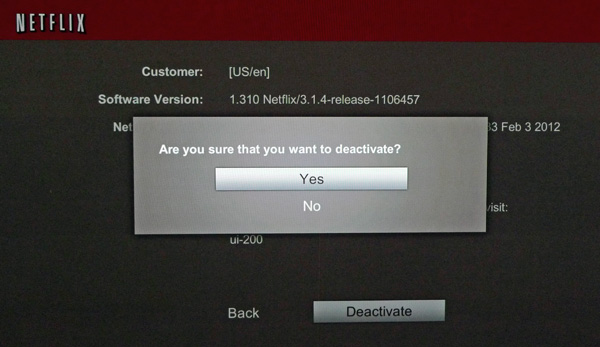 Select the "Deactivate" button to remove this device from your account.  To be safe, you might want to shut the player down and re-start it.
Go back into Netflix on that device again and you will then need to re-authorize the device with your Netflix account. This may require an activation code and a trip to www.netflix.com/activate to enter that activation code, or it might just entail logging into Netflix from the device using your account e-mail address and password. The procedure for activating a new device for Netflix varies a bit from device to device. But once it has been re-authorized, the error messages should be gone and the device should work properly again.
Those having a similar problem, please let us know in the comments here if it works (or doesn't work) for your particular device.
Regards,
-Chris
UPDATES:
12/24/12 - massive surge of traffic to this page suggests Netflix outage. Contact Netflix support.
12/25/12 - outage confirmed by Netflix.  Back up and running now.
6/14/13 - happening again: big surge in interest in this topic suggest a Netflix network outage. I can confirm the same problem trying to access Netflix from my phone. A Netflix network outage is likely culprit.
Keep those cards and letters coming!
if you have a question for one of our home theater experts, shoot us an e-mail to "
Ask The Expert
." We'll select among these for future installments in this column. Due to the volume of requests we receive, we cannot reply to each question personally.