Ghost Protocol Director Brad Bird on Tom Cruise, Blu-ray, Incredibles 2, Home Theater and More
By Chris Boylan
At an event at the International Spy Museum in Washington, DC last week to celebrate the release of Mission Impossible: Ghost Protocol on Blu-ray, we had a chance to sit down with the director, Brad Bird. The fourth installment in the Mission Impossible franchise is actually Brad's first live action film, but he's no stranger to hit movies. Brad directed The Incredibles and Ratatouille, both Oscar winners for best animated film. Brad is currently attached to 1906, a live action disaster flick, set in San Francisco during the great earthquake, though this one has no firm production dates yet. But before all of these, Brad directed a lesser known but equally entertaining animated film called The Iron Giant, one of my son's favorites.
Big Picture Big Sound: Thanks for joining us today, Brad. I have a DVD here of The Iron Giant that has a little problem I'm hoping you can remedy. The director's name is nowhere to be found on the case. Can you take care of that?
Brad Bird: (laughs) Sure thing. (while autographing the case), You know, you should get the newer one though. That's the very first one. There's another DVD that came later, with more goodies on it.
BPBS: Ah, well that ties in well with my first question which is when might The Iron Giant be bound for Blu-ray?
BB: We have had discussions about it. It's about finding enough time to do all the special features. Because I think that anyone who buys it on Blu-ray shouldn't just get the old stuff, or just the movie and one new thing. I think they should get a whole revisited thing. So when we do the film on Blu-ray, it should be something special, but there's no real firm plans for when that's going to happen yet.
BPBS: The high def versions that you can find out there now, specifically the Netflix streaming version, seem to have a problem with the transfer. The slow pan over the dock near the beginning of the film is very jittery, as if the cadence in the transfer is off.  That was created at 24 frames/second right?
BB: Yes it was.  I haven't seen it on Netflix but we'll make sure to take care of that when we do the Blu-ray.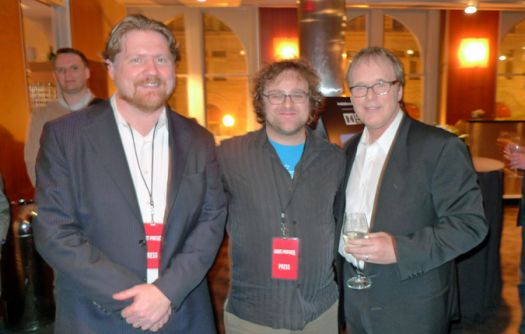 BPBS: Thank you. And speaking of Blu-rays and home theater, we've noticed that the Blu-ray releases of your films have been outstanding not only in the visuals but in the use of sound. Lossless surround tracks like the Dolby TrueHD 7.1-channel track on Mission Impossible: Ghost Protocol really bring home the excitement and immersion of the movie theater. I would imagine you probably have a decent home theater set-up at home, yeah?
BB: Yes, I do have a full home theater set-up. I see your notepad there [from a prominent projection screen maker]. I have one of those screens in my system.
BPBS: Ah, so it must be pretty sweet. Do you have a standard 7.1 channel surround sound set-up or do you get into any of the new height channels or other options?
BB: Right now it's 7.1 but Dolby is working on something new that's pretty crazy so maybe I'll have to upgrade.
BPBS: Ah, something new and mysterious coming from Dolby. Interesting. We'll be out there next month at their Fidelity Forum for a briefing so I'm sure we'll find out more about it then. Can you talk at all about "Incredibles 2?"  I'm sure a lot of fans would love to see the further adventures of this family of superheroes.
BB: Well everybody keeps asking for it and my feeling is that if I could come up with a story that was to The Incredibles what Toy Story 2 was to Toy Story, then I would do it. I have elements of that, but I don't have it all together yet.
BPBS: OK, so it's not on the immediate horizon then.
BB: No, not on the immediate horizon but if I could figure all those things out... you know, I love those characters.
BPBS: You're not the only one. They were really wonderfully fleshed out.
BB: Thank you.
BPBS: To change gears a bit, was it difficult for you to transition from animation into live action film-making for Ghost Protocol?
BB: Not really, in terms of the film-making. You're still dealing with the close-ups, the medium shots, the long shots, you know, changing the rhythms and following the characters. All of that stuff is the same. The endurance is different though. It's very high pressure and you physically are challenged. You have x amount of hours while you're at a certain location before you move on and you have to get everything before the clock runs out.
BPBS: Or before the light runs out.
BB: Yeah, exactly. It's got a lot of real world limitations and that ups the adrenaline level considerably.
BPBS: Speaking of adrenaline, watching that hotel scene in Ghost Protocol, with Tom Cruise scaling the outside of a 160-story building, really gets your heart racing. It's difficult to even watch. I just assumed it was green screen but then watched the special features on the Blu-ray and saw that he was really out there on a wire dangling 2000+ feet in the air - it's unreal. Would you say he's the most daring actor you've worked with?
BB: Oh easily... easily. He has set the bar impossibly high. But Tom is a pro on so many levels, not just the stunts, which are impressive. He researches and prepares for these things well before the cameras start rolling so he can get it done as efficiently as possible. But he's also incredibly knowledgeable about the film process, to almost ridiculous levels. I'd be composing a shot, and would be close to him and I would say, "Ah, Tom, your chin is kinda lining up with the thing..." and he would say, "What lens is it?" And I would say, "It's a 40," and he would just tilt his head slightly and then it was perfect. He knew it that well. So to have someone who is that much of a professional on the film process -- every aspect of the process -- and be able to work with him, not just as an actor but as a producer was a dream first live action assignment.
BPBS: And speaking of live action films, is there any update you can give on progress with 1906?
BB: Ah, you know, it's really challenging to pull that story together and get it to fit into a movie-sized box. I'm still thinking about it, but I would not say it's on the immediate horizon either.
BPBS: But it's not off the table either?
BB: Not off the table yet.
BPBS: Just needs to be reworked a bit?
BB: Well, maybe.  But maybe it's one of those things that just can't work. I don't know. I'm very entranced by elements of it, but it's definitely a challenge.
BPBS: OK, good luck with it, Brad, and thanks, for spending some time with us today.
BB: Thank you.
--
Special Thanks to Dolby and Paramount for arranging our trip to the International Spy Museum to Interview Mr. Bird.
Related Articles