McIntosh Theater Trio Includes MX121 AV Control Center, MC8207 Amp and MVP891 Blu-ray Player
By Rachel Cericola
McIntosh Laboratory is making some noise with a trio of new products -- and it's probably the most beautiful noise you'll ever hear. The company makes some seriously sought-after audio products, and we're guessing that the latest will be no different.
First in the super-group is the MX121 AV Control Center. Boasting a ton of audiophile-worthy features, the MX121 is built to be a hub for your audio and video source components. To start, the MS121 has support for Apple AirPlay so that users can stream music wirelessly from any networked Mac, PC, iPad, iPhone or iPod touch. If you'd rather go with a direct connection, the MX121 can oblige with a wired USB input.
Other MX121 features include 3D support and an upconverting video-processing engine with HDMI capability, so that all non-HD video sources can be upconverted to HDMI output and scaled at up to 1080p resolution. It also has two balanced inputs, coaxial and optical digital audio inputs, and an RS-232 input.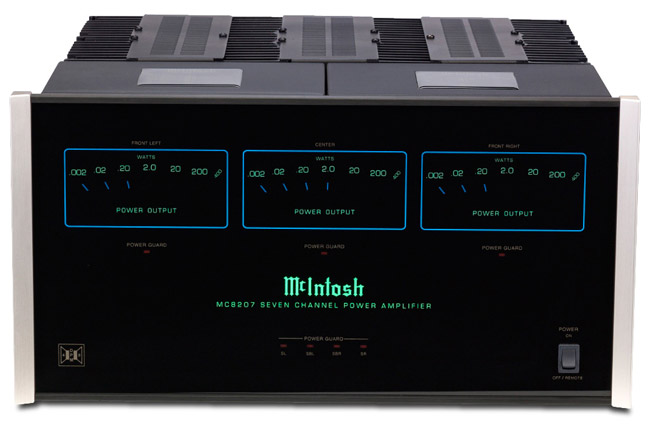 The MVP891 is a universal Blu-ray player, so it can handle SACD and DVD Audio discs, in addition to Blu-rays, DVDs and standard CDs (no 3D, though!). This high-end model also has support for Dolby TruHD and DTS-HD Master Audio decoding with 7.1 channel analog outputs, as well as BD-Live Blu-ray Profile 2.0 web-based content. Other features include a USB memory drive reader, an RS-232 port, and an Ethernet jack.
Last, but certainly not least, is the MC8207 Power Amplifier. Promising seven channels at a whopping 200 watts per channel, the MC8207 promises to deliver above and beyond the normal receiver. If you don't have a 7.1 system, this is also a nice choice for a 5.1-channel setup, with the two leftover channels available for a second zone in the home.
The MC8207 also has the McIntosh Dynamic Power Management circuit for full power into both 4- and 8-ohm speakers, as well as three new LED watt meters. The latter promises to monitor power sent to the three front speakers, ensuring optimum performance.
McIntosh is selling the MX121 A/V Control Center, the MC8207 Power Amplifier and the MVP891 Audio Video Player individually for $6000, $6000 and $5500, respectively. However, the company is also offering to bundle all three components with a package price of $17,500.
"As the marketplace for luxury products evolves, McIntosh is committed to providing our retail partners and discerning customers more options to create their dream McIntosh system," says Charlie Randall, McIntosh president. "This bundle combination of our new MX121 A/V Control Center, MVP891 Audio Video Player and MC8207 Power Amplifier perfectly illustrates how we are leading the way in luxury home theater, and providing more lifestyle choices for people to bring the emotional connectivity of McIntosh into their home."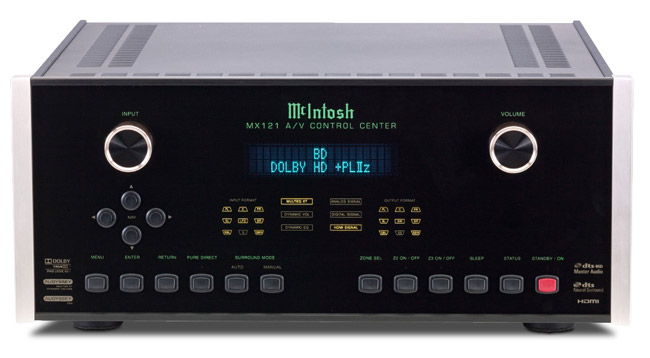 For More Information: