Logitech Harmony 1100 Universal Remote Control Review
By Rachel Cericola
Edited by Chris Boylan
Flat and Funky
Remotes have come a long way since the rectangle. After all, we now have controllers that resemble footballs, Star Trek phasers and ones with giant buttons for the old and the young. However, a lot of us are just normal adults that crave cool control that's less of a novelty. Enter the Harmony 1100 from Logitech, a sleek, slim unit that looks a lot more complex than it actually is.

The Harmony 1100 features a 3.5-inch full-color touchscreen and nine hard buttons. To look at the thing, it's hard to believe that there are actually any buttons. They are there, but they're certainly not the main focus on this unit.

Designed to control up to 15 audio/video devices, as well as lighting, climate and other appliances, the unit combines an easy, guided setup and one-touch controls (known in Harmony-land as "Activities"). All of this functionality is wrapped up in a nifty package that's reminiscent of units you previously needed a custom electronics professional to get. It's priced like it too -- at a pretty hefty $499.99.  But when you consider that many competitive products are double that (and require custom programming), the 1100 doesn't seem quite as expensive.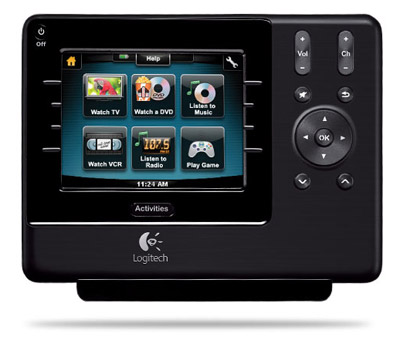 Unlike some of those even pricier touch screen units, though, the 1100 is extremely easy to set up, saving the expense of custom programming. Like all Harmony remotes, all you need is a computer, a web connection, and the included USB cable. We used our HP desktop computer running Windows Vista for this review but Macs and other Windows OS versions are also supported. Insert the installation CD or download the software from Harmony's website. If you insert the CD, the setup wizard should pop up automatically; the same goes once you initiate the downloaded software. Aside from the goods to get going, the company also offers a desktop messenger service with the install, which delivers product and upgrade information right to your computer.
The software takes about six minutes to load and another minute to start up. Once it's up and running, you will be prompted to create an account with Logitech, assuming you don't already have one. This is just your typical log-in name, password, address, pets' names, etc. Once the account is created, take the unit out of the charging station and connect the remote to your computer via the included USB cable. The wizard will then ask if you have Logitech's Wireless RF Extender to add into the mix, which we did not.
Next, it's time to start adding devices. Logitech makes this fairly easy. Use the pull-down menus to select your device (such as a TV), the manufacturer and the model number. Repeat the process until you have all of your devices entered or you hit 15 -- whichever comes first. One disheartening thing we need to point out: There is no selection (gasp!) for Blu-ray. Logitech lumps all DVD-related devices (including Blu-ray players) into one category, so we were able to enter our Blu-ray player model as a "DVD player" and all was well and functional.
After all of the clicks were completed, we had our TV, HD satellite DVR, a DVD recorder, Blu-ray player, A/V receiver, desktop computer and lighting controller programmed into the unit. We also tried to add the Nintendo Wii into the mix, but it needs Bluetooth, not IR.  You can include the Wii in an activity, so it will turn on your TV and receiver, setting them to the appropriate inputs, but you'll need to power the Wii itself on and off by hand or by Wiimote.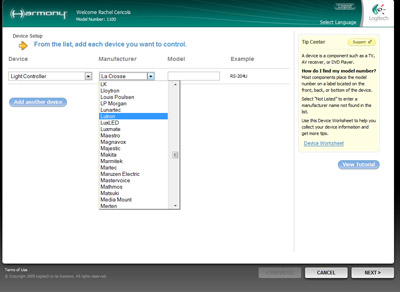 The setup wizard will ask a few more questions, including which device regularly changes channels, which device displays video, how you control the volume, and which device is connected to which input. Once we had all of that set up, we were -- logged out! Yes, the Harmony setup wizard doesn't have all day for you to set up your remote, so it may log you out if you leave it alone for too long. However, once the login info is re-entered, you should be relieved to find everything as you left it.
If by chance the setup wizard does not recognize your device model number or does not set up properly, there is a backup plan. We did not have any problems, but the Harmony 1100 does want to learn, and can be taught any unknown codes. Just hook the device to the computer, click on the appropriate device in the main menu, and hit Learn IR. Then follow the on-screen instructions.
The Activities are equally easy to setup. For instance, if you want to Watch TV, choose the devices you want involved in that activity. The setup wizard will then ask things such as the proper input for that device, as well as what controls volume, channels, etc.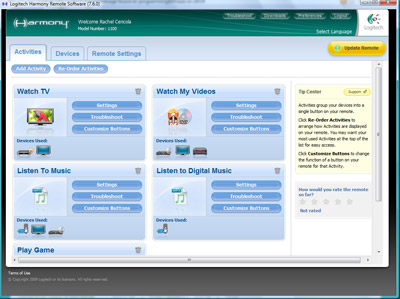 Once all of devices and activities are input, it takes less than two minutes for the computer to sync with the remote. Other little tweaks you can add to customize the unit include renaming activities, organizing activities, adding on-screen help, a clock, or even changing the background (in this case, we used a family photo). The unit also stores files for a slideshow of up to eight photos. We sized ours to the recommended 320 x 240 pixels to ensure that grandma's head never got cut off.
The Harmony 1100 comes with a rechargeable lithium-ion battery and a charging station. The charging station is as slick as the unit itself, making it easy to keep out in the open and rest the remote when it's not in use. Once charged and set up, the 1100 controls everything via infrared technology. That means no magic through walls, but really, we like sitting front and center anyway. If you don't want to point and shoot, the device does also offer RF options, via Logitech's Harmony RF Extender ($99.99), which is sold separately and was not available as part of this review.
Right out of the gate, the remote knew all of our devices. Just the sheer difference of holding a touchscreen versus the old standard remote had a bit of a learning curve. It commands more attention from your hand -- and rightly deserves it. It also took a few minutes for us to realize how to find our Dish Network programming descriptions and how to keep that info while scrolling through stations. However, this was all a matter of minutes.
Activities Aplenty
Harmony is very well known for its Activities. So even though the 1100 has a different form factor, the company knew better than to abandon some of the features that made them famous.
During the setup process, we successfully set up five different Activities. "Watch TV" fires up our TV, satellite HD DVR and flips to the appropriate input on the TV. "Watch My Videos" flips on the TV, sets the appropriate input, turns on the Blu-ray player and the receiver. We also set up Activities for listening to music, listening to digital music, and even playing video games (even though we have to manually turn on our Wii).
Occasionally, we had four thumbs or didn't point the remote, and wound up turning off the TV. The 1100 has a Help button, which can easily fix such problems. However, we found it easy to flip between our Activities, never losing power or having problems with devices staying on or flipping off.
Aside from your devices, the 1100 is a fun little toy in itself. It's kind of a weird addition, but the 1100 also allows users to plug photos in for a slideshow. Using a family photo as a background pic for the main menu was slightly distracting. There is typically so much on that tiny screen, the picture seemed kind of pointless. However, while watching TV, it was kind of cool to flip to a slideshow, even if it does only hold eight pictures. Our toddler certainly enjoyed seeing himself on the remote control, even if he wasn't exactly sure what it was -- and wasn't allowed to smudge it!
Turn Ons:
Slick 3.5-inch touchscreen
Controls up to 15 devices
Programs easily via Web-connected PC or Mac
Turn Offs:
Pricey
Setup process has no Blu-ray selection
RF will cost you extra, via the Harmony RF Extender
Final Thoughts

Like all Harmony remotes, this one certainly does not disappoint. The 1100 has the same unbelievably easy setup that the company has built its remote business on. Logitech carries that ease through to the actual day-to-day use as well and does so in a chic, compact package. Just expect to pay for those aesthetics and simplicity. This sleek touchscreen may require a bit of effort for those used to standard wand-style button-based remotes, but it's fun, it's different, and it's guaranteed to be a funky cool addition to your A/V setup.

Where to Buy:
In the Box:

Harmony 1100 remote control
Charging station
USB cable
AC adapter
Lithium-ion battery
Installation CD
Quick-start guide
Features guide
1-year limited hardware warranty
System Requirements:

Windows-based Computer:

Windows 2000, Windows XP, Windows Vista
USB Port
CD-ROM Drive
Internet Access
Mac Computer:
Mac OS X 10.3 – 10.5
USB Port
CD-ROM Drive
Internet Access
Manufacturer's Contact Information:

Logitech Remote Controls
2355 Skymark Avenue, Suite 200
Mississauga, Ontario L4W 4Y6 Canada
905-273-4571 Main
905-273-9789 Fax
Website: www.logitech.com/harmony