Logitech Revue with Google TV Review
By Rachel Cericola
Edited by Chris Boylan
Web TV 2.0
Convergence is a word that we've been hearing for years now. Only recently have we started to see the lines between TV, the computer and the web truly cross. Every major electronics manufacturer has started adding networking, media playback and web-based services into TVs, Blu-ray players, portable media players, and more. Now, we have a new way to interact with the web and the TV, through Google TV.
When Google TV was first announced, it really didn't seem to matter what it was. People were just excited to have Google and TV in the same sentence. At first glance, it is pretty darn exciting. Google TV combines web-based services, web surfing, your channel lineup and DVR (depending on your provider), and promises more via future add-on apps and content partnerships. Without a doubt, it is the future of TV. Now we just have to figure out how far off that future actually is.
Logitech was the first manufacturer to announce a Google TV product, the Logitech Revue. Since then, Sony has debuted its own Google TV-enhanced HDTVs and the NSZ-GT1 Blu-ray player, which are expected to begin shipping this month. At $299 ($179 for DISH subscribers), the Logitech Revue is currently the first -- and least expensive -- way to add Google TV features to your existing TV or home theater system.  Let's find out if it's worth the price of entry.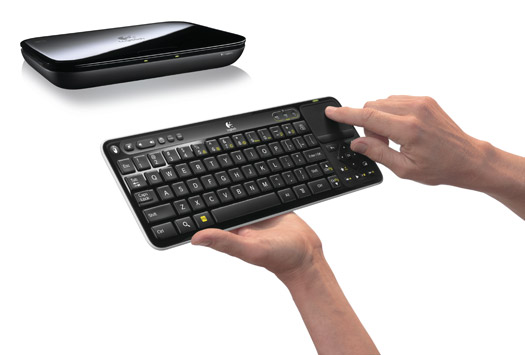 Easy-Peasy Setup
As we mentioned in our initial hands-on impressions, adding the Logitech Revue into your home setup is a breeze. One included HDMI cable hooks the Revue box to your TV. Then, you'll need to add one of your own to connect the Revue between your set-top box or DVR and your television. It's just as easy to add an A/V receiver into the mix, by running an HDMI cable from the Revue to the A/V receiver, and one more from the receiver to the TV.
Once everything is hooked up, on-screen setup takes approximately 15 minutes. However, most of that time is spent waiting for system updates and a box reboot. Other tweaks include stretching out an on-screen black box to maximize the screen area and establishing a network connection for the Revue.
Our box had no problem latching onto our wireless network. However, to get the "full experience," you will also need to hook your cable or satellite set-top box (preferably a DISH Network satellite box) to the Revue via an Ethernet cable. As an aternative option, you can connect your DVR and the Revue via hard-wire to your local network and the two devices can see each other and communicate over the LAN.
Currently, the fully enhanced Google TV experience is an exclusive for DISH Network subscribers using a ViP 622, 722 or 722k DVR. If you have another provider or box, you'll be able to use Google TV. However, it won't be able to search across your DVR's recordings and DISH's on-demand offerings for search results.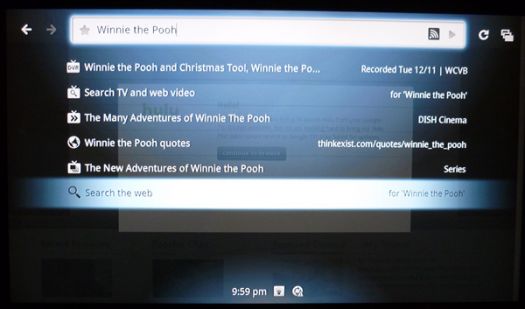 What Google TV Can Do
Right out of the box, Google TV provides plenty of reasons to stick close to the couch. The Revue's Home menu allows you to log into Bookmarks, scroll through Applications, check out Spotlight sites, buy or rent from Amazon Video on Demand, and search or browse through a wealth of different content including your DVR's stored recordings and upcoming shows.
DVR integration at this point is fairly limited. First of all, you must be a DISH Network subscriber -- one with a ViP 622, 722 or 722k DVR box (the new ViP922 DVR from DISH is not yet compatible with Google TV). Everyone else can use Logitech's Revue as a gateway to Google TV, and as a method of TV control, using the Revue keyboard. and also to get TV listings. However, non-DISHies won't get those DVR goodies when searching for programming and other content. As a DISH subscriber, we could easily type in "Winnie the Pooh," and receive results for what DISH had to offer, what was currently stored on our DVR, upcoming episodes on our DISH channels, as well as other web and video content. That kind of integration, however, will also cost DISH subscribers an additional $4 per month for the "advanced integration" option.
If you don't have DISH Network, a compatible box, or just don't want to pay the monthly fee, Google TV does have a lot of what we've seen on other devices: Netflix, Twitter, Amazon Video on Demand, and Pandora. It also allows you to stream music, video and photos from other networked devices within your home. All of that is extremely cool, but not necessarily so different from other internet-enabled devices on the market today. However, what makes Google TV truly unique are its search capabilities.
A standard search on the Revue box pulls in content from most of Google TV's official content partners, as well as what's on the web. Netflix, however, is omitted from that list. While we don't expect every band on Pandora to pop up in a search, it would be helpful if Netflix's streaming movies and TV shows were included in search results. Instead, we were just given options to purchase VOD content through Amazon Video on Demand or view it on YouTube or elsewhere around the web. Netflix access is currently limited to browsing and viewing titles from your Instant Streaming queue.
However, the search doesn't end there. You also have the full Google Chrome browser on your TV, so you can search the web at large for even more content, or for anything else that strikes your fancy. Watching a movie and you can't quite remember that actor's name? No problem. Switch over to Dual View mode, do a Google search or check IMDB, all without interrupting playback. This is unlike anything we've seen before because it actually optimizes the web for your big screen. We will get into that shortly.
What Google TV Can't Do
One of the features that made us giddy about Google TV was being able to find and then stream web-based video directly to our TV. How disappointed we were when we received on-screen messages that Google TV's browser was not currently compatible with two very popular video destinations, ABC.com and Hulu.
More recently, this incompatibility became a major news story. According to Reuters, ABC, NBC and CBS are all currently blocking Google TV users from accessing their web content. Apparently, all of the parties are trying to come to some type of resolution. A Google spokesperson has said, "Google TV enables access to all the web content you already get today on your phone and PC, but it is ultimately the content owners' choice to restrict their fans from accessing their content on the platform." That doesn't sound too encouraging. Even Mark Cuban chimed in to say, "I personally can't think of anything stupider for the big broadcast networks to do than give their shows to Google for free."
If Google TV wants to be a true game-changer, this problem needs to be resolved -- and quickly. Viewers paying $299 (or even $179 for DISH subscribers) don't want to deal with disputes and workarounds. This news could be a crushing blow to the future of Google TV, as well as Logitech's product, at least at its current price point.  Let's hope we can, in fact, "all just get along."
Great Expectations
Obviously, the whole content-blocking thing is a total bummer. We are really hoping that irons itself out with agreements between Google and more of the content providers. However, there are other things to look forward to, such as the Android Market. At some point, Google plans to add access to the Android Market, which means even more apps, more control, more connectivity throughout the house, and well... just more overall.
The Logitech Revue also includes options for web-based video calling via Logitech Vid HD with the additional of an optional $150 Logitech camera. Like the Revue box, this is an easy add-on, using the camera's attached USB cable. The cam also has a built-in "mount," which allows you to adjust the camera for best filming results. From there, on-screen directions prompt you to pan, zoom, and even take your own avatar pic.
That pic comes in handy when calling friends and family. You will need a Logitech Vid account, which is free, and allows you to call other Vid users.
Vid HD video call quality is completely dependent on the internet connections of both users. We did receive a slight bump in quality when our Revue box was hard-wired. It was even better when the person on the other end (our editor Chris Boylan) was also plugged in. Overall, the image for us was a little on the YouTube side. Even our Revue sensed the quality, and offered to downsize our on-screen image for better results. Our caller was a bit more impressed with the results, though, stating that the quality was excellent, complete with flowing movements and clear audio (no yelling necessary!).  This discrepancy is certainly due to the fact that my video stream was uploading to him quickly over my super-quick FIOS connection while his was coming to me a bit more sluggishly due to his Time Warner Cable basic internet service and its inferior upload speeds.

Getting Control
Currently, there is one Android Market app available which works with Google TV: Logitech's Google TV Harmony remote control app. This debuted just last week, promising integration of your Android-based smartphone into the Revue mix. This app allows users of Droid phones and other phones that use the Android OS to control the Logitech Revue directly from their phones. The app even allows you to search and access content via spoken voice commands and stream video from the phone to the Revue wirelessly for playback on your big screen. Since we didn't have a compatible phone, we were not able to test out this add-on, but it does enhance the usability of the product. Logitech says they will be releasing an iPhone app to do the same thing in the near future.
One thing we did have was the included Revue keyboard, which provides access to everything Google TV has to offer. The Revue keyboard is as light as a feather, and pretty awesome when entering passwords, updating Facebook and typing "Team Coco's Dancing Taco" into YouTube's search bar. As a TV remote, however, it isn't as compelling.
Having numbers stretched out across a keyboard doesn't make for an easy channel surfing experience. It makes things awkward, especially when channel up/down buttons are on a different part of the keyboard. Also, it's very cool that Logitech allows you to assign certain keys to certain tasks. What's not cool is that almost every time we went to place the keyboard down, our chubby fingers would hit one of those buttons, sending us in a different direction.  Heavy users of Google TV will want to consider Logitech's add-on Mini Controller, which is optimized for Google TV.  Our own Chris Chiarella reviewed the PC/PS3 version of the extremely similar DiNovo Mini and was quite impressed.
The Google TV Experience
Image quality through Google TV can be very hit-or-miss, even when viewing regular, live TV. For instance, when we had the box hooked to our HDTV and DVR setup, there was a noticeable difference on sports and other high-action content, leaving us with a "videotape" look. However, movies, CNN, Food Network, and local channels had a more polished look -- the look we were used to. After searching Logitech's Revue forums, we found this to be a common problem -- apparently the Revue box can sometimes drop frames, leading to unnatural looking motion -- but it's something that Logitech has acknowledged and is currently working to resolve.
By far, web surfing was our favorite feature. However, this had its share of frustrations. The easiest way to find anything is by hitting the Search button, typing in a word and getting a listing of where it could be found throughout the controlled Google TV universe of official content partners. This was seamless, displaying results in an instant. However, once we made additional selections or searches in Chrome, things got, well... a little slow. Using FiOS and our 802.11g wireless router, there always seemed to be a bit of lag time, no matter where we went around the web. Thank goodness for Google TV's Dual View feature -- you can watch TV while you wait!
When looking for video on Fox.com, it took a good 30 seconds for pages to load. Even ads were slow. The wait would have been fine, if we got to actually view any video. MTV.com came up slightly quicker, but when we clicked to view programming, it headed back to the ad on Fox.com. This happened more than once. We abandoned MTV for FoodNetwork.com, only to wait a solid 45 seconds for a clip to buffer, before jumping that ship. Showtime.com was able to oblige with video. However, after the first five seconds of watching a jittery episode of The Big C, we ran into buffering issues. The image was nice, but there was that hiccup, followed by another two seconds and then more buffering. From there, the video played fine, but still had that jitter.
We would have gone for the more reliable hard-wired connection. However, the Revue box only has one Ethernet jack, which is currently being used to hook the Revue into our DISH DVR. Logitech reminded us that you can also just hard-wire both the Revue box and the DVR to your home network using standard network cables, but for us that wasn't the most convenient way to go.  We did do some follow-up testing using a hard-wired network connection. The web-browsing got faster, but still nowhere near the speed we're used ot on our main computer. So, in a nutshell, web browsing is great, in principle, but accessing multimedia content through the Google Chrome browser is an experience that needs some improvement.
[editor's note: I also did some web surfing on the Google Chrome browser in Google TV, using a hard-wired network connection and had better results than Rachel reports.  Video streams for me were delivered fairly quickly in consistently high quality, and overall loading times on pages was not very different than loading the pages from my laptop. I was even able to log into the Big Picture Big Sound content management system and update an article, right from my couch, using the Logitech Revue and keyboard controller, which was a pretty nice little perk, so "Your Mileage May Vary" when it comes to web browsing speed and reliability].
Official content partners such as Netflix looked great and didn't have the jitter while streaming. Amazon Video on Demand offers selections effortlessly, and sometimes with 5.1 sound. If you have an Amazon account, selections can be made on the computer or through Google TV, and accessed through Your Video Library. YouTube, also one of Google TV's preliminary content partners (not surprising since they are owned by Google), provides a ton of instant gratification. However, your experience will be dependent on the quality of the content you're streaming. For instance, we watched a very entertaining peek at the upcoming film, Megamind -- in high quality HD. However, once we flipped to some sports highlights, the pixelated, compressed YouTube stream was a little hard to watch on a big screen. This is not the fault of Logitech or Google TV; it's just the facts of YouTube.
Turn Ons
Puts the web on TV
Dual View allows for TV and web search simultaneously
Keyboard makes on-screen typing easy
Single integrated search across web, VOD (select content providers), individual channel lineup and DVR recordings

Combines previously offered web-based services with custom, user-driven web access through the Chrome browser

Turn Offs
Blocked by major TV networks
Only integrates DVR recording search with select DISH Network DVRs
Keyboard makes for a bad TV remote
Slow web surfing
Content search yould be better and more integrated
Final Thoughts
Google TV doesn't (yet) offer the perfect marriage between TV and the Internet. However, as a first step and initial release of the product, we like how the courtship is going. Logitech may be the first company to come to market with a Google TV product, but at $299 for the Revue, they'd better hope Google works out a few of the bugs and content agreements to get early adopters on the bandwagon. For an extra $100, Sony's NSZ-GT1 will add in Blu-ray playback, and we have to think that other manufacturers will want in on the action surrounding Google TV.  DISH subscribers will find the reduced $179 bite (and nominal $4/month fee) a lot easier to swallow, not to mention a superior user experience with the ability to search DVR recordings and easily record shows from the integrated program guide.
If you can't (or simply don't want to) wait, Logitech's Revue is an easy way to take advantage of Google's debut offerings and to experience the inevitable enhancements and upgrades as they come out.  It's also currently the least expensive way to get your Google on.
Where to Buy:
DISH Customers: Call 1-800-823-4929 or log into your account at DishNetwork.com

System Requirements
HDTV with HDMI port
Cable, satellite or telco box with HDMI out
High-speed Internet access (Wi-Fi or Ethernet)
Specifications
HDMI input: 1080p/60fps, 1.3a w/ CEC
HDMI output: 1080p/60fps, 1.3a w/ CEC
Networking:

Wireless: 802.11a/b/g/n
Wired: Ethernet 10/100 Base-T

Audio optical output (S/PDIF)
2 USB 2.0 ports
Integrated Logitech Harmony Link IR blaster (for A/V device control)
Logitech Unifying wireless technology
MSRP: $299.99
What's in the Box?
Companion box
Keyboard controlled with integrated remote, compact keyboard and touchpad
One HDMI cable
One IR mini blaster
Power supply
User documentation
Two AA batteries (pre-installed in controller)
Manufacturer's Contact Information:
Logitech Inc.
6505 Kaiser Drive
Fremont, CA 94555
(800) 231-7717
Web site: www.logitech.com