Logitech Expands into Home Automation with New Harmony Living Home Remotes and App Enhancements
By Rachel Cericola
A lot of people have been using the Logitech Harmony to control home theater components for years. Now, Logitech is looking to have the Harmony reach (and control) other areas and products as well.
The company just announced Harmony Living Home, a new collection of home control products. Some of them will be very familar to Harmony users. However, with this introduction, it's looking like you won't have to confine that Harmony to the home theater -- or your AV products. These new additions will be able to tackle all of that AV, as well as several home automation devices to control lighting, thermostats, door locks, window shades, and much more.
Another nifty perk is that you can create Activities just like you would on any other Harmony. However, instead of having the TV and amp fire up when you press a button, you can also dim the lights, lower shades and adjust the thermostat. The Harmony Mobile App even makes it possible to set those scenes via your favorite smartphones and tablets when you're not actually at home. Forget to turn down the air conditioning when you left for work? No problem, you can do that from the office. Want to turn a few lights on while you're away on vacation? You can do that from the mobile Harmony app as well.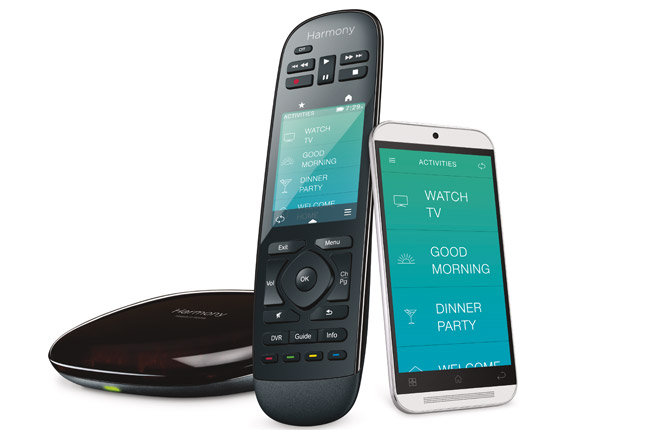 The lineup will launch with four products. The Logitech Harmony Home Hub is the backbone of the system, with support for RF, IR, Bluetooth and Wi-Fi. It uses all of those wireless technologies to relay commands from your remote or the Harmony Mobile App to different devices around the home.The Logitech Harmony Home Hub is part of the Logitech Harmony Ultimate Home and Logitech Harmony Home Control packages (which we'll get to in a second). However, the Hub can also be purchased separately for $99.99 if you only want to use it with a smart phone or tablet using the Harmony app.
The Logitech Harmony Ultimate Home is a package that includes the Hub, as well as a remote with a 2.4-inch color touchscreen. This setup can control up to 15 home entertainment devices. Users can swipe and tap the screen to access those devices, Activities, adjust volume levels, see a device's status, and much more. Available in black or white, the Logitech Harmony Ultimate Home has an MSRP of $349.99. If you've got a complicated home theater set-up or want to bring in a lot of home automation products, this is the device we'd recommend. The color screen and built-in help functions allow you to see what's going on and debug any potential issues without having to pull up the app.
If you prefer more of an old-school remote, there's the Logitech Harmony Home Control. This package includes a button-only remote and the Harmony Home Hub. It can control up to eight home entertainment devices and is available in black or white for $149.99. This is nice option even if you think you'll really only use the app. You can set up the major activities like watching TV and movies and you'll always have a dedicated remote to control the A/V system.  This leaves your smart phone or tablet free to do important things like browse cat videos on YouTube or play Words with Friends. It also allows you to leave behind a simple controller for the babysitter or when guests come to visit.
One of the most interesting products in the Harmony Living Home lineup is the Logitech Harmony Hub Extender. This little adapter adds ZigBee and Z-Wave support to the Harmony Home Hub. That's what makes home automation magic, allowing users to control lights, locks, sensors, garage doors and other devices. The MSRP on this one is $129.99.
With the introduction of the Harmony Living Home line, Logitech is also adding to the list of devices that are compatible with the Harmony family. In addition to the other 270,000 products currently in the library, the Harmony can now control devices from August, Honeywell, Kwikset, Lutron, PEQ, Schlage, SmartThings, Sylvania, Yale and Zuli, as well as the Nest Learning Thermostat and the Philips hue lighting system.
"Harmony led the path for simplifying home entertainment, and now we've taken that expertise to also simplify home automation," said Chad Thompson, Logitech's senior director of worldwide marketing and product management. "As more connected devices, such as the Nest Learning Thermostat, Philips hue lights and August Smart Locks, come to market and enter the home, there's more of a need than ever before for a centralized way to simply control all of the home's devices -- the Harmony Living Home lineup does just that."
Most of the Logitech Harmony Living Home lineup will start selling sometime in September 2014. However, the Logitech Harmony Hub Extender will follow later this year, in December.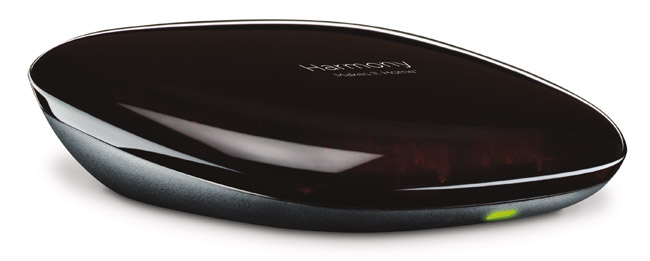 Where to Buy:
For More Information: