Lady and the Tramp: Diamond Edition Blu-ray Review
By Rachel Cericola
The Film
He's a tramp, he's a scoundrel, and he's also a first for Disney. When Lady and the Tramp was released in 1955, it was the first animated feature filmed in the CinemaScope. It was also the first full-length Disney feature that was based on an original story. That story isn't as original as it once was, but it's still entertaining -- and very relatable, even after 57 years.
Lady (voiced by Peggy Lee) is a pampered pooch with the run of the house. That is, until owners "Jim Dear" and "Darling" decide to procreate. Once the baby comes, Lady learns some hard lessons -- and a few fun ones, thanks to the Tramp, a real ladies' mutt.
Despite our four-legged friends behaving a lot like humans, Lady and the Tramp is the definitive dog tale (with tails). You absolutely never forget that these are canines, who love bones and digging. Each one also knows his or her place in the world, no matter what that might be.
Unlike a lot of Disney's films, there're no real villain (Aunt Sarah doesn't count) and very few songs. Of course, the film sprinkles in a little of each, but in its short runtime, it's all about a dog's life. That's one of the many things that makes Lady and the Tramp so endearing. It's also filled with wonderful characters and romance -- ah yes, the romance. Lady and the Tramp is the perfect Valentine's treat.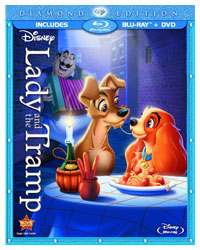 The Picture
This is one pretty girl. At this point, we shouldn't be surprised when Disney delivers a good Blu-ray, but this Diamond Edition is pretty doggone breathtaking. Presented in the 2.55:1 aspect ratio, the restored image really pops in every sense of the word. In some of the studio's other recent releases (most notably Bambi), the film's age was obvious. That is not the case here. If anything, it looks brand new, with stunning colors and a real sharpness throughout the entire experience.
The Sound
Disney has included two audio tracks with Lady and the Tramp. There's a restored version of the original 3.0 track and a brand new DTS-HD Master Audio 7.1 mix. Purists will enjoy the 3.0 track, and frankly, that may be all you really need. The 7.1 does sound wonderful and presents a slightly fuller experience. There are brief noises in the surrounds and both thunder and music come crashing through. As an added endorsement, my dog was at attention for most of the film. It's that great of a track, but just not as immersive as some of the other recent Disney releases.
The Extras
Once again, Disney cracks open the vault and gives up the goodies for another Diamond Edition release. There are plenty of deleted scenes, trailers, storyboards, and even an extra song. There's also a cute kid-centric featurette titled "PuppyPedia." The commentary is also a must, as is the heartfelt peek of "Diane Disney Miller: Remembering Dad."
Disney-files will also appreciate that this is yet another release packing Disney's Second Screen option. This allows users to sync the movie with an iPad or laptop, for extra film information, activities, art and other extras.
It's also important to note that Disney released two versions of the Blu-ray this time around. We received the 2-disc version for this review, which has the Blu-ray and standard-def DVD. There is also a 3-disc version of Lady and the Tramp, which adds in a Digital Copy disc.
Final Thoughts
Once you've seen Lady and the Tramp, it's hard to look at (or eat) spaghetti the same way again. With Valentine's Day around the corner, this is a sweet addition to the Disney lineup. It's romantic, it's cute, and it's never looked better on Blu-ray. It's an absolute winner for all ages, whether you're a fan of Disney, animation, Blu-ray, or all three.
Product Details
Voice Actors: Barbara Luddy, Larry Roberts, Bill Thompson, Bill Baucom, George Givot, Peggy Lee
Directors: Clyde Geronimi, Wilfred Jackson, Hamilton Luske
Audio/Languages: DTS-HD Master Audio 7.1 (English), DTS-HD Master Audio 3.0 (English), Dolby Digital 5.1 - DEHT (French, Spanish)
Subtitles: English, English SDH, French, Spanish
Aspect Ratio: 2.55:1
Number of Discs: 2
Rating: G
Studio: Walt Disney Studios Home Entertainment
Blu-ray Disc Release Date: February 7, 2012
Run Time: 76 minutes
List Price: $39.99
Extras:

With Disney Second Screen Featuring "Inside Walt's Story Meeting"
Backstage Disney: Diamond Edition

Diane Disney Miller: Remembering Dad
Deleted Scenes

Never Recorded Song: "I'm Free As the Breeze"
Classic DVD Features

Lady's Pedigree: The Making of Lady and the Tramp
Finding Lady: The Art of the Storyboard
Original 1943 Storyboard Version of the Film
The Siamese Cat Song: Finding a Voice for the Cats
PuppyPedia: Going to the Dogs
"Bella Notte" Music Video
Theatrical Trailers
Excerpts from Disneyland TV Shows
Deleted Scenes

Discover Blu-ray 3D with Timon & Pumba
Standard-Def DVD