Bambi: Diamond Edition Blu-ray Review
By Rachel Cericola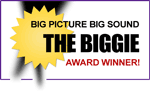 The Film
When it comes to Disney, you never really grow up. The characters, songs, and sadness always seem to stay with you. Of course, Bambi delivers all three.
Bambi was doing the circle-of-life thing before the creators of The Lion King were even born. It's the classic coming-of-age story because that really is the entire story. The film basically tracks Bambi from his humble and wobbly beginnings through some very tough life lessons. Of course, the main lesson is that man is one mean mofo.
Despite delivering adorable characters such as Bambi, cotton-tailed cutie Thumper, and Flower the skunk, Bambi remains one of Disney's most heart-wrenching films. It's also a true triumph of animation. This was actually the studio's fifth full-length animated feature, and as Diane Disney Miller states in her introduction, the film has very little dialogue. It's the animation that delivers this forest full of creatures, with their wrinkled little noses and their very strong emotions. Also, even with all of the advances in this field, Bambi really does get better (and more emotional) with age.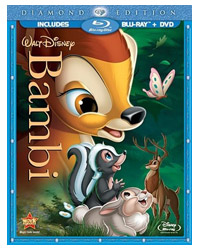 The Picture
With each Diamond Blu-ray release, Disney seems to outdo themselves, and Bambi is no different. The film doesn't pack the same wallop as some of Disney's more recent releases. The backgrounds look like faded watercolor paintings and overall, the colors just aren't bursting as one might expect. This isn't the fault of the print, but a sign of its age. Make no mistake, though; Bambi is a real stunner. It's a clean print, with insanely detailed animation. You can actually see each character sharply outlined against the forest backdrop. It's evident just how much effort went into creating this film. Without a doubt, this is the absolute best that Bambi has ever looked.
The Sound
Disney has deemed Bambi worthy of a 7.1 DTS-HD High Resolution track. It actually sounds a lot more impressive than, well... it sounds. That's not to say that it won't take you back and even open you up to new tidbits that even the most hardcore Bambi fan would have yet to experience. The new track does give a faint whisper of sound in the surrounds, and adds a bit of oomph to the film's score. That is a big deal here, considering how that soundtrack carries much of the movie. Remember that the dialogue is limited. That said, when the characters speak, they are clear and completely adorable.
The Extras
As with many of the recent Diamond editions, Disney pulls out all of the stops for Bambi. The set includes a slew of deleted items, galleries, a game, and other tidbits. It's a great collection.
"Inside Walt's Story Meetings" features a reenactment of Walt Disney's story meetings about the movie, which plays in perfect harmony with the film itself. It's a nifty take on picture-in-picture commentary, and even adds an interactive element, allowing viewers to access mini featurettes and deleted scenes during the movie. Yes, the feature can be viewed with the movie or by itself. Also, if you're impatient, there's a handy index so you can to jump right to the added goodies.
The most interesting of the new features is something called Disney Second Screen. This allows viewers to sync the movie with an iPad or computer and follow along with interactive materials. There's tons of storyboard art, photographs, puzzles, games and other tidbits and trivia. The feature is certainly revolutionary, but also takes away from the movie-watching experience. It's best for super-fans or maybe for when the kids want to sit through their 10th viewing.

Final Thoughts
Regardless of this film's age (or yours), Bambi is one to own. Despite the simple story, this really is a classic. Disney also continues the Diamond track record, offering an excellent image, great sound, more entertainment than the actual animal kingdom. As we know, Disney seems to open and close that vault at whim, so this is one you'll want to get before they pull it from shelves.
Product Details
Voice Actors: Donnie Dunagan, Hardie Albright, John Sutherland, Paula Winslowe, Peter Behn, Tim Davis, Sam Edwards, Stan Alexander, Sterling Holloway
Director: David Hand
Audio/Languages: DTS-HD High Resolution 7.1 (English), Dolby Digital 2.0 (English), Dolby Digital 5.1 (French, Spanish)
Subtitles: English SDH, French, Spanish
Aspect Ratio: 1.35:1
Region: A
Number of Discs: 2
Rating: G
Studio: Walt Disney Studios Home Entertainment
Blu-ray Disc Release Date: March 1, 2011
Run Time: 70 minutes
List Price: $39.99
Extras:

Introduction by Diane Disney Miller
Movie with DisneyView
Movie with Disney Second Screen
What is Disney Second Screen?
FastPlay
Inside Walt's Story Meetings - Enhanced Edition
Deleted Scenes
Deleted Song: "Twitterpated"
Bambi Interactive Galleries
Disney's Big Book of Knowledge
The Making of Bambi: A Prince is Born
Tricks of the Trade
Inside the Disney Archives
"The Old Mill": Animated Short (1937)
Original Theatrical Trailer (1942)
Sneak Peeks
Standard-Def DVD