LOST The Complete Collection Blu-ray Review
By Chris Chiarella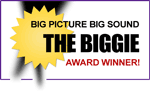 The Show
Now that the Sixth and final season has concluded, and with the benefit of a few months to digest it all, I think that LOST The Complete Collection is ultimately a tale of relationships. Yeah, the backdrop includes an island that moves though time and space, populated by a smoke monster who will stop at nothing to sway the war between good and evil, but the delicious foibles in how the flesh-and-blood men and women all fit together are what truly filled most of the 117 episodes. Humanity, coupled with serious imagination, are what made audiences so passionate about the show.
However, once the writers invested much time and energy to raise question after question after question, it is an unspoken contract with viewers that they will be answered. And plenty of them weren't. And the mysteries that were important to some folks watching at home might not have been as vital to the writers, and so they may never be solved. And that kinda stinks. But the creators remained true to themselves from start to finish, leaving us with something truly memorable, and that's why I'm giving it our highest rating.
The Picture
The 1.78:1 image displays some noise, particularly in shadows, but generally this has always been one of the better-produced shows on TV, and now this box gives us the chance to see the progression from the first season to the last, which is the best of the bunch. Even the more ambitious visual effects shots are clear and realistic, we can see more of the tiny particles floating in the light all around "The Cork." There's an impressive clarity even on fine details like incidental text that we're not even supposed to be able to read. Island greens are as strong as ever, too: Chances are you will not be disappointed.
The Sound
Up until the very end, LOST displayed a keen understanding of both the possibilities and the limits of practical TV audio. The DTS-HD Master Audio 5.1 soundtrack does well with the sharp gunshots, the resonant atmosphere inside various caves, and the thoughtfully included background noises. Recent Oscar-winner Michael Giacchino's musical score remains an emotional marvel. The implementation of the 5.1-channel soundfield, as for a round of applause, can be subtle meanwhile, more noticeable during rainstorms, just as seismic-level events deliver respectable bass action.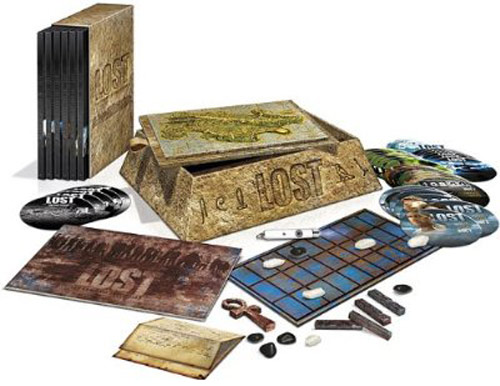 The Extras
After some speculation following hands-on preview earlier this summer, I can confirm that this is indeed a 36-disc set, but Disney/ABC wants us to work for that final platter, hiding it somewhere clever inside the package. Clues for locating and liberating it are strewn throughout, the single most helpful of all (for me) being the Dharma-issue blacklight, which when shone... well, I don't want to make it too easy.
All of the extras from earlier seasons (see full listing below) have been maintained here, so I will focus on what's new. A variety of featurettes each under 15 minutes take a look at everything from the props to the music to the global fandom to the influence of Joseph Campbell's teachings to  the Season Six phenomenon of the "sideways" universe, while also giving some of the actors a chance to wax about their personal reflections at the end of an era.  Sixteen kind-of-amusing LOST Slapdowns, 45 minutes total, feature everyone from comic actors to series regulars to The Muppets' Swedish Chef goofing in brief skits with executive producers Carlton Cuse and Damon Lindelof.
One of the most anticipated bonuses is "The New Man in Charge," a full-quality short film starring Michael Emerson as Ben Linus, intended to throw the audience a few more fish biscuits of revelation before we move on with our lives. "Crafting a Final Season" (39 minutes) discusses some of the more memorable arcs and themes, and of course the finale, while a host of TV legends talks about small-screen endings. Seven new "LOST on Location" vignettes give us an eye-level view of production, about half-an-hour total, in addition to some previously unseen segments.
The Best of the LOST "Podcasts--audio only--for Seasons Two thru Six are assembled here, with varying lengths, some less than ten minutes, some over half an hour. Ten deleted scenes from Season Six are joined by additional deleted scenes from Seasons Three and Five, along with little behind-the-scenes tidbits from Season Four and Five, as well as a new crop of bloopers. There also plenty of Easter eggs just waiting to be discovered, not surprisingly, some more interesting than others, some feeling like leftover odds and ends. Most, not all, of this new video content is in high definition.
LOST University now proudly offers a Masters Program via BD-Live, featuring new topics of study and guest lecturers such as actor Nestor Carbonell on "Exploring Spanish." We need to register, and some of the courses are only available after we have completed the undergrad program via the Season Five. Blu-ray. The physical package itself is extraordinary, destined to win some awards. In addition to the blacklight are an Ankh with a hidden message inside, a page from the captain's log of The Black Rock, a complete Senet board game like we see Jacob and MIB playing in the final season, and a comprehensive episode guidebook.
Final Thoughts
Certain to go down in history as one of the most inventive and best-loved series on television, LOST has aired its final chapter, but will live on forever in one of the most elaborate special edition Blu-ray boxed sets yet conceived. With terrific picture and sound, Blu-ray-exclusive extras and physical goodies galore, this one is a genuine landmark.
Product Details:
Actors: Matthew Fox, Terry O'Quinn, Evangeline Lilly, Josh Holloway, Naveen Andrews, Jorge Garcia, Daniel Dae Kim, Yunjin Kim, Dominic Monaghan, Harold Perrineau, Emilie de Ravin, Ian Somerhalder, Maggie Grace, Michael Emerson, Henry Ian Cusick, Elizabeth Mitchell, Nestor Carbonell, Michelle Rodriguez, Adewale Akinnuoye-Agbaje, Jeremy Davies
Directors: Jack Bender, Stephen Williams, Paul A. Edwards, J.J. Abrams et. al.
Audio/Languages: DTS-HD Master Audio 5.1 (English), DTS 5.1 (Spanish, French) , Dolby Digital 2.0 (English, Spanish L.A., Brazilian Portuguese
(EDITOR'S NOTE: Specific audio options vary from Season to Season.)
Subtitles: English, English SDH, French. Spanish, Spanish L.A,, Portuguese, Brazilian Portuguese, Chinese, Korean, Thai, Bahasa, Malay, Swedish, Norwegian, Danish, Finnish, Icelandic
(EDITOR'S NOTE Specific subtitle options vary from Season to Season.)
Aspect Ratio: 1.78:1
Number of discs: 36
Rating: TV-14 (DLSV)
Studio: ABC Studios/WDSHE
Release Date: August 24, 2010
Run Time: Approximately 5,252 minutes
List Price: $279.99
Extras:

The LOST Slapdowns
"Letting Go: Reflections of a Six-Year Journey"
"Artifacts of the Island: Inside the LOST Prop House"
"Planet LOST"
"Swan Song: Orchestrating the Final Moments of LOST"
"More from the Series"
LOST on Location
Easter eggs
First Season:

"The LOST Flashbacks
"Before They Were LOST" screen tests
"Designing a Disaster"
"The Genesis of LOST"
"Welcome to Oahu: The Making of the Pilot"
Bloopers
Deleted Scenes
Audio Commentaries
D-BOX Motion Code

Second Season:

"Fire + Water: Anatomy of an Episode"
LOST: On Location
"The World According to Sawyer"
The LOST Flashbacks
Deleted Scenes
LOST Bloopers
Channel 4 U.K. Promo clip
LOST Connections
"Mysteries, Theories and Conspiracies"
"Secrets from the Hatch" Easter eggs.
Audio Commentaries
D-BOX Motion Code
SeasonPlay mode

Third Season:

"The World of the Others"
LOST Flashbacks
LOST on Location
The LOST Book Club
LOST in a Day
Deleted Scenes
LOST Bloopers
Audio Commentaries
"Access: Granted" interactive panel
Blu-Prints

Fourth Season:

LOST in 8:15
The Right to Bear Arms
The Freigher Folk
"The Island Backlot: Lost in Hawaii"
"The Oceanic Six: A Conspiracy of Lies"
"Offshore Shoot"
"Soundtrack of Survival: Composing for Character, Conflict & the Crash"
"LOST on Location"
"LOST Bloopers"
"LOST: Missing Pieces"
Deleted Scenes
Audio Commentaries
"Course of the Future: The Definitive Interactive Flash Forwards"

Fifth Season:

LOST Starter Kit
"LOST 100"
LOST: On Location
"Mysteries of the Universe"
"Making Up for LOST Time"
"An Epic Day with Richard Alpert"
"Building 23 & Beyond"
Deleted Scenes
LOST Bloopers
LOST University (BD-Live)
SeasonPlay mode

Sixth Season:

"The New Man in Charge"
"Crafting a Final Season"
"A Hero's Journey"
"See You in Another Life, Brotha"
Deleted Scenes
LOST Bloopers
LOST University Masters Program (BD-Live)
SeasonPlay mode