LG to Add OnLive Cloud Gaming to Smart TVs with Google TV
By Rachel Cericola
Get ready for the cloud wars. Last week, Samsung was out at the Electronic Entertainment Expo (E3), showing off its new cloud-based gaming service. Apparently, they weren't the only ones tapping into the cloud. LG had its own demo, featuring the OnLive Game Service.
OnLive isn't new, but it will be to select LG HDTV owners. The manufacturer just announced plans to put the third-party service on its new G2 Series of Smart TVs with Google TV.
Aha -- so there's another reason to get an HDTV with Google TV. OnLive says that LG's L9 dual-core processor makes it possible for awesome gaming, without the need for a PC or console.
OnLive currently has hundreds of games available, from more than 60 publishers. That selection will also include select 3D games, which the company was showing off at E3. Those are expected to come later, via a software update.
Once the service actually goes live on LG G2 TVs, owners will be treated to free instant access to OnLive social features, such as worldwide massive spectating, Brag Clip video recording and Facebook sharing. Another new feature is OnLive MultiView, which allows users to spectate and chat with friends and teammates, all while playing their own game.
While some of those features are free, the games are another story. Prices on the OnLive website range from $5.99 to $39.99 per title. However, OnLive does allow gamers to try before they buy, with free demos for up to 30 minutes. Another option is to get a PlayPack, which provides unlimited on-demand play of more than 220 games available through the service. PlayPack subscriptions are sold in 1-month ($9.99), 3-month ($27.99), 6-month ($52.99) and 12-month ($99.99) packages. Of course, remember that you'll also need to purchase the $49.99 Universal OnLive Wireless Controller or any compatible game controller.
If you're worried about justifying that PlayPack price, there are other ways to get your gaming in. Even if you're not near an OnLive LG TV, OnLive allows subscribers to access games on any web-enabled smartphone, tablet, PC or Mac. As long as you have broadband, you can play.
"It's always been our mission to make top-quality gaming accessible to everyone, everywhere," said Steve Perlman, Founder and CEO, OnLive. "OnLive adds no cost to LG Smart TVs, but delivers a full console-class experience. We're excited to make on-demand top-tier gaming an integral part of the living room entertainment system on LG's state-of-the-art TVs."
The LG G2 Series will be the first LG Smart TV with Google TV model to get OnLive. The G2 Series includes the 47-inch 47G2 Cinema 3D LED HDTV (MSRP: $1699.99) and the 55-inch 55G2 Cinema 3D LED HDTV (MSRP: $2299.99). The MultiView feature is still in beta, but should go wide this summer.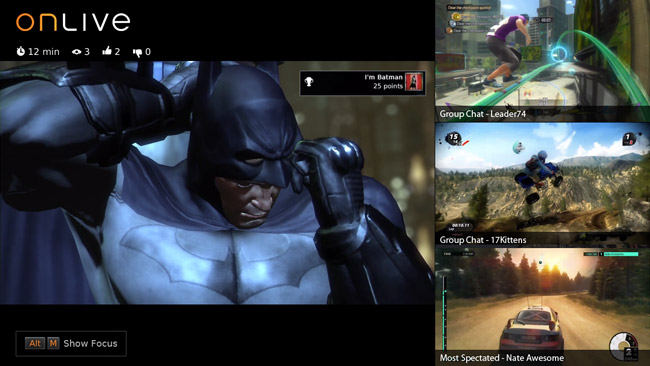 Where to Buy: