LG BX580 3D Network Blu-ray Disc Player Review
By Greg Robinson
Edited by Chris Boylan
2D and 3D BD from LG
Remember when a new Blu-ray Disc player was a newsworthy event in and of itself? It's hard to believe that a mere two years ago, Blu-ray Disc player reviews concerned themselves solely with picture quality, sound quality, and disc loading speed. They had no reason to talk about much else; high definition video, lossless audio and innovative special features were still a novelty, so what more could you ask for? These days consumers are asking for a whole lot more. Does the player have Netflix? What about YouTube? Can it play Blu-ray 3D? Will it work with wireless? Does it need a Wi-Fi adapter? Any Blu-ray Disc player making its debut these days can expect to be assaulted with these questions and more. Luckily, the BX580 3D Network Blu-ray Disc player with WiFi from LG seems to have all the answers.

Sporting LG's ever-evolving NetCast suite of internet apps, integrated 802.11n wireless capability, DLNA certification for home network media sharing, and Blu-ray 3D support, there's little the BX580 can't handle. Factor in the machine's List Price of less than $300 - with a street price well below that - and it's clear that LG has assembled a formidable, feature-laden player to mark its entry into the Blu-ray 3D sandbox.

The Walk-Around

At first glance, the BX580 is a rather unassuming disc spinner. Unlike traditional DVD and Blu-ray Disc players, the entire front panel of the BX580 is a mirrored, hinged door that opens and closes to conceal the disc tray. I've never been a fan of unnecessarily-complicated mechanisms such as this, and the proof lies in my review unit, which was damaged upon arrival. I'm not sure if it was new to start with, but my test unit arrived with a warped front panel that had become separated from the main chassis at the lower-right hinge. I have little doubt that mine is an exception rather than the rule, but it did give me pause as it failed in the precise manner I always fear from these overly-complicated faceplates. Simple disc trays have reliably worked on computer drives and standalone players for many years.  And if it's not broke...

On the top of the unit you'll find two buttons: Power and Open/Close. Thankfully we also get front-facing extensions of these buttons, but the top ones can be handy if the player is installed below eye level. Tucked behind the mirrored faceplate is a handful of additional controls - Play, Pause, Stop, Next, Back - as well as a USB port, used for photo, video or music playback. I successfully used my USB drive to play several DivX HD (AVI) and VOB videos as well as an MKV version of the Iron Man 2 trailer, but as expected, MOV and Apple Quicktime files were not recognized. You're also expected to use this for BD LIVE content, as alas, the BX580 lacks onboard memory.  Connecting a flash memory drive with 1 GB or more of storage should be sufficient for BD-LIVE purposes.

LG's supplied remote is a capable controller of ample size and pleasing weight, but it does have a few problems. First off, backlighting is not available save a handful of "glow in the dark" (but not really) buttons. More importantly, I can't say I'm a fan of LG's cursor pad or its surrounding set of controls (Home, Menu, Return to name a few). There is zero separation between these oft-used buttons and they're nearly impossible to find in the dark. Worse still is the fact that the 4-way cursor pad is completely flush with said buttons, again making nocturnal navigation tricky. I'd also appreciate a "NetCast" button, which LG does make available on their TV remotes. Without one, you'll need to click the Home button and then select the NetCast ice cube, err, icon, which is several button taps away.

In Your Face Interface

With the BX580, LG continues to evolve its elaborate, graphics-rich user interface. This time out, the "Home" screen or main menu  has been designed to resemble the inside of a gin and tonic, complete with bubbles and unique, three dimensional ice cubes containing icons for disc playback, Home Link, NetCast, player setup, etc. (What, no lime?) This home screen is neat at first glance, but its distracting animation and sluggish response time had me yearning for more function and less form.  LG's earlier incarnations of the "Home" menu (on previous generation players) had direct links for popular services such as VUDU and Netflix.  I know that as the offering of internet providers grows, things get more complicated but sometimes I miss those simpler times.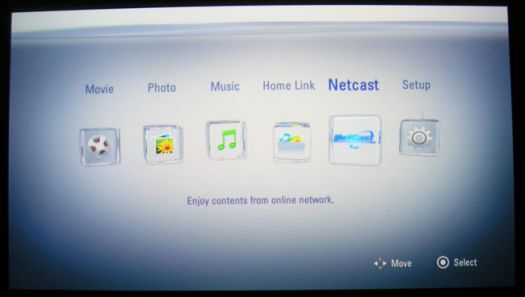 Whereas the Home screen leaves something to be desired, I must confess to digging LG's NetCast app chooser. The (non-animated) wallpaper here makes for an attractive setting and the real-time AccuWeather data determines the sky image complete with current weather conditions. Web applications are arrayed horizontally and here you'll find most of the usual suspects. Chief among them is Netflix, followed by CinemaNow, Vudu, YouTube, Pandora, and more. Sadly you won't find HULU Plus, but you never know what the next software update may bring.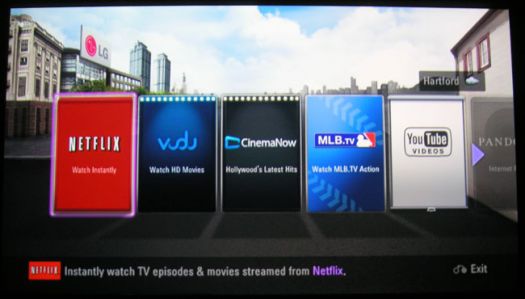 Of the apps LG does give you, Netflix instant streaming gets the most use in this house. Video performance and download speed from the internet services was on a par with what I've seen from other devices, which is to say more than adequate for instant gratification. Unfortunately, although LG's PX950 3D plasma - which LG sent along with the player - features the newer implementation of Netflix, allowing for on-the-fly title searching, the BX580 incorporates the previous generation, which limits viewing to what's already in your Instant Queue or a handful of canned, Netflix-created lists.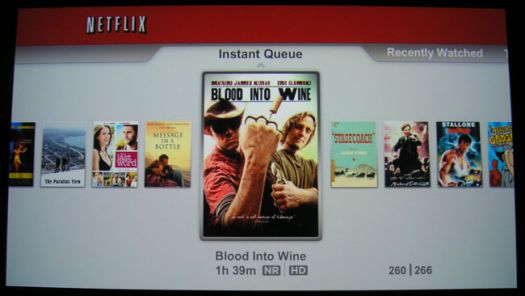 One final note regarding network streaming. As mentioned earlier, the BX580 is a DLNA client device, which allows it to communicate with compatible gear on your home network. After clicking on the HomeLink icon, I quickly found and connected to the shared videos on my home office PC. I then browsed and streamed numerous MP4 video files which I had recorded with my Flip HD camcorder. Nice.

Picture This

After verifying that my BX580 was outputting 1080p video, I popped in both the DVD and Blu-ray ediitons of IDT's HQV Bechmark 2.0 disc and jumped right to the test patterns we all know and love. (Note: when evaluating a Blu-ray Disc or DVD player's video processing prowess, make sure it's outputting progressive video. You want to be sure that the deinterlacing you're seeing is that of the player and not the TV.)

On the Video Resolution and Film Resolution tests, the BX580 did an admirable job of keeping the rotating white bars essentially rock solid during their revolutions. The waving flag did reveal some stair-stepping but I've certainly seen worse. 3:2 cadence was locked down quickly enough during the stadium pan, but there was some moire noise in the upper deck during the 2:2 sequence. Ringing was not apparent and object edges looked crisp during the Resolution Enhancement clips.

Real world viewing material looked rather good on the BX580. Watching the IMAX-enhanced opening sequence of Christopher Nolan's The Dark Knight on Blu-ray revealed exceptional detail in the Gotham skyline and during close-ups of the henchmen in their joker masks. During The Fifth Element's Diva sequence, colors displayed ample punch and Bruce Willis' skin looked just as natural as it does on my Panasonic DMP-BD35 reference Blu-ray player. Watching Gladiator on standard definition DVD revealed blessed few artifacts or noise during the rooftop and coliseum flyover of chapter 12.
Meep Meep!

I'll say this for the BX580: it is FAST. With my Android stopwatch in hand, I conducted our standard battery of speed tests. With the unit off, it takes a grand total of 22 seconds to reach a ready Home screen. As for disc loading, the test subjects included: a standard DVD (Gladiator), an early non-Java Blu-ray Disc (Sony's Underworld: Evolution), a Java-enhanced Blu-ray Disc (Pirates of the Caribbean: Curse of the Black Pearl), plus the latest BD LIVE-stuffed content fatty, Sly Stallone's The Expendables. For each load test, I started with the unit on and the tray extended; I hit play on the remote and timed how long before disc-specific content appeared.
The Gladiator DVD presented its soundtrack menu in 15 seconds flat. Impressive! More impressive was the the fact that Underworld 2 displayed the Sony Pictures Home Entertainment logo in the same 15 seconds. Whoa. Pirates' gold coin stopped spinning and gave way to the Disney logo after 33 seconds - edging out the record of 34 seconds I achieved with Sony's BDP-N460.  With BD LIVE "partially permitted," the overwrought Expendables disc took 1 minute and 21 seconds before revealing the churning gears of Lionsgate. While that may sound glacial, compare it to the 3 minutes and 14 seconds it takes on my Panasonic DMP-BD35 and you will be a little more impressed. Bottom line: LG's BX580 is one of the fastest Blu-ray players I've seen.
3D... It's a Feature

Some consumers may buy the BX580 because it's a "Blu-ray 3D player" but if you ask me, 3D is a feature and you can take it or leave it. Yes, some Blu-ray Discs offer 3D. Most do not. Will that change? Probably. Will we see more Blu-ray 3D discs in the future? Definitely. (It would certainly be tough to see fewer of them!)
All that said, the BX580 is fully compliant with the needs of Blu-ray 3D and if that's your thing, you'll be pleased to know that LG even includes a 3D title in the box - Warner's Under the Sea 3D to be specific. As you may be able to tell, I'm not 3D's biggest fan, but the BX580 served as an able supplier of 3D content to my LG PX950 3D plasma (review coming soon). Although I wouldn't pay extra for a Blu-ray 3D player versus an equal-performing 2D player, you'll soon be hard-pressed to find a Blu-ray Disc player that isn't 3D-ready, so it really is a moot point.



Turn-Ons:
Slick NetCast user interface
Generous suite of web applications including Netflix and Vudu
Fast. Like "I'm your Huckleberry" fast.
DLNA Client and easy-to-use HomeLink interface
Turn-Offs:
Home screen "ice cube" navigation is unique but sluggish
Remote lacks backlighting and its cursor pad needs work
No multi-channel analog audio outputs; no secondary HDMI 1.3 output for compatibility with older gear

No onboard memory for BD-LIVE; no rear USB port
Final Thoughts
Despite a fair amount of ergonomic nitpicking on the part of yours truly, when you look at the LG amid the pack of competing Blu-ray Disc players, there really is a lot to like about the BX580. And while a second HDMI output and multi-channel analog audio outputs would have been nice, as well as some on-board storage for BD-Live, you can't argue with the BX580's lightning-fast disc loading, its robust suite of web apps, or its strong video performance. In the end, the BX580 is a versatile player regardless of whether you view the world in two dimensions or three.

Features and Specifications
Video Upconversion: 720p/1080i/1080p
Supported Audio Formats: Dolby Digital, Dolby Digital Plus, Dolby True HD, DTS, DTS-HD, DTS-HD Master Audio
HomeLink Supported Formats: DivX, DivX HD, MPEG1, MPEG2, XVID, MKV, AVI, WMA, MP3, AC3, AAC, JPEG, PNG
Convenience: BD-Live (Profile 2.0)
Wi-Fi Enabled (802.11 b/g/n) (2.4GHz band only)
Internet Streaming: Netflix, Roxio CinemaNow, Vudu, Pandora, YouTube, Picasa Web Albums, AccuWeather, MLB.com
Unit Dimensions: 16.9" W  x 1.7" H x 8.0" D
Unit Weight: 4.8 lbs
MSRP: $299
Connectivity:
HDMI x 1
Component Video Output
Composite Video
Analog Stereo
Optical Digital Audio Out
Coaxial Digital Audio Out
Ethernet Port
USB Port (1 front)
Manufacturer Contact Information
LG Electronics U.S.A., Inc.
1000 Sylvan Avenue
Englewood Cliffs, NJ 07632
(800) 243-0000
Website: www.lg.com/us